KABUL -- Afghan commandos who spoke to Salaam Times at a recent graduation ceremony expressed their readiness to stand in the way of all those who aim to disrupt peaceful life in Afghanistan.
"God willing, we are ready to bravely defend our homeland and serve our people," said a commando lieutenant, who gave his name as simply Jalaluddin, and has been serving in the commando special units for 10 years.
"We underwent very tough and vital training," he said, which included learning how to operate advanced weapons and fire heavy weapons.
Time and again these commandos have proven their combat readiness and superiority over extremist and militant groups that threaten the peace in Afghanistan.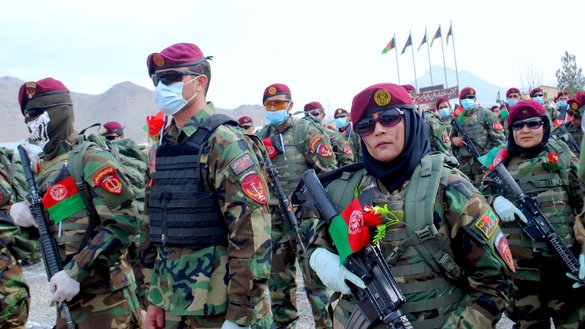 Now, with the March 2 graduation in Kabul of more than 1,200 commando trainees, these forces will be even stronger.
"Commandos undergo rigourous training to prepare and carry out operations that other units cannot do," Maj. Gen. Kheyal Nabi Ahmadzai, deputy commander of the Special Operations Corps, told the new graduates during the ceremony.
"Over the past months, we have been able to break into several insurgent prisons and rescue imprisoned civilians and our own forces," he said.
So far this year, Afghan commandos have rescued at least 139 captives from Taliban prisons, destroyed militants' land mine factories, bases and training centres, and killed key members in targeted operations.
"The enemy recently wanted to bring some areas under its control," Ahmadzai said.
"But with our efforts, commando units suppressed them wherever they went," he added, referring to the commandos' ability to carry out operations all over Afghanistan.
Ready to serve the people
"I assure my people that I am ready to serve anywhere in the country to maintain security," said another commando, who gave his name as Obaidullah.
"Until the last drop of my blood, I will not allow the enemies of my country to disrupt the peace," he said, stressing that the "great capabilities" of the commandos will deter the Taliban.
"I believe the Afghan commando forces can conduct combat operations at the regional and world level and can counter the Taliban," said Gen. (ret.) Dawlat Waziri, a Kabul-based military analyst.
They have not been defeated in any combat operation or theatre of war in recent years, he said, and are able to carry out missions in different areas, under various circumstances.
"They have broken into Taliban prisons and freed their captives," he said. "They recently captured a large Taliban base in Nangarhar."
Afghan commandos captured the largest Taliban base of operations in Hesarak district, Nangarhar province, on February 28, the Ministry of Defence said.
The Taliban were using the base to plan and carry out attacks in eastern provinces, especially Nangarhar, a March 1 ministry statement said.
'Effective against terror attacks'
Given the nature of the war in Afghanistan, commandos can play an effective role in countering anti-government forces, said Kabul-based analyst Gen. (ret.) Atiqullah Amarkhil.
"From the first day when the anti-government elements started their guerrilla wars, a number of former military officers and myself advised the government to strengthen the commando forces," he said.
These forces have since carried out successful operations in several provinces, he said, noting that "commando operations are very effective against terrorist attacks".
"We call on the government to use the commandos to free areas controlled by the Taliban because their success is certain," said Ziauddin Akakhil, a member of the Wolesi Jirga representing Badghis province.