HERAT -- Afghan forces are committed to worshipping and fasting during the holy month of Ramadan even as they ramp up military operations against the Taliban to ensure the protection of citizens, security officials say.
Hundreds of Afghan National Army (ANA) soldiers at the end of each day return to the headquarters of the 207th Zafar Corps in Herat Province to have iftar and to pray in mosques.
At the same time, soldiers continue to track Taliban members in districts and villages to prevent them from launching terrorist attacks on mosques and disrupting the soldiers' worship during Ramadan, officials said.
The 207th Zafar Corps' work is based on the schedule of Ramadan "that allows them to carry out their duties, receive training, observe fast and perform prayers", Gen. Nurullah Qaderi, commander of the troops in western Afghanistan, said in an interview.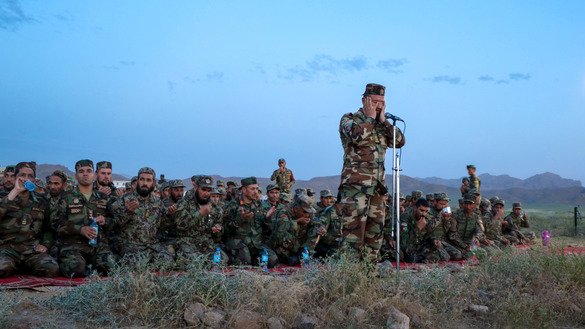 "Based on their timetable in the holy month of Ramadan, they perform their prayers after suhoor [pre-dawn meal] and then attend their training," he added.
"After they return from training, they have some rest," he said, adding that the soldiers pray five times a day.
"In the holy month of Ramadan, we continue to carry out our fighting duties, because our coward enemy always intends to attack us and our people, but we won't give them the opportunity," Qaderi said.
Commitment to preserving Islamic values
ANA soldiers who take part in operations while observing Ramadan said that their only goal is to protect Afghanistan, Afghans and Islamic values. They will not allow the Taliban to kill the innocent by launching suicide attacks on mosques, they emphasised.
"We fight for our people and religion," said Qudratullah, a soldier who declined to give his last name.
"We won't allow the terrorist Taliban to kill the innocent, destroy mosques or use mosques as their bases," he said. "The ANA forces are successful in all of their operations during the month of Ramadan, and the enemy is unable to fight us face to face."
"We soldiers pray five times a day in congregation in mosques and observe fast," said Esmatullah Rafiyee, another ANA soldier. "Our only goal is to protect Islamic values and the national values of the Afghan people."
"The Taliban have no reason to justify their killing of security forces," he added. "They have to know that security forces are all Muslims and that they worship God."
"Allah has said that anyone who kills a Muslim will go to hell," said Rafiyee.
'A sacred duty'
Afghan security forces make sacrifices every day to defend their country and their religious values by fighting insurgents, say religious scholars in Herat Province.
"Our security forces such as the police, the army and the National Directorate of Security [NDS] forces are the children of this land, and they were born Muslim [from Muslim parents]," said Mawlawi Din Muhammad Akhundzada, a religious scholar in Herat Province.
"No one can claim that the security forces are not Muslims," he said.
"Defending our country and people is a sacred duty, and currently the national security forces are carrying out this duty," he added. "There is no doubt that these forces are defending the national interest and religious values, and they sacrifice their lives for this cause."
"We see that the security forces make their prayers and perform their worship as Muslims," Akhundzada said. "The killing of these security personnel for any reason is illegitimate, and no justification is acceptable in this regard."