HERAT -- The Taliban's continued attacks during the holy month of Ramadan stand in stark contrast to the piety of security forces who are working around the clock to protect Afghans.
On Tuesday (May 19), Afghan troops repelled a fierce Taliban attack on Kunduz, officials said.
Taliban fighters attacked several outposts of Afghan forces on the outskirts of the city at about 1 am, triggering fierce fighting, a Defence Ministry statement said.
"With the support of air force their attack was repelled. Eleven Taliban were killed and eight wounded," it said, adding that the fighting lasted for several hours.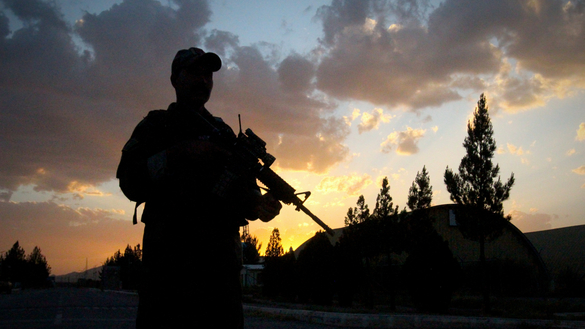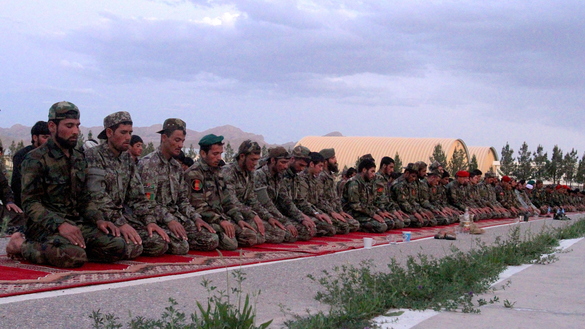 Both sides have repeatedly clashed in rural areas in recent months, but an attempt to enter a city like Kunduz is seen as a serious escalation.
The Taliban Monday (May 18) claimed a deadly attack on an Afghan intelligence agency post in Ghazni city that day.
At least seven intelligence personnel were killed by a car bomb, Wahidullah Jumazada, a spokesman for the province's governor, told AFP.
"The terrorists used a Humvee ... They targeted the National Directorate of Security unit in Ghazni city," he said, adding that 40 Afghans were wounded.
The militant group was responsible, Taliban spokesman Zabiullah Mujahid tweeted.
Last week, President Ashraf Ghani ordered security forces to switch to an "offensive" position against the militants after two deadly attacks killed dozens.
"During the holy month of Ramadan, the Taliban have perpetrated hundreds of small and large attacks on security forces in Herat, Farah, Badghis and Ghor provinces, but all of them were pushed back with the Taliban sustaining heavy casualties," said Maj. Gen. Zabihullah Mohmand, commander of the 207th Zafar Corps based in Herat Province.
Despite fasting all day and praying five times a day, the security forces are either standing guard at their checkpoints or patrolling all day on the streets and highways to prevent potential Taliban violence and reduce threats to civilians' lives, he said.
Security forces work from 6am to 4pm at their checkpoints to ensure security and, even while fasting, prevent potential Taliban terrorist acts, said Lt. Abdul Sami of the corps.
"After having our suhoor, we take our military gear and head to our duty," he said. "We mostly stay on guard at Herat city entrances searching every single vehicle entering the city."
"We get very thirsty and hungry as it is hard to tolerate working in hot weather in these [thick] uniforms, but we carry out this duty with full honesty in order to ensure security for our people," he added.
Desecration of Islam
While Ramadan is a month of peace and forgiveness, the Taliban have defiled the spirit of this time as they carry out bloody, sacrilegious attacks on civilians and security forces, said Sayed Muhammad Sherzadi, director of the Herat Department of Hajj and Religious Affairs.
Islam has a clear stance against suicide attacks and the slaughter of innocent civilians, God has cursed the perpetrators, and the terrorist acts carried out by the Taliban do not represent Islam, he said.
"The Taliban believe that they will achieve heaven by killing civilians and the security forces, but according to God's words and the sayings of the Prophet, the Taliban are cursed, and severe punishment is waiting for them in the hereafter," Sherzadi said.
"Based on Islam, Taliban fighters and their leaders and supporters are not Muslims as all of their acts are illegitimate and contrary to the values [and teachings] of Islam," he added.
There is no doubt that Afghan security forces are Muslims and serve an Islamic society, and it violates Sharia and Islam to deny that the security forces are Muslim and to wield a weapon against them, said Sherzadi.
"The Prophet has destined heaven for the security forces who maintain security for the public in an Islamic country," he said, adding that the security forces are the true guardians of society.
Assaulting security forces and civilians is forbidden in the holy month of Ramadan, and the Taliban should end their illegitimate war as soon as possible, said Maulawi Abdul Basit Sarem, a religious scholar from Badghis Province.
"According to Islam, killing is forbidden in every month of the year -- especially in the holy month of Ramadan, a month in which the Koran was revealed," he added.
"The more rewards God bestows on those doing good in Ramadan, the more sinful he considers the Taliban's destructive acts in this month," Sarem said.
"The Taliban link [and justify] their war with Islam while all their acts are un-Islamic and inhuman," added Sarem. "Islam rejects any attack on the lives of Muslims, but we see that the Taliban kill those who are fasting and praying."
"The defence and security forces have a place in the hearts of Afghans, and everyone supports them," he added. "The security forces are working hard while fasting to ensure security and calm for the public during the month of Ramadan."
"As a religious scholar, I consider the path the security forces take as righteous; I call their defence [of the country] a legitimate act, and I fully support them," Sarem said.
Condemning the Taliban's violence
Religious scholars in Firoz Koh on May 14 condemned the Taliban's massacres and called them brutal and un-Islamic.
The same day, a number of civil society activists in Herat city labelled the Taliban as criminals and described their brutalities as unforgivable.
Attacks carried out by the Taliban and other groups during Ramadan are crimes against humanity, said Maulawi Sayed Muhammad Akhundzada, a religious scholar in Ghor Province.
"No one has the right to associate the killing of innocent Muslims with the sacred religion of Islam," he said. "The killing of Muslims is criminal and sinful... perpetrators are punishable according to God's rules, and they should expect severe punishment."
"Most victims of terrorist attacks in the country are innocent civilians," said Zhala Hakak, a civil society activist in Herat city.
"The recent attacks on a hospital in Kabul and a funeral prayer in Nangarhar are not justifiable, and their perpetrators should be tried and punished," she said, referring to the two atrocities last week.
The targeting of women and children is not forgivable, and anyone who commits a crime should be tried in a court of law, she added.
"The recent terrorist attacks are crimes against humanity, and no religion, no law and no human being can allow such brutality against children and women," said Rafi Sadaat, a resident of Herat city.
"The Taliban and ISIS boast about being followers of Islam, but they killed a baby just a few hours after his birth in the month of Ramadan," he said.