KABUL -- A rash of bloody attacks targeting infants, nurses and mourners, and newly issued threats by the Taliban, raise fresh questions about the fate of a hoped-for peace process.
President Ashraf Ghani has ordered the country's security forces to resume offensive operations against the Taliban and other insurgent groups following two separate terrorist acts that took dozens of lives Tuesday (May 12).
At least 24 people were killed and another 16 wounded in an attack on a maternity hospital in Kabul, Afghan Deputy Health Minister Waheed Majroh said Wednesday (May 13).
The authorities had earlier said 14 people died in the early morning attack on Barchi National Hospital, including newborns, mothers and nurses.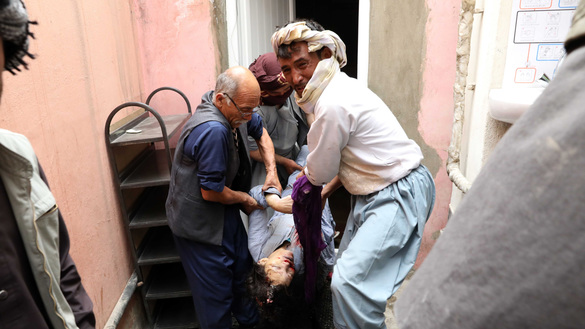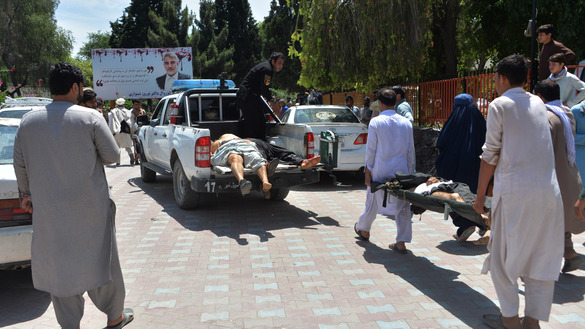 About an hour later, a suicide bomber killed at least 24 people and wounded 68 more at the funeral of a local police commander in Nangarhar Province, according to provincial spokesman Ataullah Khogyani.
No group immediately claimed responsibility for the hospital bloodshed, but the "Islamic State of Iraq and Syria" (ISIS) said it carried out the attack on the funeral, calling the victims "non-believers".
Ghani blamed both the Taliban and ISIS for the carnage.
"Today, we witnessed terrorist attacks by the Taliban and Daesh groups on a hospital in Kabul and a funeral in Nangarhar, as well as other attacks in the country," he said in a televised address, using the Arabic name for ISIS.
"I order all the security forces to end their active defence position, return to offensive postures and resume their operations against the enemy," Ghani said.
A resumption of operations was necessary to "defend the country, safeguard our countrymen and infrastructure, and to repel attacks and threats by the Taliban and all other terrorist groups", said Ghani.
The Taliban, which denied involvement in the May 12 attacks, said it was "fully prepared" to counter any strikes by Afghan forces.
The aggressive posturing comes months after Afghan forces pledged to only react defensively to Taliban attacks to show good faith ahead of eventual peace talks.
But the Taliban did not reciprocate, instead unleashing a wave of violence that began immediately after the insurgents signed a deal with US negotiators on February 29.
Indiscriminate killing
The first attack May 12 saw gunmen storm Barchi National Hospital as parents brought infants and children for appointments.
Afghan National Defence and Security Forces (ANDSF) eventually killed the three attackers in a lengthy clearance operation. Heavily armed security forces were seen carrying infants -- at least one wrapped in a blood-soaked blanket.
One of the wounded, Jamila, said she had taken her grandchild to the hospital for some vaccinations.
"We were outside the hospital. I wanted to go inside when they shot me and one of my grandchildren was killed," said Jamila, who only gave one name.
The hospital is in a neighbourhood that is home to Kabul's minority Shia Hazara community -- a frequent target for ISIS militants.
It is supported by the humanitarian organisation Doctors Without Borders (MSF), and a number of foreigners were working there.
"It beggars belief that such a heinous act could be committed when Afghanistan is being ravaged by the COVID-19 pandemic," UN Humanitarian Co-ordinator Toby Lanzer said.
In Nangarhar, Zabit Amir said he was preparing to stand in line for the funeral service, which locals said was attended by thousands, "when I heard a big blast and then saw hundreds of people on the ground".
"I did not even know who was alive or dead there."
The violence comes just a day after ISIS claimed responsibility for detonating four roadside bombs in northern Kabul, wounding four civilians including a child.
Fate of peace process uncertain
The latest bloodshed raises fresh questions about the fate of a hoped-for peace process that is teetering as Afghanistan grapples with the coronavirus crisis.
US Secretary of State Mike Pompeo called the attacks "appalling" and noted the Taliban's denial of responsibility.
"The Taliban and the Afghan government should co-operate to bring the perpetrators to justice," he said in a statement.
"Consistent with the agreement, the US military will continue to conduct defensive strikes against the Taliban when they attack" Afghan partners, said Pentagon spokesman Lt. Col. Thomas Campbell.
"There are few words that can do justice to the horrors we have witnessed today in Afghanistan," EU foreign policy chief Josep Borrell said in a statement.
"To target and kill mothers, newly born babies and nurses, as well as bereaved and mourning families, are acts of evil and show an appalling degree of inhumanity."
Borrell demanded the perpetrators be brought to justice and renewed a call for a permanent ceasefire in Afghanistan.
US Special Representative for Afghanistan Reconciliation Zalmay Khalilzad further pushed the two sides to work towards peace.
"Failure to do so leaves Afghanistan vulnerable to terrorism, perpetual instability and economic hardship," he said on Twitter. "Now is the time to move towards peace."