HERAT -- Hundreds of religious scholars and imams in Herat, Kunar and Nangarhar provinces in separate gatherings called Taliban and "Islamic State of Iraq and Syria" (ISIS) activities un-Islamic, and condemned the series of recent deadly attacks perpetrated by the two groups.
The Ulema Council in the western region on May 16 declared at a gathering at the Grand Mosque of Herat that terrorist groups like the Taliban do not have a religious agenda. Rather, they are killing Afghans -- including women and children -- to implement the intelligence plans of regional and neighbouring countries.
The Taliban's killing of civilians has no religious justification, said Maulawi Khudadad Saleh, chairman of the Ulema Council in the western region.
"We, the council of religious scholars in the western region representing all the religious scholars, condemn the recent bloody attacks, especially the ones in Kabul and Nangarhar, and consider these acts to be un-Islamic and vicious," he said.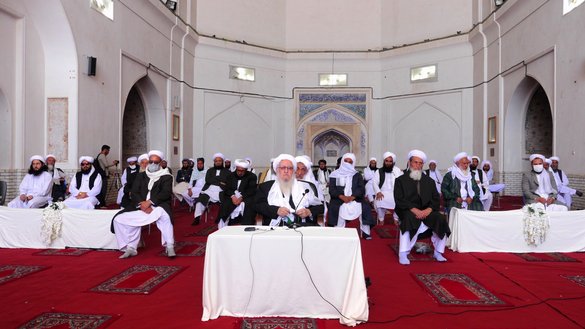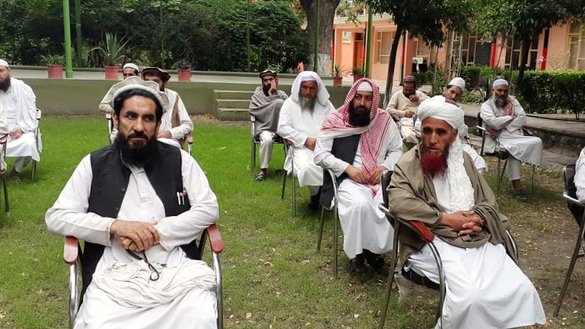 "No one can say that the terrorist attacks are permissible as these are illegitimate," he said. "Those who justify the killing of innocent people and perpetrating of suicide and destructive attacks know nothing about Islam, and they are involved in killing Afghans based on their ignorance."
The gatherings came on the heels of two high-profile terrorist acts last week.
On May 12, three gunmen besieged Barchi National Hospital in Kabul, systematically killing at least 24 Afghans and wounding 16 others, including newborns, mothers and nurses.
No group has claimed responsibility, but officials and analysts say the massacre bears the hallmark of ISIS.
The same day, about an hour later, an ISIS suicide bomber self-detonated at the funeral of a local police commander in Nangarhar Province, killing at least 24 people and wounding 68 more.
On May 11, four roadside bombs detonated in less than 90 minutes in Kabul, wounded four civilians including a child, police said. ISIS claimed responsibility for the blasts.
The bombings took place in the capital's 17th District, an area where Afghanistan's intelligence agency recently broke up a joint ISIS-Haqqani Network cell accused of carrying out several attacks.
Those incidents were followed by another Taliban-claimed suicide attack targeting an Afghan National Army base in Paktia Province on May 14. The blast killed at least five civilians and wounded 24 others, according to Afghan officials.
'Not Muslims'
Those who are involved in killing innocent people like women and children are not Muslims, said Maulawi Mujiburrahman Ansari, imam of the Gazar Gah Mosque in Herat city.
"The heinous attack on a hospital in Kabul perpetrated by brutal human beings was un-Islamic and inhumane," he said. "We condemn this attack that resulted in killing women and newborns in the strongest terms."
"Terrorist attacks, especially the one that was carried out on a funeral in Nangarhar Province and martyred and injured dozens of Muslims, represent the brutal nature of the terrorist groups," he said. "A harsh punishment from God is waiting for the perpetrators."
"The Taliban's attacks on hospitals, gatherings of civilians and mosques show that they are ignorant and [their acts] are illegitimate," said Maulawi Abdul Ghani Jamshidi, deputy director of the Herat Department of Hajj and Religious Affairs.
"Carrying out suicide attacks and bombings against Muslims is forbidden," he said. "Islam forbids and denounces terrorist attacks, especially those that took place in the country during the month of Ramadan."
"Suicide attacks are wrong [and forbidden] in Islam, and those who carry out such attacks are no longer part of Islam; they will be held accountable for their heinous and illegitimate acts in front of God," he said.
"Attacking civilians, especially women and children, is wrong and forbidden," said Maulawi Abdul Wali Salim, a religious scholar in Herat city.
"Anyone who carries out suicide attacks and [bomb] blasts has no place in Islam," he said. "Killing innocent civilians in a mosque or in a funeral prayer is an un-Islamic and inhumane act."
Peace is obligatory
The religious scholars called on all parties to the conflict to renounce violence and immediately begin intra-Afghan peace talks.
"Enough of this war," said Saleh, chairman of the Ulema Council in the western region. "Peace needs to be brought to Afghanistan at any price."
"As war is not a solution for Afghanistan, peace has to come -- the kind of peace that can preserve Afghans' national and Islamic values," he said, adding that working toward peace is as compulsory as fasting and prayer for Muslims.
"If the Taliban believe in the hereafter and God, they should accept peace because God has invited everyone to peace," he said. "If the Taliban don't accept God's words, we don't have to expect peace from them either."
"We, the religious scholars, call on the Taliban and the government to declare a ceasefire for the sake of people," said Maulawi Shujauddin Muhammadi, a religious scholar in Ghor Province.
"The war takes a huge toll on civilians in Afghanistan," he said. "The war has weakened our educational system, and it has caused poverty and hunger, and therefore, this destructive war should stop."
Terrorists 'going to hell'
Meanwhile, at separate gatherings on May 14, religious scholars in Nangarhar and Kunar provinces strongly denounced the recent terrorist attacks.
They called on the Taliban and other groups to stop fighting and killing as a way to achieve power.
"We condemn ... these attacks, and we -- all religious scholars in Nangarhar -- with one voice declare that this is a massacre of human beings [by misusing] the name of Islam for which the perpetrators and planners will never be forgiven," said Nangarhar-based religious scholar Mawlawi Habibullah Jalalabadi.
"Afghanistan has been in chaos for the past 41 years," said Maulawi Abdul Ghafar, another religious scholar in Nangarhar. "Every insurgent group kills ordinary Afghans, thinking that by doing so, they will enter heaven. This isn't happening; all these murderers are going to hell."
"The Taliban should first declare a ceasefire and then make peace," he said. "If they don't do so, it means they don't want calm in Afghanistan and they are the killers of humans."
"Attacking hospitals, newborns and women is akin to attacking Islam, which is a great crime," Maulawi Zia-ur-rahman Allahyar, a religious scholar from Kunar, said at the gathering held in Asadabad. "Scholars of Kunar condemn this act as there is no justification for such acts in Islam."
[Khalid from Nangarhar contributed to this report.]