HERAT -- More than 200 religious scholars gathered at the Herat Department of Hajj and Religious Affairs in Herat city last week to condemn the Taliban's war in Afghanistan.
The Taliban have been killing Muslims, which is considered a sin according to the teachings of Islam, and those responsible for killing innocent civilians will go to hell, the religious scholars said at the July 23 gathering.
Those who kill innocent Afghans without justification will be put in the hell in the hereafter, where they will stay forever, said Maulawi Hussain Halim, chairman of the Shia Ulema Council in Herat.
"All Afghans are Muslims, and they preserve Islamic values, but they are killed for the interests of outsiders," he said. "The Taliban kill innocent and impartial Afghans without any reason, which is an act against Islamic and human values."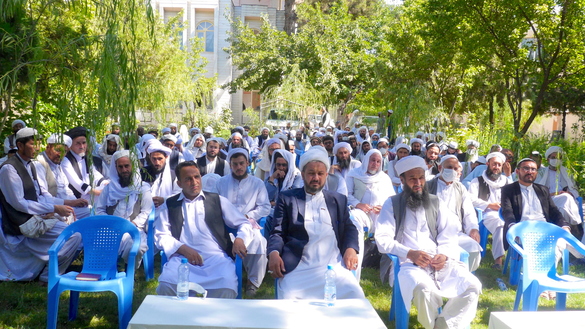 "Islam has directed Muslims to peace and brotherhood to make sure their lives are protected," Halim said. "Those who resort to killing innocent civilians in an Islamic society breach Islamic laws and regulations."
"Islam has a clear message on respecting a Muslim's life, which shouldn't be taken under any circumstances," said Shaikh Abdul Ghafar Jami, a religious scholar in Herat city.
"For those who kill Muslims, God has destined a heavy punishment for them, and they will stay in hell forever," he added.
"There is no religious justification for killing the innocent and Muslim people of Afghanistan, and those who take lives in the name of religion are making a mistake," he said.
Peace talks
The religious scholars in Herat called on the Taliban and the Afghan government to declare a ceasefire and immediately engage in intra-Afghan peace talks.
God has invited his servants to peace and Muslims are obliged to resolve their differences and make peace, said the director of the Herat Department of Hajj and Religious Affairs, Maulawi Abdul Khaliq Haqqani.
"The Afghan people need peace the most as the war has taken everything from them," he said. "All parties to the conflict should disregard their differences and join the peace talks."
Religious scholars of Herat say that declaring a ceasefire is obligatory and will pave the way for intra-Afghan peace talks, bring lasting peace and put an end to the war in Afghanistan, he said.
"We have to remove every obstacle that has blocked the peace process as doing so will help the government and the Taliban to sit at one table and seek a solution to the conflict," Haqqani said. "Both parties have to trust and embrace one another so that outsiders don't interfere in the peace process."
"Parties to the conflict, especially the Taliban, must reduce violence so that an opportunity for a ceasefire and peace can emerge, and the Afghan people are protected from these miseries and war," said Maulawi Muhammad Yousuf Munib, a religious scholar in Herat.
"We call on parties to the conflict to put an end to this bloodshed," he added. "The religious scholars' message to the Taliban is to stop killing and to begin intra-Afghan peace talks."
"On both sides, Afghans get killed, mothers grieve, women become widows and children become orphans," he added. "When we analyse this war, we can see that it doesn't benefit anyone. As we get closer to peace, the war is meaningless."
Civilian victims
Military affairs analysts have accused the group of breaching the laws of war as civilian casualties increase because of the Taliban's violent activities.
The Taliban killed 542 civilians and injured 896 in the first half of 2020, according to an Afghanistan Independent Human Rights Commission report published on July 14.
"The Taliban continuously target civilians -- including women and children -- which is a clear breach of human rights conventions and the laws of war," said Mohammad Naim Ghayur, a military affairs analyst in Herat city.
"Civilians lose their lives in the Taliban's attacks on cities, mosques and ceremonies," he added. "The Taliban don't have any respect for human life, and therefore it is mostly civilians that suffer casualties in the Taliban's attacks and explosions."
"The Taliban and other terrorist groups don't believe in laws of war and human rights values, and it doesn't make any difference to them if civilians, including children and women, are killed in their attacks," said Wakil Ahmad Karukhi, chairman of the Herat Provincial Council's security committee.
"The Taliban directly target civilians in their roadside bombings and suicide attacks," he said. "The Taliban hide themselves in civilians' house and use families as human shields during their clashes with security forces."