HERAT -- More than 5,000 residents of Herat, including women, religious scholars and youth, gathered at Herat Sports Stadium on November 20 to urge the Afghan government and the Taliban to declare a ceasefire.
The government and the Taliban are said to be close to moving negotiations forward after direct talks began on September 12 in Doha, Qatar.
Discussions had faltered for months over disagreements about the agenda, the basic framework of discussions and religious interpretations.
At the same time, the Taliban have ramped up their attacks and violence.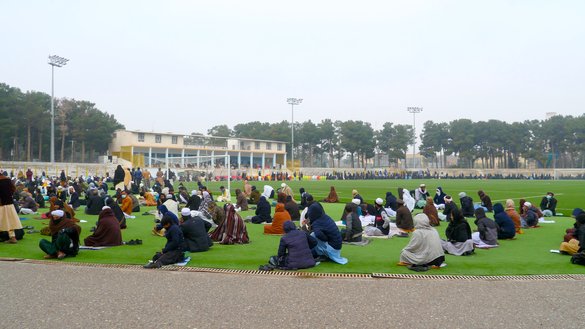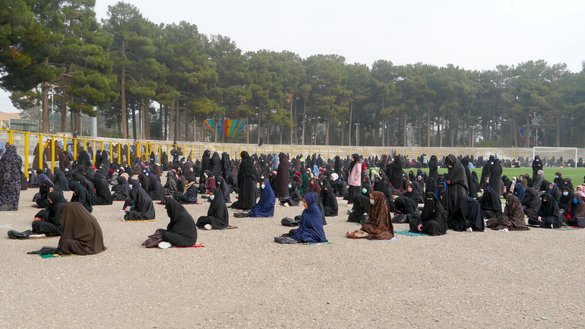 Afghans want the Taliban and the government to create an opportunity for peace and an end to the war, said Shaqayeq Noorzai, a resident of Herat city who took part at the gathering.
"We are fed up with this war and bloodshed," she said. "Every moment, we get news of killings and explosions, and no one can accept this situation any longer."
"The Taliban shouldn't lose the opportunity for peace, and they should not make excuses to stop peace talks," said Hasina Sahil, a resident of Herat city and a participant of the gathering.
"There's bloodshed every day in Afghanistan, and innocent civilians lose their lives," she said. "We are tired of these killings, and we can no longer tolerate seeing tears in the eyes of mothers and seeing children become orphans."
"We ask the Taliban to stop killing Afghans and make peace with the government," she added. "We call on the Taliban to renounce violence, solve their issues at the negotiating table, and stop engaging in war."
All Afghans want peace and a ceasefire, said Latifa Hamdard, another local resident.
"We ask the Taliban to allow peace to happen and sit with your brothers at the negotiating table so that the war and bloodshed can stop and so that we can live in a peaceful environment and security," she said.
"We have been tired of war to the extent that we don't have any hope for the future," Hamdard said. "When we leave our home in the morning, we're not sure that we'll be able to return home. We are afraid of being killed in the Taliban's suicide attacks and bombings."
Everyone hates the war, and the Taliban should not continue fighting this war imposed from outside for their personal benefit, she added.
Illegitimate war
It is only Muslims who are being killed in the war, which has no religious legitimacy, say religious scholars in Herat Province.
According to God's words and the sayings of the Prophet, those who perpetrate killings and are engaged in bloodshed and stealing others' property will go to hell and will face God's anger, said Maulawi Ghulam Sakhi Khairandish, a religious scholar from Herat city.
Anyone who kills the innocent will be punished for his (or her) acts and will stay in hell forever, he said.
"The Islamic religion has rejected even the killing of non-Muslims," he added. "Those who are engaged in the killing of innocent Afghans every day while claiming they're doing jihad breach the teachings of Islam, and they will face God's anger."
According to Islam, it is prohibited for a Muslim to kill another Muslim, said Maulawi Muhammad Yousuf Haqqani, a religious scholar in Herat city.
"This war, in which only Muslims lose their lives, has no religious legitimacy, and [Islam] rejects it in its entirety," Haqqani said.
"God and the Prophet of Islam have prohibited the killing of human beings, especially Muslims, and those who resort to killing innocent civilians are committing a sin and they will be in hellfire forever," he said.
"We call on parties to the conflict to immediately respond to the public's demands, stop causing more pain and help Afghans achieve their hope... peace and security," he added.
"God said in the Koran that there is virtue in peace and that peace facilitates the prosperity and development of a country," he said.
"The people have been longing for peace, and all Afghans are thirsty for peace just like those fasting on Ramadan are thirsty for water."
Serious demands
All Afghans are calling for peace and a ceasefire, and the Taliban and government should respond positively to these demands, said Abdul Salam Wahedi, a resident of Herat city.
"The calls for peace are widespread in all provinces," he said. "This shows that Afghans are tired of war and violence, and they no longer want to lose their loved ones."
The demands of Afghans are lawful and legitimate as they are asking for peace and a ceasefire because they cannot tolerate witnessing bloodshed and massacres on a daily basis, he added.
"If the Taliban disregard the public's call for peace, they won't have a place in this country," said Muhammad Nazir Osmani, a resident of Herat city.
"Afghans scream every day asking for this destructive war and bloodshed to end, but since the Taliban don't accept their call, it shows that the group receives orders from others to kill their own people," he said.
"Those who block the peace process and make excuses are responsible for the daily killings of Afghans, and the public curses them," said Sayed Muhammad Sherzadi, a religious scholar in Herat city.
"The public hates those who create excuses and disrupt the peace process, and based on the Koran, they will see punishment," he said. "I request that the Taliban and government start the peace process, declare a ceasefire and proceed with peace talks during the ceasefire."
If civlians' calls for peace had been heard years ago, Afghanistan would not experience such destructive conflicts, and innocent Afghans would not be killed every day, he said.
"The Taliban and government have to listen to the Afghan people's calls for peace," he added. "If they don't hear the public's voices and demands, they won't be able to run a government in this country."