HERAT -- Almost 3,000 civilians have been killed or wounded over the past six months in Afghanistan and the Taliban are the main perpetrators of the carnage, an Afghanistan Independent Human Rights Commission (AIHRC) report revealed.
During the first six months of 2020, there were a total of 2,957 civilian casualties, including 1,213 dead and 1,744 injured in 880 separate incidents, according to the Tuesday (July 14) report.
The figures mean that an average of 16 civilians were killed daily during the first six months of the year.
There were 297 casualties among women, including 126 dead and 171 wounded, while casualties among children reached 630 -- 225 dead and 405 wounded.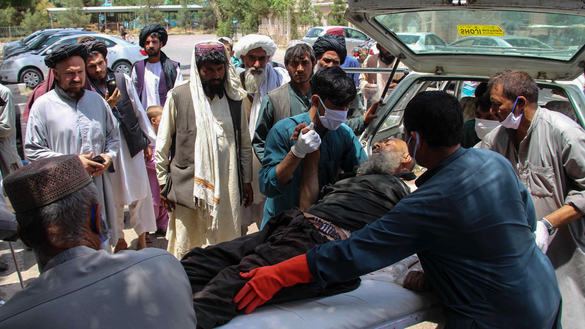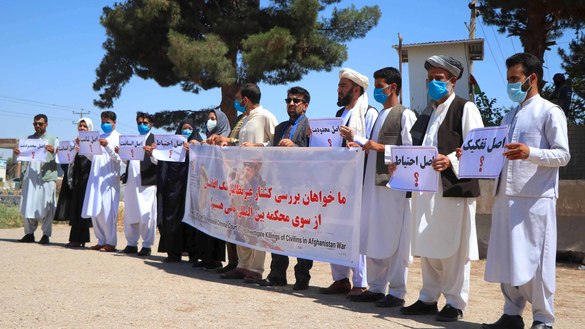 The Taliban was responsible for almost half -- 48.5% -- of the casualties and the "Islamic State of Iraq and Syria" (ISIS) was responsible for 6.3%, according to the AIHRC.
Unknown perpetrators were responsible for 26.7%, while government forces and international forces were responsible for 15.5% and 2.3%, respectively.
The remaining percentage of civilian casualties was caused by Pakistani rocket fire in Kunar, Kandahar, Paktia and Khost, the AIHRC said.
During the first half of 2020, the Taliban killed 542 civilians and injured another 896, totalling 1,438 casualties.
No mercy
In Herat and Badghis provinces, civilian casualties have increased because of Taliban attacks and explosions, say local authorities.
The Taliban have planted mines along roads and highways, and a large number of civilians have lost their lives as a result of the explosions in recent months, said Faiz Muhammad Mirzazada, deputy governor of Badghis Province.
He gave one example from July 8.
"Two children, ages 14 and 15, were martyred by a Taliban bomb in Ab Kamari District," he said. "The Taliban had planted a mine on a main road, and these children were hit... as they walked home."
Mirzazada called the attack "satanic" and "a crime against humanity".
"As the Taliban don't have the ability to fight with the security forces in Badghis Province, they resort to planting mines and committing terrorist attacks along the roads, which kill civilians," he said.
"The Taliban have no mercy for anyone, and it doesn't make a difference to them whether civilians are killed in their attacks and bomb blasts."
The Taliban target civilians to reach their goals of inflicting casualties and losses on ordinary Afghans, said Jilani Farhad, spokesperson for the Herat governor.
"Saving human lives is an important priority for the security forces," he said.
There have been no reports of civilian casualties in security forces' operations in Herat Province, Farhad said, adding that a main focus of the Afghan forces is to avoid civilian casualties and protect Afghans' property during their operations.
"It has been witnessed that the Taliban have used civilians as human shields in most of their operations," he added.
An un-Islamic act
In Herat Province, Afghan civil society activists, women, religious scholars and other residents of the province held a protest July 8 in front of the United Nations office in Guzara District to condemn the Taliban's killing of civilians.
"We ask the United Nations to send a delegation to Afghanistan to seriously investigate war crimes and civilian killings and try those involved in these killings in a court of law," said Susan Naweesa, a member of the Civilian Protection Working Group in Herat.
"All Afghans condemn civilian killings," said Fatima Farahi, a women's rights activist in Herat. "Afghans have made sacrifices for more than 40 years so they should no longer be killed."
Afghans are optimistic for peace and it is not fair that they are mercilessly killed this way, she said.
"We call on parties to the conflict to stop fighting as Afghans cannot tolerate sacrificing for this meaningless war," she said. "They do not want to lose their lives for political games and the personal interests of [terrorist] groups."
"Islam prohibits the killing of innocent human beings -- even if they are not Muslim -- but some terrorist groups kill innocent people in the name of Islam," said Maulawi Aqa Muhammad Gulrani, a religious scholar in Herat Province.
"There has been a rise in civilian casualties in a number of provinces because of an increase in violence and terrorist attacks such as bomb blasts and suicide attacks, which are against Islamic and religious values," he said.
Every time the Taliban commit a crime killing civilians, they loudly deny their involvement, Gulrani said. But Afghans know that no one other than the Taliban and ISIS are involved in killing civilians.
"In general, Islam does not condone violence and it doesn't allow Muslims to fight with each other," he said. "But the Taliban and other criminal groups kill innocent civilians who are not involved in the war without any reason, which is an illegitimate act."
"If the Taliban believed in the hereafter, they wouldn't murder innocent people; therefore, it is obvious they don't have faith in the hereafter, and they do whatever they wish to do," Gulrani said.