HERAT -- The Taliban's latest violence in Ghor Province has forced hundreds of civilians to flee their homes in Shahrak District during the holy month of Ramadan.
As a result of a Taliban attack on April 24, hundreds of families were forced to leave their homes and relocate to Firoz Koh, said Muhammad Arif Aaber, a spokesman for the Ghor governor.
Forty-five families were displaced from the Kamanj area while another 107 families left their homes in Maidanak village, he added.
"Residents of the Kamanj and Maidanak areas are pro-government and do not accept the Taliban; therefore, [the militants] have been pressuring and oppressing them," Aaber added.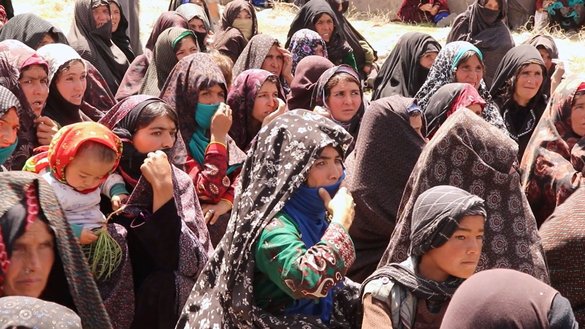 The provincial administration has begun providing assistance to the families with the support of aid agencies, he said.
"We had to escape from the Taliban; they torched our houses, destroyed everything and tortured men. We have come to Firoz Koh city so that the government can help us," said Khadija, who goes by one name, a resident of Kamanj village.
"We escaped from Taliban brutality, leaving everything behind. Our kids do not have food or clothes," she added. "We are living a very difficult life here."
"The Taliban stole our happiness and the comfort of our life," she said. "We had to abandon our village to save our lives."
Destroying infrastructure
After attacking the Kamanj area, the Taliban destroyed a nearby bridge on the Harirud River along the Herat-Ghor highway, creating difficulties for those commuting between the two provinces.
The bridge was the only one connecting the two provinces, said Aaber, the spokesman for the Ghor governor.
"The Taliban have always destroyed national and public projects, something that is against the law," he said.
"The destruction of the Kamanj bridge is a tragedy not only for Ghor Province but for all of Afghanistan," said Keramuddin Rezazada, a representative of Ghor Province in Wolesi Jirga.
"This bridge was built with great effort by the government, but the Taliban destroyed it in a few minutes. The Taliban do not want a prosperous Afghanistan; their interest lies only in destruction," he said.
"This bridge, which was 40 metres long, was opened for use in 2008. The government funded its construction budget of more than $200,000 (15.2 million AFN)," he said.
Meanwhile, the Taliban torched a telecommunications tower operated by the Etisalat telecom firm on April 28 in the Kamanj area, said Qurban Ali Mohammadi, the acting director of Communications and Information Technology in Ghor.
"The Taliban have warned all telecom companies in Ghor Province they will destroy their telecom towers unless they shut them off at night," he said.
"By shutting off towers at night, the Taliban deprive thousands of Afghans of telecom services," he said. "We condemn this act by the Taliban."
Disrespecting the month of Ramadan
Religious scholars have condemned Taliban assaults during Ramadan and called these attacks against the values of Islam and an insult to the holy month.
Any kind of attack and killing of Muslims during Ramadan is an unforgivable crime clearly against the values of Islam, said Maulawi Sayed Mohammad Shirzadi, a religious scholar in Herat Province.
"The killing of innocent people is strictly prohibited, and the perpetrators of such crimes will never be forgiven," he said.
"The Taliban will definitely answer to God for their crimes and the killing of innocent Afghans on a daily basis. But while they commit these crimes in ignorance, they will have no answers for their actions before God," said Shirzadi.
"Any pain inflicted on Muslims especially during the month of Ramadan is strictly forbidden," Shirzadi added. "Closing and mining roads or stopping people from going to hospitals is a crime that the Taliban are committing without any justification."
Any harassment of civilians during the month of Ramadan is strictly forbidden, said Mawlawi Mohammad Ahmadi, a religious scholar in Firoz Koh.
"Destroying a bridge on a public road is an act against the religion and humanity," he said. "Associating such acts with Islam in itself is a sin; they have no association with the sanctity of Islam. Those who commit such acts are ignorant."
"Islam forbids anyone from harming others. No one has the right to close roads under any pretext or disrupt normal lives," he added. "Those who associate such crimes with Islam actually insult Islam."