HERAT -- The Taliban's destruction of highways in Ghor and Nimroz provinces has infuriated residents, who see it as a hostile act against the people and infrastructure of Afghanistan.
The Taliban in mid-December blew up parts of the Herat-Kandahar highway in Dilaram District, causing serious problems for travellers, said Nimroz provincial Governor Zmaryalai Ahadi.
"Bridges, schools, hospitals, dams and even mosques are not safe from Taliban attacks and from their animosity towards this country and its people," he said.
At around the same time, an undated video circulated on social media showing a group of Taliban blowing up a critical section of the Herat-Ghor highway in Shahrak District, Ghor Province, while chanting "Allahu Akbar".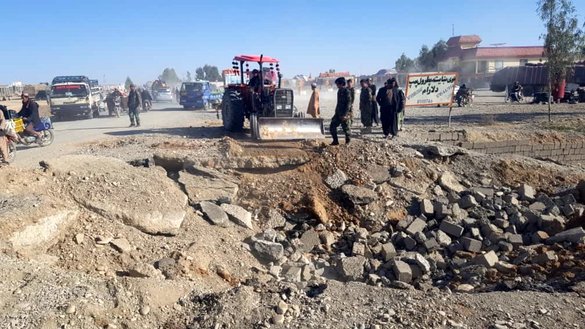 Making travel impossible
Residents of the province expressed outrage at the Taliban's targeting of highways, stressing that the roads belong to the public and are not legitimate military targets.
"We strongly condemn the destruction of highways, bridges and infrastructure by the Taliban," said Ahmad Shahrani, a resident of Firoz Koh. "Our request of this group is to stop the destruction of roads, oppression and compounding of the people's misery."
The Herat-Ghor highway is a vital road for Ghor residents. By wrecking bridges and part of the highway, the Taliban have made travel between Herat and Ghor in the winter season impossible, said Zabiullah Wafa, another Firoz Koh resident.
"By blowing up the Herat-Ghor highway, the Taliban have caused many problems for residents of Ghor Province," he said.
Ghor's inhabitants "buy all their supplies in Herat Province, and with the closure of the highway, they face a shortage of food and medicine", he said.
Because of the Taliban's handiwork, paramedics cannot transfer patients from Ghor to Herat and some may die as a result, said Abdul Wahid Ghori, another Firoz Koh resident.
In addition, "food prices in Ghor Province have risen, causing many problems ... in this cold season," he added.
Such sabotage is an evil act, said Abdul Hamid Watandost, a resident of Zaranj, Nimroz Province.
"By doing so, the Taliban have ... harmed the people of Afghanistan and proved that they do not want the prosperity and development of Afghanistan."
No one has the right to target infrastructure, Watandost said.
Sabotaging infrastructure is an inhumane act and harmful to the country's future and must be stopped, said Ali Ahmad Muhajir, a civil society activist in Zaranj.
"Security forces, the Taliban and the general public use these highways and bridges," Muhajir said. "Destruction of infrastructure [shows the Taliban's] explicit enmity toward the prosperity and future of Afghanistan."
Betraying the Afghan people
Gul Ahmad Ahmadi, deputy chairman of the Nimroz Provincial Council, called on the Taliban to stop attacking public infrastructure projects under the pretext of war.
"The Taliban must respect the infrastructure of Afghanistan and not destroy it because it belongs to the people, not to the government," he said.
That sabotage "is a betrayal of the people of Afghanistan", he added.
Destroying public property hurts all Afghans, said Mawlawi Mohammad Mutaqi, a religious scholar in Firoz Koh.
"No one has the right to blow up roads and bridges and block movements in Ghor Province," he said. "Residents of Ghor Province are [experiencing an] economic blockade due to the destruction of the highway."
Between March and November 2020, authorities recorded about 100 explosions along the highways of Herat Province -- a 70% increase compared to the same period in 2019, said Sayed Abdullah Hemayat, director of the Herat Department of Public Works.
The explosions have damaged several sections of the highways, including large and small bridges, leading to more than 200 million AFN ($2.6 million) worth of losses, he said.
Wrecking infrastructure constitutes a betrayal of the public treasury (bait ul mal), betrayal of the public and betrayal of God, said Mohammad Muhsen, a resident of Herat city.
Taliban fighters are depriving the Afghan public of infrastructure that belongs to it, Gen. Scott Miller, commander of US and NATO forces in Afghanistan, said in Kabul December 16, according to the Associated Press.
He said such sabotage had nothing to do with the war.
"Clearly, the Taliban use violence as leverage," Miller said.
"The Taliban have long used violence as a tool to project their power," Miller said, adding that the US government has been pushing the Taliban to reduce violence as a prerequisite for the Afghan peace process.
Government creating jobs
While the Taliban continue to glorify vandalism as a military act, the Afghan government is committed to building new roads and transit corridors, reconstructing those destroyed, and creating jobs for thousands of Afghans.
"Work on 13 development projects is under way in various parts of Herat city and includes paving roads, constructing canals and boulevards and decorating some parts of the city," Najibullah Habibi, spokesperson for Herat Municipality, said in late November.
Authorities are implementing these projects with 116 million AFN ($1.5 million) from the government and $370,000 (28 million AFN) provided by the World Bank, he said.
"In addition to constructing [several] highways, we have rebuilt dozens of bridges that the insurgents destroyed, and we repaired and maintained dozens of kilometres of highway," Hemayat said. "Repair and maintenance of highways and major bridges are always in progress."
Road construction and other development projects have created long-term jobs for thousands of residents of Herat Province, including 1,000 jobs for engineers and for skilled and unskilled labourers working on the province's highways, he said.
"The construction and rehabilitation work in the city ... has made civilians hopeful," said Muhammad Sarwar Hakimi, who works on a road construction project in Herat city.