HERAT -- While the Taliban's violence and attacks have undermined the prospects of peace throughout Afghanistan, the Afghan government is providing hope for a better future by implementing development and rehabilitation projects and creating jobs for thousands of Afghans.
"Work on 13 development projects is under way in various parts of Herat city and includes paving roads, constructing canals and boulevards and decorating some parts of the city," said Najibullah Habibi, spokesperson for Herat Municipality.
These projects are being implemented with 116 million AFN ($1.5 million) from the government budget and $370,000 (28 million AFN) provided by the World Bank, he said.
"The appearance of Herat city has changed with these development projects," he said. "Most of these projects are implemented in poor neighbourhoods, which has helped Herat city to prosper. The municipality is trying to build more facilities for residents of the city."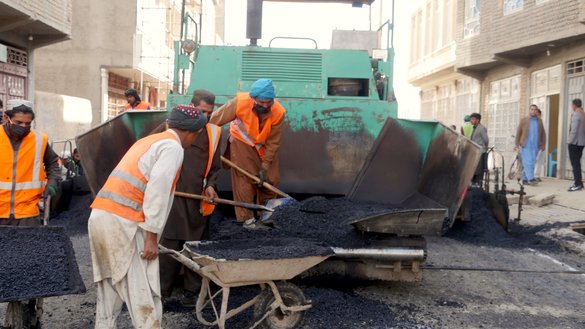 "This year, work is under way on two major road construction projects in Herat Province," said Sayed Abdullah Hemayat, director of the Herat Department of Public Works.
Construction of the 54km-long Armalak-Laaman highway (Herat-Badghis highway) project is 95% complete, and the rest of the project will be delivered by the end of the year, he said.
Meanwhile, construction of the 35km-long Herat-Chesht highway (Herat-Ghor highway) project has started, with a total cost of $23 million (1.8 billion AFN), and is 35% completed, he added.
"In addition to constructing these highways, we have rebuilt dozens of bridges that were destroyed by armed anti-government elements, and we repaired and maintained dozens of kilometres of highway," Hemayat said. "Repair and maintenance of highways and major bridges are always in progress."
Creating job opportunities
Implementing road construction and other development projects has created long-term jobs for thousands of residents of Herat Province, said Hemayat.
The Herat Department of Public Works has created 1,000 jobs for engineers and for skilled and unskilled labourers working on the province's highways, he said.
Muhammad Sarwar Hakimi, who works on a road construction project in Herat city, said he is happy he has a job that contributes to rebuilding the country.
"The monthly salary I receive in this job satisfies my household expenses," he said. "I am busy in the construction and rebuilding work of my city all day, but I don't feel tired at all."
"The construction and rehabilitation work in the city ... has made civilians hopeful," he said.
"I wish we had full security so that we don't see any destruction of our country's infrastructure and public property," he added.
Wakil Ahmad Muhammadi, an employee at Herat Municipality, also said he earns a good monthly salary that meets his household expenses.
"If there is no war, it will provide an opportunity for implementing more reconstruction projects, and many unemployed young Afghans will find jobs," he said.
"All young people hope to find a job and contribute to the development and reconstruction of their country."
"We expect the government to roll out more development projects so that unemployed young Afghans can find jobs in their country and cities and stop migrating to neighbouring countries [for work]," he said.
Looking forward to peace and prosperity
Herat residents say they are fed up with the Taliban's fighting and are calling on the group to renounce violence and to take an active role in Afghanistan's reconstruction and development.
Afghan government and Taliban negotiators have been meeting in Doha, Qatar, since September 12.
"When there is peace and security, the government can gain strength, and it won't experience war and [challenges from] the Taliban," said Nazir Ahmad, a resident of Herat city. "When the government becomes stronger, it will provide an opportunity for implementing development and construction projects."
"As a Muslim and an Afghan, I call on the Taliban to renounce violence and bloodshed and make peace for the sake of Allah, the Koran and the Prophet," he said. "If peace is upheld, we don't need to spend a huge amount of money on war, and we can spend that money on Afghanistan's reconstruction."
"The construction of roads and canals in the city has made things easier for the public," he said. "We can comfortably use the road in front of our houses during the winter and rainy season."
"It will protect us from dust in the summer," he said, referring to the paved surface.
"All Afghans are hopeful the peace negotiations in Doha will result in an outcome soon," said Abdul Zahir, a resident of Herat city.
Everyone hopes peace talks in Doha will be successful so that the bloodshed, war, assassinations and unrest will end and so that Afghans can begin a normal life, he said.
"The war has a huge cost, and if the budget for war is instead spent on development projects, Afghanistan will prosper," Zahir said. "We call on parties to the conflict to stop the war."
"The Afghan government is making efforts to provide facilities that can improve the lives of Afghans with the resources and budget it has in hand," said Jilani Farhad, spokesperson for the Herat governor.
If the budget that Kabul has to spend on a war imposed from outside went instead to rebuilding and implementing development projects, it would create thousands of jobs and contribute to the rebuilding of Afghanistan, he said.
"There is an increase in the number of development projects every year," Farhad said.
"The international community's aid has transformed Afghanistan, and now the appearance of cities has changed," he said. "Efforts are under way to ensure that the funding of these projects is not misused and that the projects delivered are of high quality."