HERAT -- The Afghan government has started work on a historic railway project despite Taliban attacks on infrastructure and the economic crisis caused by the COVID-19 pandemic, officials say.
The railway will be 84km long and extend from the Rozanak area of Ghorian District to the industrial park in Guzara District, Herat Province.
Ninety-five kilometres of rail already link Rozanak to Khaf, Iran. The Khaf-Herat network will later be connected to Central Asian and Chinese rail networks, according to officials.
Once completed, the railway will help transport six million tonnes of goods and a million passengers annually and will provide a gateway to European markets for Afghanistan, officials said.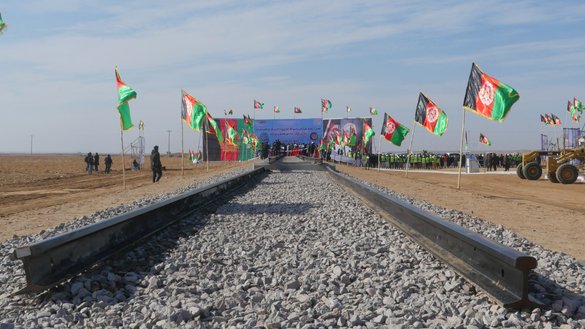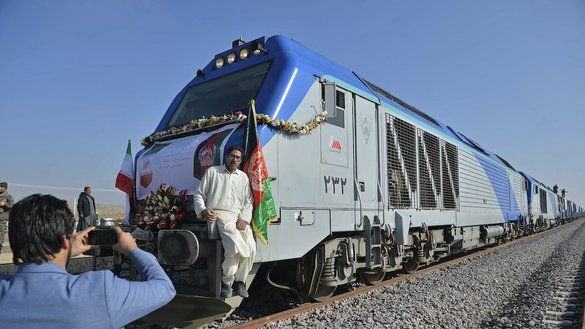 President Ashraf Ghani, addressing the opening ceremony of the project on December 10 via video link, welcomed the move as an "important step for economic revival and development".
The construction of the railway is a historic development that will connect Afghanistan with global markets, he said.
The remaining railway construction will occur in two phases. The first phase with the total length of 43km has begun and will be implemented in nine months at a cost of $55 million (4.3 billion AFN), funded by the government.
Work on the second phase will begin in March 2021.
The Asian Development Bank has conducted a credible analysis on railways in Central Asia Regional Economic Co-operation countries, which include Afghanistan, with regards to their huge investment potential between 2017 and 2050, Ghani said.
Based on this study, Afghanistan needs to build 2,440km of railway, and the initial estimate for building 1,295km of railway is more than $2.2 billion (172 billion AFN), he said.
"Fortunately, we see the construction of a railway in Herat in addition to railways in other parts of Afghanistan, including the Hairatan-Mazar-e-Sharif railway that has been completed and the Aqina-Andkhoy railway that is nearing completion," Ghani said. "Railways will be built in other parts of the country as well."
Uzbekistan built the Hairatan-Mazar-e-Sharif railway, while Turkmenistan is building the Aqina-Andkhoy railway.
"Our country will transform into one of the centres of energy production and export of sustainable energy, and meanwhile CASA-1000, TAPI and TAP are among the biggest regional economic projects," he said, referring to the Central Asia-South Asia Transmission and Trade Project, the Turkmenistan-Afghanistan-Pakistan-India natural-gas pipeline and the Turkmenistan, Afghanistan and Pakistan (TAP) power project.
CASA-1000 is a $1.2 billion project under construction that will allow for the export of surplus hydroelectricity from Kyrgyzstan and Tajikistan to Afghanistan and Pakistan.
The under-construction TAPI pipeline, also known as the Trans-Afghanistan Pipeline, is expected to help ease energy deficits in South Asia and generate revenue for the countries it traverses.
The Turkmenistan, Afghanistan and Pakistan (TAP) project, upon completion, will transmit 500KW of power from Turkmenistan to Pakistan through Afghanistan and will run alongside the TAPI pipeline, according to officials.
"We envisage that Afghanistan can restore its central location along the Silk Road and gain strong credibility among governments in trade expansion, investment and economic relations," Ghani said.
Commitment to development
The Afghan government has pledged to prioritise economic development, transportation and infrastructure projects to improve citizens' lives and commercial activities.
Authorities are determined to deliver the railway projects on time, Muhammad Yama Shams, director-general of the Afghanistan Railway Authority, told reporters December 10 during the opening of the railway project in Ghorian District.
"Connecting the industrial park in Herat Province with global markets will create many facilities for imports and exports," he said. "It costs much less to transport commercial goods by railway than by road, and it takes less time to reach the destination."
"The next project the Afghanistan Railway Authority plans to implement in Herat Province is to connect Torghundi in Rabat District to the industrial park," he said. "This railway will also be connected to the railway in Mazar-e-Sharif, which will link the western region with markets in Central Asian countries."
Although the Afghan government faces economic challenges and the war imposed by militancy, it is committed to implementing flagship national infrastructure projects, Herat Governor Sayed Wahid Qatali said on December 10.
"Despite a budget crunch at the Afghan government, we have allocated a huge budget for railways in Herat Province," he said.
This infrastructure project displays the Afghan government's intentions toward the rebuilding, development and prosperity of Afghanistan, said Qatali.
"Afghanistan is experiencing war, serious problems and chaos, but we cannot wait and cease our work until these problems are resolved," he said. "Although war continues with peace efforts under way, we continue to engage in rebuilding work."
Development for peace
Herat Province residents say they are hopeful the railway project will usher in a peaceful and prosperous future.
If the war stops, and the Taliban makes peace, the resources that are now spent on war will be spent on development and infrastructure projects that will help Afghanistan prosper and become self-reliant, they say.
"Railways and paved highways are the backbone of the economy in every country," said Farid Ahmad Nazari, a resident of Herat city.
"Afghanistan is a land-locked country that urgently needs railways for the transportation of goods," he said. "The railway will help connect Afghanistan through the neighbouring countries with international waters."
"I call on the Taliban to refrain from attacking the railway projects and to allow these national and key projects to be implemented," said Niamatullah Wahidi, a resident of Herat city.
The opening of infrastructure projects that guarantee Afghanistan's development gives fresh hope for a better future, he said.
If there is no war, many development projects will begin, which will create thousands of jobs for the unemployed and for young educated Afghans -- and young job seekers will no longer need to put themselves at risk by travelling to neighbouring countries, Wahidi said.
The railway will provide the private sector with useful facilities for exports and imports, said Younus Qazizada, director of the Herat Chamber of Commerce and Industries.
"The railway will help decrease transportation costs for commercial goods... allowing customers to buy what they need for lower prices," he said. "Infrastructure projects like the railway directly benefit ordinary Afghans."
"We can transport huge volumes of our domestic products to global markets at much lower cost through railway networks," said Qazizada.
"The start of work on the railway project in Ghorian District and extension of the railway to Herat Industrial City are very important," he said. "I hope that work on the railway project is completed as soon as possible."
Herat Industrial City has many products to export, and once the railway is up and running, these products will reach international markets and the Afghan economy will prosper as exports surge, said Hamidullah Khadem, director of the Herat Chamber of Industries and Mines.
"A number of factories at Herat Industrial City make products for various countries," he said. "These factories produce thread, cotton, pieces of tableware that are mostly exported to Canada, lead, agricultural products and marble."
Fresh and dried fruit constitute a major portion of Afghan exports that can reach global markets in much less time via railways, and they will no longer rot in trucks at border crossings, said Khadem.