ZABUL -- The Iranian regime's brutal mistreatment of Afghan migrants and its efforts to undermine peace and prosperity in Afghanistan underscore Tehran's intentions toward its neighbour, observers and officials say.
Abdul Baqi Barakzai, 41, a resident of Musa Qala District in Helmand Province, recounted the beatings he faced after he went to Iran to seek employment.
"Two years ago, I went to Iran for work," Barakzai said. "There, I got a job looking after an Iranian family's orchard."
"I worked with the family for six months, but one day Iranian intelligence agents suddenly came and interrogated me," he said. "They asked me what I was doing there. I told them that I had come to Iran for work and showed them my passport and other documents, but they beat me up to the point that I became unconscious. When I opened my eyes, I was in jail."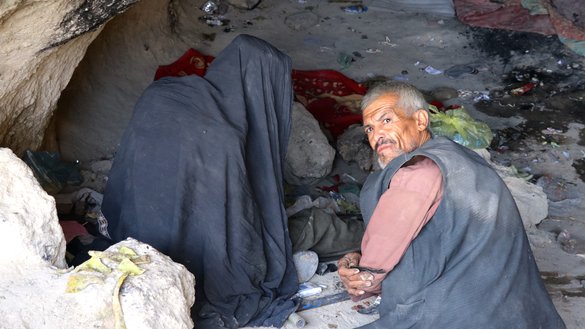 "A bit later, an Iranian in a military uniform approached me and told me to get out of there [his cell]," he said. "When I came out, he told me that I was a spy, an Afghan and an enemy of Iran. He beat me up until blood started running from my mouth and other parts of my body."
"I told him that I was neither a spy nor an enemy of Iran, and I had come there for work. But he beat me again and forced me to put my fingerprints on some documents, and I was taken back to the jail cell."
"I stayed in prison for four months in terrible conditions," he added. "Nobody listened to me. Sometimes, I used to see other Afghans as well who had been imprisoned there for many years and who didn't know what would happen to them."
"But when they released me, they took me to Baramcha, a border area near Helmand, and deported me. They didn't give me my wages or my documents and other important belongings that I had in Iran."
Abdul Qayoum Hotak, 52, a resident of Atghar District in Zabul Province, said his nephew received similar mistreatment in Iran.
He said that after his nephew returned from Iran, where he went seeking work, he manifested mental problems from the torture he endured there and now receives treatment.
"My nephew Hakim went to Iran four years ago, where he was imprisoned by the Iranian government after working for four months," said Hotak. "They had told him that his crime was that he entered Iran illegally and that he was creating unrest [in Iran], but my nephew went to Iran on an Afghan passport with an Iranian work visa."
"They imprisoned my nephew in Mashhad for two years without any justification," he added. "When he was released and returned home, [it was clear] that he had suffered much torture that affected his mental and physical health, and he still hasn't recovered. He sees a psychiatrist once every four months."
"Iran and Afghanistan are neighbours, and they should maintain good relations with each other, but unfortunately Iran has always either killed or harassed without justification our people who went there for work," he said.
Undermining Afghan infrastructure
Tehran's actions toward Afghanistan extend beyond beating and imprisoning Afghan migrants.
For example, the regime aims to gain control of Afghanistan's water resources, and interfere in Afghanistan's internal affairs, said Niaz Muhammad Ziarmal, 33, a resident of Kandahar city.
"You know that Iran has tried since the era of King Mohammed Zahir Shah [1933 to 1973] to gain control of Afghanistan's water, and it has engaged in a variety of efforts to achieve this," he said.
"Sometimes it harasses our refugees, and sometimes it tortures and kills our migrant workers in Iran, and it often interferes in Afghanistan's political and internal affairs. Unfortunately, it has been successful ... to some extent," Ziarmal added.
"Whenever the Afghan government has tried to impound its water, the dictatorship in Iran both overtly and covertly created problems for our people and government," he said. "Iran has tried a few times to destroy the Kajaki and Salma hydro-electricity dams so that Afghans can't store water."
The regime is still trying to prevent the construction of those dams, which the Afghan government is planning to build, said Ziarmal.
"We Afghans and our government are united," he continued. "We share the same view toward Iran. We have realised the value of our water resources. We will never allow Iran to interfere with our water policies or to put pressure on us. I call on the international community to impose sanctions on the dictatorship of Iran so that it will change its wrongful policies."
Meddling in peace talks
Afghan observers called out Tehran for its attempt to nurture terrorism in the country and to undermine the peace process under way between the Afghan government and the Taliban in Doha, Qatar.
"Iranian intelligence agencies [and] the Islamic Revolutionary Guard Corps have financed and armed various terrorist groups in Afghanistan during the past 20 years to wage their proxy war and achieve their goals," said Mohammad Daud Asas, a political analyst in Kabul.
"Iran plans to instigate tribal and religious conflicts in Afghanistan and tries to influence Afghanistan's relations with the Western world in a way that can reflect Iran's interests. Therefore, it invests in war in Afghanistan, and it doesn't want stability for Afghans," he added.
"The Afghan government should file a complaint with the United Nations Security Council against Iran's blatant interference [in Afghanistan] so that more economic and political sanctions are imposed on Iran," he said.
Tehran seeks a destabilised Afghanistan, agreed Amanullah Hotaki, a tribal elder and former chairman of the Uruzgan Provincial Council.
"Iran's military and political interference in Afghanistan is clearly visible," he said. "It has distributed light and heavy weapons to certain armed groups in Uruzgan, Kandahar and Zabul provinces so that they can be used against Afghan security forces and civilians."
Interfering in Afghanistan's prosperity is a major goal of the Iranian regime, said Asas the political analyst.
"During the period of Afghan jihad against the Soviet Union [1979-1989] and in the past 19 years, Iran hasn't allowed infrastructure projects in Afghanistan to be implemented and delivered," he said.
"It assassinates our academic cadres in broader Kandahar and doesn't allow Afghans to get an education because it sees Afghanistan's prosperity as its loss," Asas added, without specifying the killings he had in mind.
Drug addiction
Iranian employers are also responsible for making drug addicts out of Afghan refugees, whom the regime ends up expelling back to Afghanistan, lamented Hotaki the tribal elder.
"They [Iranian employers] have addicted a number of our young refugees who go to Iran for work," he said. "Iran tortures them and then deports them to Afghanistan so that they can make other Afghans addicted."
"It is unfortunate that in the past 19 years, Iran has turned thousands of our Afghans into drug addicts, whom it then deports to Afghanistan. In Kandahar alone, more than 10,000 of these people are addicted to drugs," Hotaki added.
"I call on the Iranian people to rise up against their dictatorial, torturing and illegitimate government," he said.