HERAT -- The Iranian regime, in response to protests seeking justice for Afghan migrant workers whom Iranian border forces reportedly drowned last month, has stepped up its purge of Afghan migrants by deporting them in large numbers, officials say.
On May 1, Iranian forces allegedly threw 47 Afghans into a river in the Dahan-e Zulfiqar border area, leading to the drownings of 29. The incident sparked widespread anger toward Iran in Afghanistan.
Afghan authorities have recovered the bodies of 12 drowned workers. The remaining 17 are still missing, according to the Afghan government's investigation committee.
"The pace of deportations of Afghans from Iran has picked up in the past two months," said Ahmad Jawid Nadem, director of the Herat Department of Refugees and Repatriations.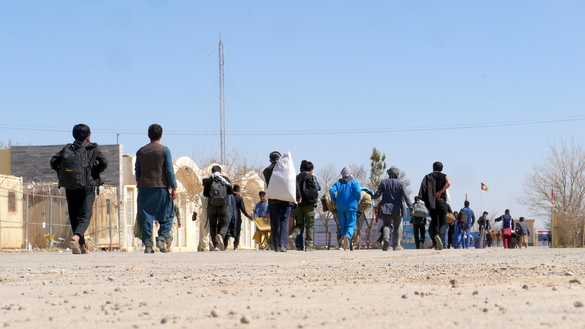 "The drive to deport migrants from Iran has rapidly accelerated. On a daily basis, batches of 200 to 300 and sometimes 700 migrants are deported from Iran to Afghanistan," he said.
"In April 2020, more than 5,000 migrants were forcibly deported from Iran, and in 14 days between late April and early May, more than 2,800 Afghan migrants were deported to Afghanistan," added Nadem.
Young workers, the elderly, and women and children are among the migrants whom Tehran is deporting, Nadem said.
The Iranian police look for Afghan families and workers in cities and villages, and then arrest and deport them immediately to Afghanistan, said Abdullah Jalali, a resident of Kunduz Province whom Iranian authorities deported.
"Iranian police arrest Afghan workers while they are at work and take them to the camps," he said. "I worked in Tehran, and police arrested me when I was at work -- still in my work attire -- and then deported me. I worked there for a month and still hadn't received my wages. I begged them to delay deporting me until I got my wages from my employer, but the Iranian forces didn't listen to me."
Brutal retaliation
Between 1.5 million and 3 million Afghan refugees are living and working in Iran, most of them as wage labourers on construction projects.
A number of Afghan migrants and workers who have been deported by Iranian forces described atrocities committed by the Iranian regime and the reprisals they endured following protests of Afghans at home.
In one incident on June 3 caught on video, Iranian forces shot at a vehicle carrying Afghan migrants in Mehriz city, Yazd Province, leaving three dead and eight seriously wounded in the resulting flames.
Iranian police are taking revenge on migrants for the protests of Afghans against Iran, said Ali Hussain Ibrahimi, a resident of Daikundi Province who recently was deported from Iran.
"Since the protests erupted in Afghanistan to condemn the throwing of Afghan migrants in the river, Iranian border forces have started to put pressure on Afghan workers in their country and are forcibly deporting them," he said. "They don't even allow them to get their wages from their employers [before being deported]."
"When the Iranian police took us to the camps, they beat us up and broke our mobile phones, telling us that none of us could take any videos as these scenes shouldn't be disclosed," he added. "The police said that similar videos several times were aired on media and were used against them."
When Iranian forces arrested him along with some of his friends, they brutally beat the Afghans and ordered them to make animal noises, said Ibrahimi.
"The Iranian forces treat the migrants so badly. They tortured us," he added. "At the camp, they told us to make donkey and dog noises, and we had to do that."
Muhammad Azimi, a resident of Herat Province who also was deported from Iran, said that Iranian forces told him and other deportees that when Afghans protest against Iranian policies, they need to think about the consequences for the remaining migrants in Iran.
"When the Iranian forces arrested us, they took our money and brutally beat us," he added. "When we were in detention for three days, they didn't give us any food or water and took away our clothes."
"The Iranian police were torturing Afghan migrants greatly," he said. "They seized their money and broke their mobile phones. They [even] beat up women and children and humiliated everyone."
"The Iranian security forces don't have mercy on migrants, and wherever they find them, they beat them up and take them to the camp," said Abdul Baqi, a resident of Ghor Province and a deportee from Iran. "They arrested many women and children, separating them from their guardians, and deported them to Afghanistan."
"I went to Iran for work because I was jobless and poor [in Afghanistan]," he added. "I worked there for three months, but before I got my wages [from my employer], the police arrested me and didn't give me the opportunity to receive my salary."
Investigations underway
The Afghan government is committed to investigating the case of the drowned Afghan workers in Dahan-e Zulfiqar, and it will never turn a blind eye to the killing of these innocent workers, said Sayed Wahid Qatali, the governor of Herat Province, in Herat city on May 28.
"The drowning case of Afghan workers won't remain unclear, and we will continue our work until someone accepts responsibility," said Qatali.
"The documents and evidence are very clear, but we have given Iran the opportunity to participate in the probe to become certain," he added. "The investigations conducted by both countries contradict the initial statements of the neighbouring country's security authorities, in which they denied their involvement."
The families of the Afghan drowning victims have been grieving their losses, said Jan Muhammad Mirzayee, who lost his son in the incident.
Two children, ages 11 and 12, were among those who drowned after being thrown in the river. Afghan searchers retrieved their bodies.
"The Iranian border forces who perpetrated this crime should be tried in an international court of law and punished," he said. "They killed innocent workers, and they shouldn't get away with it. The Iranian government should be held responsible."
"We call on the Afghan government not to ignore the killing of these workers and take [necessary] steps to defend their blood," he said.