HERAT -- Hundreds of Herat residents gathered in front of the Iranian consulate in Herat city on Monday (May 11) to protest the deaths of Afghan migrants who were tortured before being forced into a river by Iranian border guards last week.
More than 200 protesters, including youth, women and civil society activists, chanted slogans against the Iranian government, accusing the regime of crimes against humanity in the killings. Dozens of protesters also demonstrated in front of the Iranian embassy in Kabul.
Afghan authorities are investigating claims that Iranian border guards beat dozens of migrants before forcing them into a river on May 1 after they illegally crossed into Iran from Herat Province.
Iranian authorities have dismissed the claims, saying the incident occurred on Afghan territory.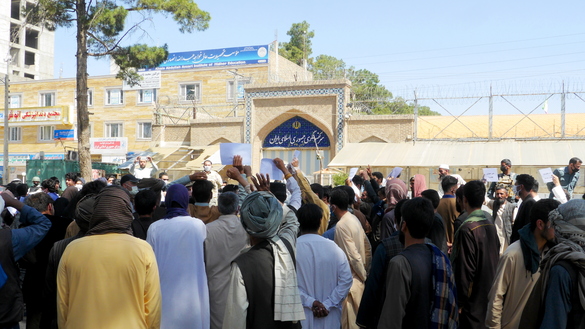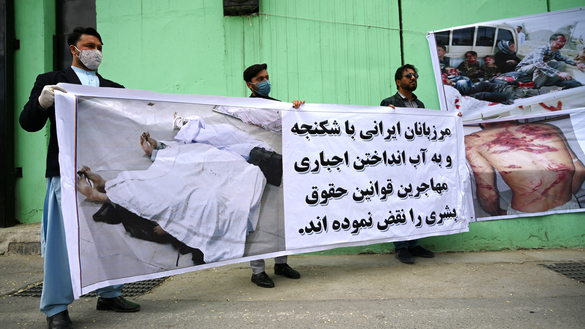 The killing of Afghan refugees is an unforgivable crime, said Faisal Afghan, a resident of Herat city and a protester.
"The Iranian government has always treated Afghan refugees with violence, but no one has raised his [or her] voice against their atrocities," he said. "We want an end to Iranian atrocities against innocent Afghan refugees."
Tehran has long been involved in brutal acts against Afghan refugees and has massacred innocent civilians, but these crimes perpetrated by the Iranian regime must stop, said Shabnam Salahshoor, a protester and resident of Herat city.
"We want this act to be seriously investigated," she said. "If the perpetrators of this crime are not punished, it will encourage them to engage in even more crimes and kill more workers. We call on the United Nations, Human Rights Watch and other international entities not to turn a blind eye to this crime by the Iranian government."
'Convincing' evidence
A government committee tasked to probe the reported drowning and killing of Afghan refugees started its work on May 9.
"Documents and evidence show that the Iranian military forces threw Afghan workers into the river," Abdul Hamid Tahmasi, chairman of the investigation committee, told reporters in Herat city on May 10.
"The Afghan investigation committee has been working at the site to gather more documents and evidence," said Tahmasi. "The Iranian government has promised to form a committee to investigate this incident, but it still hasn't done so."
"Our findings shows that 46 workers had entered Iran, all of whom were thrown into the river," he added. "The bodies of 10 workers have been found, while 17 are still missing. The remaining 19 were able to save themselves."
"Iran hasn't admitted that this incident took place on its soil, but we have convincing documents and evidence to share with the Iranian government's investigation committee that show the incident took place in its country," he said.
Between 1.5 million and 3 million Afghan refugees are living and working in Iran, most of them as wage labourers on construction projects.
Acting Foreign Minister Muhammad Hanif Atmar had a phone call with his Iranian counterpart, Javad Zarif, to discuss the incident, the Afghan Foreign Ministry said in a statement.
"The blood of the victims of this act shouldn't be compromised for political gains," said Ghulam Farooq Raseb, a civil society activist in Herat city.
"We request the the committee investigate the incident with full integrity and deliver the perpetrators of this incident to justice as soon as possible," he added. "The perpetrators must be tried based on Iranian laws and international humanitarian laws."
Loss of credibility
Tehran once again is trying to cover up its culpability in a crime by denying that military forces were involved in the torture and drowning of the Afghan workers, say authorities and residents of Herat.
They recalled that the Iranian government also denied that its military was involved in the crash of a Ukrainian airliner in January.
Despite video and circumstantial evidence pointing to an Iranian surface-to-air missile hitting the airliner, Tehran continued for days to deny a missile strike took down Ukraine International Airlines Flight PS752.
Faced with increasing international and internal pressure, Iranian President Hassan Rouhani finally admitted the truth -- that the Iranian military shot down the plane in a "catastrophic mistake".
The past incident proves that Tehran's denial of guilt in the Afghan migrants' drowning cannot be believed, said Sayed Wahid Qatali, governor of Herat Province.
"We are not trying to prove whether this incident was carried out by the Iranian military ... but we are looking at this to find out why it took place," Qatali told reporters on May 10 at a news conference in his office. "Iran cannot deny its involvement in this incident."
Tehran has lost all credibility when it comes to denying involvement in such criminal acts, said Arash Basharyar, a civil society activist in Herat city.
"When Iranian military forces shot down the Ukrainian passenger plane, their government at first denied their involvement, saying that the crash happened because of bad weather," he said. "But after facing international pressure, a few days later, the Iranian government shamefully admitted to intentionally downing the plane."
"Now that the Iranian military threw more than 40 of our countrymen into the river and killed them, the Iranian government is rejecting the involvement [of the Iranian guards] in the incident, which shows that the Iranian authorities are lying and trying to get away with it."