HERAT -- The brutal deaths of three Afghan migrants at the hands of Iranian security personnel, caught on video and shared on social media, have sparked outrage and widespread condemnation in Afghanistan.
The video taken on June 3 shows a car ablaze with a number of passengers burned to death in Mehriz, Yazd Province.
"The patrol was following them; it attacked them and left [the area]," says someone with an apparent Iranian accent in the video.
Two youth in Afghan attire are seen near the car after it burned up. One of them says that the vehicle caught fire after being attacked by Iranian security forces.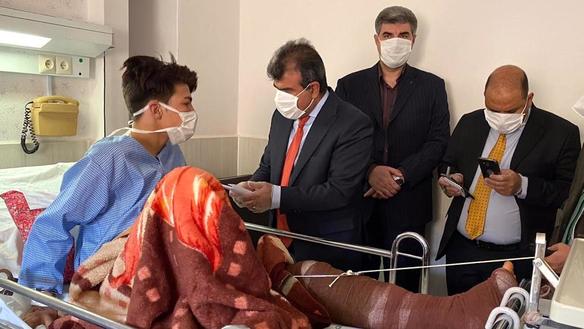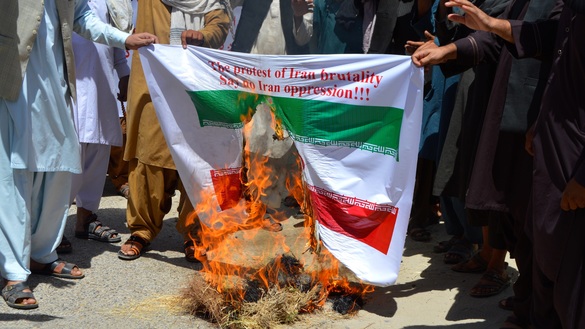 Iranian officials confirmed their involvement in the incident, which left three dead and eight seriously wounded.
"Yesterday, Yazd police forces patrolling transportation routes toward Yazd Province ordered some suspicious vehicles carrying foreign nationals and drugs to stop," Abas Ali Behdani, security commander of Yazd Province, told Iranian media on June 4.
"Yazd security officers were able to stop three vehicles as they signalled them, arresting a number of foreign nationals and seizing some drugs," he said.
"But one of the vehicles ignored police signals and warning shots and sped up [to escape]. The police shot out its tires, causing the vehicle to hit the curb and catch fire," Behdani claimed.
The Afghan embassy in Tehran confirmed the death of three Afghans and said that it has started its own investigation of the incident with support from the Afghan consulate in Zahedan Province.
"When the Afghan embassy found out that a vehicle transporting Afghan migrants caught fire, leaving some of our countrymen dead and injured, we reacted to the incident within the very first moments afterward and shared it with relevant Iranian agencies through diplomatic channels," said Abdul Ghafoor Liwal, the Afghan ambassador to Iran.
"We are working to learn more about the incident and better investigate it," he said.
An unforgivable crime
This appears to be the second time in less than two months that Iranian forces have killed Afghan migrants.
On April 22, the Iranian border forces threw 47 Afghans into a river in the Dahan-e Zulfiqar border area, leading to the drownings of 29. Tehran denies the accusations, but Afghanistan is investigating.
Recent incidents show that the Iranian government has chosen a dangerous stance toward Afghan migrants, said Sayed Ashraf Sadaat, a civil society activist in Herat.
"One day Afghans are thrown in the river, and another day a vehicle carrying them is shot up and the passengers are burned alive," he said. "These risky plots against Afghan migrants have continued for years in Iran."
"Cases of the murder and torture of Afghans are rarely disclosed to the media as they're always concealed by the Iranian government," Sadaat said. "Only the cases of drowning workers and setting fire to a vehicle transporting migrants were leaked to the media."
"Burning human beings alive is just like an act of [the "Islamic State of Iraq and Syria" (ISIS)], and Iranian forces showed that they're as cruel as ISIS in brutality," said Abdul Sattar Hussaini, a member of the Wolesi Jirga representing Farah Province.
"What is worse than the crime of burning human beings alive?" he asked.
The reported mass drowning was not even resolved before Iranian forces perpetrated an even more shocking crime, said Hussaini.
"We have to respond to Iran's brutality against innocent Afghan migrants and workers," he said. "Those who perpetrate these crimes and get away with them should be identified and see punishment. The continuation of such atrocities and crimes is no longer acceptable."
An enemy of Afghanistan
Afghans have called the incident a heinous and unforgivable crime.
Dozens of Helmand residents June 7 burned the Iranian flag in Lashkargah during a protest against the Iranian regime and its treatment of Afghan refugees.
"Shame on you if you call yourselves human beings," said Anjila Omer, a resident of Herat city, addressing the Iranian regime. "The mourning of innocent migrants that you've thrown in the river wasn't even over when you grieved a nation with another brutal act and ridiculed humanity."
"Haven't your tall buildings been built with the help of these workers?" she asked. "Wasn't that enough that you put them in hard labour for small wages?"
"You humiliated them and violated their rights; that wasn't enough so now you're cowardly killing them?" she added.
"This is what we get from the Islamic Republic of Iran... it has proved itself an enemy and devil for Afghanistan," Nabiullah Binish, a local reporter in Badghis Province, wrote in a Facebook post.
"In less than two months, dozens of Afghan citizens were killed in the most inhumane fashion by the security forces of the Satanic republic of Iran," he said.
"These Afghan migrants leave their country and go to Iran for work, but this is how the brutal government of Iran welcomes them," said Binish.
"The Iranian forces fired bullets on a vehicle transporting Afghan migrants until it caught fire," Sayed Abid Paiman said in a Facebook post.
"In this incident, as you can see in the video, a number of migrants are burned alive, and those who have escaped are in a very bad situation. One of these poor people screams, 'I'm burning; bring me some water.'"
"The Satanic republic of Iran is one of the most brutal countries in the world; shame on the infidel regime of Iran and its allies," he added.