HERAT -- Afghan migrant workers, who recently were deported from Iran, say Iranian police and their former employers conspired to deprive them of months' worth of wages before expelling them from the country.
The workers say they approached their employers about the outstanding wages, but instead of paying the Afghans, the employers called the police, who then immediately deported the workers without due process.
Gulab Shah, a resident of Injil district in Herat, said he worked for more than a year as a construction worker in Isfahan city without receiving any wages, before the Iranian police detained and then deported him to Afghanistan in May.
"One second I was working in Iran, and the next I was deported," he said.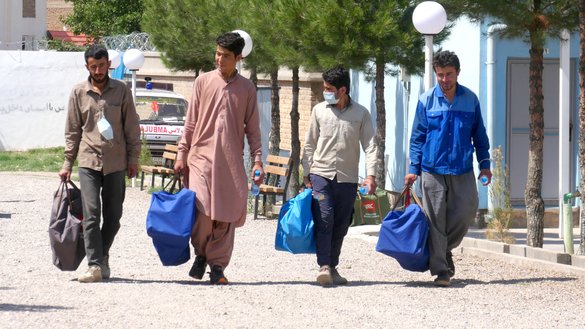 "We were tortured a lot by the Iranian military on our way back to Afghanistan," he added.
Since his return, Gulab Shah has been trying to reach his employer to request the 100 million IRR (187,000 AFN/$2,400) he is owed but no avail.
"If I go back to Iran, I would have to hire an attorney but cannot afford it," he said.
"It has become common practice for Iranian employers to conspire with the police to deport Afghan workers without paying their wages," he added.
Torture, beatings, extortion
More and more deported Afghan refugees have been recounting shocking tales of torture and assault by the Iranian security forces, including severe beatings, starvation, physical abuse and extortion.
Ghazni native Sediqullah was recently deported by the Iranian police, and has since been provided with temporary shelter in a United Nations (UN)-sponsored refugee camp in Herat city.
On June 10, the police showed up at his place of work and dragged him away before he could even collect his construction tools, clothes or money, he said.
"My clothes and money were within reach -- only two metres away -- but the police officers would not let me grab them," Sediqullah said.
"When I pushed back to try to grab my belongings, the police beat me up, and as a result I injured my finger badly," he said, adding that they would not let him dress his wound while he waited in Varamin camp, south of Tehran, for a week before being sent to Afghanistan
"Now my wound is infected," Sediqullah said.
He said his employer neither paid the 210 million IRR (392,000 AFN/$5,000 US) in wages that he owes him or nor returned his construction tools valued at about 300 million IRR (560,000 AFN/$7,100).
Saifullah, who hails from Paghman district in Kabul, said that in Iranian camps guards would use animal names for Afghan refugees and would kick them if they were seen mingling.
They even beat up his 5-year-old son, he recalled.
"Staying at those camps was unbearable, even for just one day," Saifullah said from a UN-sponsored camp in Herat where he and his family have been staying since their deportation on May 30.
The Iranian military kept Afghan families in these camps for several days without providing proper food and water, he said.
"When they were brought from Shiraz to Tehran, everyone was forced to pay 100,000 to 200,000 tomans ($23 to $46) for transportation, while the actual cost does not exceed 50,000 tomans ($12 US) per person," Saifullah said.
Zahra, a mother of seven from Sar-e-Pul, recounted a similar experience.
She said when her family was sent to one of the Iranian camps, the soldiers there did not provide her children with food or water for several days.
"The Iranian police brutally assaulted my two teenage sons in front of my younger children," she said. "My children were frightened and traumatised after witnessing that awful scene."
Women and young children also were the victims of abuse and torture at the hands of Iranian soldiers, she said, adding that they threatened refugees they would kill them if they ever set foot in Iran again.
She and her children were recently deported from Iran and now live at the UN-sponsored camp.
Meanwhile, Tehran has been implementing a campaign to exploit the vulnerability of Afghan migrants in Iran to recruit them into the Fatemiyoun Division, an Afghan-comprised militia directed by the Islamic Revolutionary Guard Corps (IRGC).
Last year, for instance, Tehran promised to distribute residential plots to the families of those who have been killed while serving in the Fatemiyoun Division in Syria, a move seen by many as a bid by the Iranian regime to deceive Afghans residing in Iran under deplorable conditions into joining the militia.
Unprecedented deportations
More than 1.3 million Afghan migrants have returned to Afghanistan over the past 18 months, the majority of whom were deported by the Iranian regime, according to the Afghan Ministry of Refugees and Repatriations.
Around 860,000 Afghan migrants returned from Iran in 2020, and another 500,000 have returned so far in 2021, ministry spokesperson Abdul Basit Ansari said in a recorded video message released to the media on June 10.
An average of 5,000 migrants return to Afghanistan daily, he said, the majority of whom are deportees.
"We have recorded an unprecedented number of deportees in recent months," he added.
"The Iranian regime continues to torture and expel Afghan refugees in violation of the prevailing international immigration laws and human rights principles," said Wakil Ahmad Habibi, a civil society activist in Herat city.
The Iranian military's crimes against Afghan refugees are widespread and include setting them ablaze, throwing them in the river, shooting at them, torturing them and other abuse, Habibi said.
And yet, "they have neither been prosecuted nor held accountable for the inhuman crimes they have committed", he said.