KABUL -- Tehran has promised to distribute residential plots to the families of those who have been killed while serving in the Fatemiyoun Division in Syria, a move seen by many as a bid by the Iranian regime to deceive Afghan refugees residing in Iran under deplorable conditions into joining the militia.
The Fatemiyoun Division is a group of Afghan militiamen created, supported and directed by the Islamic Revolutionary Guard Corps (IRGC).
Each family of four who has lost a family member serving in the militia will receive a 200-square-metre plot, according to local media, quoting Iranian officials.
"The families of Fatemiyoun Division martyrs throughout the country will receive plots for residential units," Sayed Hameed Quraishi, a Basij (IRGC paramilitary force) commander in Tehran, told Iran's state-run Defa Press news agency on October 13. "In the first phase, families residing in Tehran Province will benefit from this project."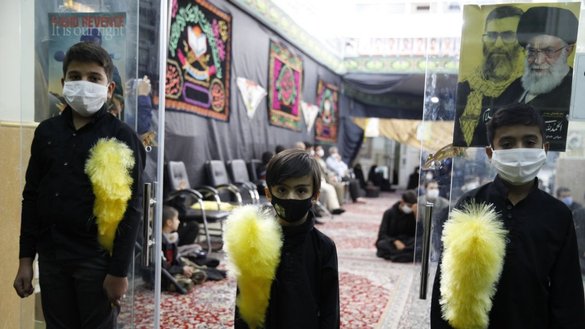 Those promises ring hollow, say Afghans.
"It is unfortunate when Iranians send Afghan refugees to war," said Farooq Bashar, a former law lecturer at Kabul University. "They give them promises of plots, residential units and others, but when they are martyred ... no one looks for them. They don't even bring their dead bodies [from the battlefield]."
Tehran must stop using Afghans in its proxy wars, Afghan officials say.
"We have asked Iran several times not to abuse the desperate situation of Afghan refugees and not to recruit them in the Fatemiyoun Division," said Nader Khan Katawazai, a representative of Paktika Province in the Wolesi Jirga.
"This is a violation of the UNHCR Refugee Convention," he said, referring to the United Nations High Commissioner for Refugees.
"Iran has sent a large number of Afghans to the war and martyred them," he said. "Afghan refugees are [in a] desperate [economic situation]. Iranians gave them $500 [38,500 AFN], and they don't have any other option other than ... being recruited into the Fatemiyoun Division."
Rights trampled on
The Iranian regime has always violated the rights of Afghan refugees, and their conscription into the Fatemiyoun Division is an obvious extension of these violations, analysts say.
About 2,000 Afghans, including some children, have been killed in the Syrian war, according to information from Iranian media and government officials.
Bashar, the former Kabul University law instructor, denounced the Iranian regime for exploiting desperate refugees.
"The government of Afghanistan should seriously look into this issue so that [Iran] doesn't misuse our refugees, because refugees have their rights," he said.
The recruitment of Afghan refugees to fight in armed conflicts is a human rights violation, agreed Zabihullah Farhang, spokesperson for the Afghanistan Independent Human Rights Commission.
"There are clear international documents that preserve the rights of refugees," he said. "Any misuse of refugees is considered a human rights violation, and their recruitment for armed conflicts is considered a breach of their human rights."
"We have asked host countries that they should never use refugees in political and security issues," said Reza Baher, a spokesperson for the Afghan Ministry of Refugees and Repatriations.
"Being a refugee is a humanitarian and social phenomenon, and therefore, no one should benefit from the desperate situation of refugees," he said.
"We have had agreement with Pakistan in this regard -- that it should at least not mobilise the refugees in political and military affairs -- and it hasn't done it," said Baher. "But the issue existed in Iran even before that, and it continues."
The recruitment of Afghan refugees to fight for the Fatemiyoun Division is "a misuse of the desperate situation of refugees", he said. "We have asked through diplomatic channels for the practice to stop."
Fatemiyoun's threat to Afghanistan
The threat of the Fatemiyoun Division goes beyond Syria, as it poses a threat to the future of Afghanistan as well, Bashar said.
"Rifts and tribalism have been on the increase in the country, and if this isn't stopped, as a militia group, the Fatemiyoun could inflict any damage on Afghanistan," he said.
"The return of these forces to the country is dangerous to Afghanistan and its people."
The return of Afghans who have served in the Fatemiyoun imperils the country, agreed Katawazai.
"Afghans who have fought in the Fatemiyoun will widen rifts between Shia and Sunnis, while we are all Muslims and we cannot accept any religious split," he said.
Tehran uses the Fatemiyoun to advance its own interests in a number of countries, including Afghanistan, said Zalmai Rasouli, a law student at a private university in Kabul.
"When the interests of Iran are concerned, Iran will use the Fatemiyoun Division to carry out destructive activities in Afghanistan as well, which is dangerous to the country's future," he said.
"If Iran considers itself an Islamic country and a good neighbour, it shouldn't misuse the desperate situation of Afghan refugees and deploy them to a war where they get killed," Rasouli said.
"It will be difficult for those who have earned money from fighting to ... return to an ordinary life, and they will pose a threat to [Afghanistan's] future," he said.