KABUL -- The Iranian regime is playing a dangerous game of deception by simultaneously supporting two opposing groups -- the Taliban and the Fatemiyoun Division -- to cause instability and chaos in Afghanistan.
"Iran's support for the Taliban and Fatemiyoun fighters, who are politically, religiously and ideologically opposed to each other, shows that Iran is pursuing and managing a policy of anarchism and crisis in Afghanistan so that it can achieve its security, economic and political objectives," said Kabul-based political analyst Aminullah Shariq.
The Fatemiyoun Division is a militia made up of Afghans funded, trained and equipped by Iran's Islamic Revolutionary Guard Corps (IRGC).
Tehran at the same time has admitted its ties to the Taliban and its opposition to the peace process.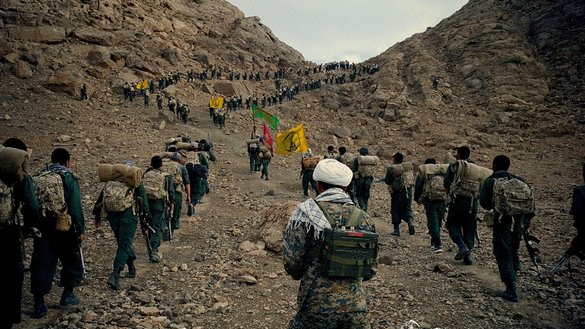 "Iran is playing a dangerous game in Afghanistan to achieve and maintain its strategic interests," said Shariq.
"Iran has been working for years to destabilise Afghanistan and uses any means available to achieve this objective. It supports any group that ensures Iranian interests."
Tehran's interests were once aligned with supporting and equipping the enemies of the Taliban, which it used to do, he said. "But today it is supporting the Taliban to achieve its strategic goals and interests."
"Another reason behind Iran's simultaneous support of two opposing sides is to ensure that its interests are protected in southern and eastern provinces where the Taliban are in power, as well as in central provinces, a mostly Shia populated area, through the Fatemiyoun," he said.
"We see that the IRGC has invested heavily in operatives and destructive groups, using Afghans within both Fatemiyoun and the Taliban for its interests in Afghanistan and the region," said Ibrahim Rahimi, the director of the Commission of the National Cohesion of Political Parties, Social Organisations and Civil Society Institutions in Kabul.
"Iran has provided financial and military support to groups involved in wars in Afghanistan in the past 40 years in an effort to help install its puppet regime in Afghanistan, and now, with concurrent support to Fatemiyoun and the Taliban, it wants to achieve this goal," Rahimi said.
Making deals with terrorists
"Iran will do any illegal thing to secure its goals and interests," said Fazel Menallah Mumtaz, a Kabul political analyst.
"It sheltered the family of Osama bin Laden, the leader of the al-Qaeda network, it had a role in toppling the Taliban regime, and now, even though the Taliban killed its diplomats during their rule [in Mazar-e-Sharif in 1998], it provides financial and military support to the Taliban and Fatemiyoun, two enemies, to achieve its interests."
"Iran supports [Lebanon's] Hizbullah, the Taliban, al-Qaeda, Fatemiyoun and other paramilitary groups to achieve its goals," Mumtaz said. "To gain control in Afghanistan and the region, it makes deals with terrorists."
"By supporting two opposing groups, it wants to destabilise Afghanistan like Syria and Lebanon so it can control parts of Afghanistan through Fatemiyoun, similar to western Lebanon, and some other parts through the Taliban," he said.
"Iran has been providing military and financial support to the Taliban in the western and southwestern zones for years," said Abdul Sattar Hussaini, a member of the Wolesi Jirga representing Farah Province.
"Right now, as we speak, IRGC commanders are leading groups of 15, 30 and 100 Taliban [fighters] in the western provinces [of Afghanistan], he said. "They are actively involved in fighting security forces."
"IRGC commanders are involved in assassinating Afghan commanders and soldiers in the western zone," Hussaini said. "Afghan security forces recently discovered seven sticky mines with Iranian markings intended for assassinations."
"By simultaneously supporting Fatemiyoun and the Taliban, two extremist and destructive groups, the IRGC is trying to harm the security, political and economic situation in Afghanistan," he said.