KABUL -- A top US commander sees a "worrisome trend" of increasing Iranian malign interference in Afghanistan and the region.
Gen. Kenneth "Frank" McKenzie, the US commander Central Command (CENTCOM), was in Afghanistan on an unannounced three-day visit from January 29-31.
"Iran has always sort of dabbled a little bit in Afghanistan, but they see perhaps an opportunity to get after us and the coalition here through their proxies," McKenzie said to reporters. "So, we are very concerned about that here as we go forward."
Iran's Islamic Revolutionary Guard Corps (IRGC) has long provided financial, logistical and military support to militias and terrorist groups operating in Afghanistan as well as in the Middle East.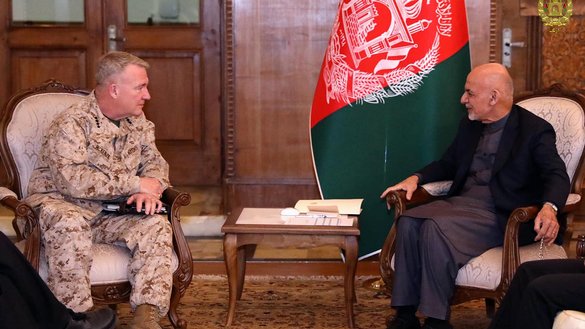 The IRGC also has recruited tens of thousands of Afghans for the Fatemiyoun Division, a militia tasked with fighting in Syria for President Bashar al-Assad's regime.
During a meeting with President Ashraf Ghani in Kabul on January 31, McKenzie praised the achievements of the Afghan National Defence and Security Forces (ANDSF) in their fight against terrorism, especially for defeating the "Islamic State of Iraq and Syria" (ISIS), according to the Afghan President's Office.
The United States-led coalition is working with the Afghan government to monitor the situation regarding Tehran and also to keep military pressure on the Taliban, said McKenzie.
"The coalition is going to put pressure on the Taliban to come to the peace table," he told Associated Press in Kabul. "If they don't come, they're going to continue to be hit and hit hard."
Still, he expressed optimism that a political agreement can be reached between the Taliban and the Afghan government.
Iran's interests in war
The Iranian regime does not want peace and stability in Afghanistan, and it is using the Taliban and other militant groups to try to inflict harm on coalition forces fighting terrorism, political and security analysts say.
"Iran considers the American presence in Afghanistan a risk for itself; therefore, it will do whatever it can to inflict damage America and destroy its interests," said Maqsood Hasanzada, leader of the Afghanistan National Awakening Party and a political analyst.
Tehran has used the Taliban and its network of spies in an attempt to harm coalition forces and US interests in Afghanistan, he said. "Iran is one of the biggest supporters of the Taliban, whom it has used to achieve its military goals."
"Iran's threats to America and its interests surged after the death of Qasem Soleimani," Hasanzada said.
A US drone strike killed Maj. Gen. Soleimani, commander of the IRGC's Quds Force, on January 3 in Baghdad.
"Iran doesn't want peace and stability in Afghanistan because it sees its interests in war," he said. "It promotes insurgency and supports terrorist groups who hinder peace and stability."
"The Afghan people have also fallen victim to the destructive activities of Iran," Hasanzada said. "Afghans must prevent Iran's destructive and interventionist activities in Afghanistan at any cost."
"Iran has been interfering in Afghanistan's affairs for 40 years," said Ahmad Khan Muslim, a political affairs analyst in Kandahar. "It has ties with the Taliban and provides them financial and military support."
"When Mullah Manan [Mullah Abdul Manan Mansori] was the Taliban's shadow governor of Helmand, Iranians used to meet him and give him money and weapons," he said, adding, "Many weapons Iran has given to the Taliban have been discovered in recent years."
Mullah Manan was killed in a coalition air strike in December 2018.
"Iran joins forces with any group in Afghanistan that are anti-American, using them to inflict damage on Americans, and one of these groups is the Taliban," Muslim said.
"Iranians will use every opportunity to fight against [Americans] and create obstacles to achieving peace and stability in Afghanistan," he said.
"Iran has enmity with America, and [therefore], it interferes in the internal matters of Afghanistan," said Ahmad Sayeedi, a political affairs analyst and former Afghan diplomat in Pakistan.
"[Iran] wages proxy wars in Yemen through Houthi [militias] and in Lebanon through Hizbullah, and it has players in Afghanistan," he said. "One faction of the Taliban fights Iran's proxy war."
"Iran doesn't want a peace that is led by Americans," Sayeedi said.
Tensions rising
Jamaluddin Badar, former governor of Nuristan Province, said he shared McKenzie's concerns.
"Iran supports any groups and movements that are anti-American so that it can [use them] to inflict harm on Americans," he said.
"Since Qasem Soleimani was killed ... Iran's proxy forces have been firing rockets on American bases and even on the American embassy [in Iraq]," Badar said.
"Iran has several times invited Taliban leaders against the Afghan government's will to its own territory, and it provides financial and military support to the Taliban who fight in the southwest and uses them to inflict harm," Badar said.
"Tensions have soared lately between Iran and America, and Iran tries to take its revenge on America not only in Iraq, Syria and Yemen but also in Afghanistan," said Khalil Ahmad Shaheedzada, former representative of Herat Province in the Wolesi Jirga.
"Thanks to ties it has with the Taliban and the influence it has on a certain portion of them, Iran uses the Taliban to inflict damage on America in border provinces," he said, referring to Afghan provinces bordering Iran.
"Unfortunately, our neighbours have benefited from the war in Afghanistan, and they have used various means to promote war in [Afghanistan] and ensure security for themselves," Shaheedzada said.