KABUL -- Two members of Iran's Islamic Revolutionary Guard Corps (IRGC) Quds Force were expelled from Kabul earlier this year for taking part in espionage and militancy, an Afghan official recently confirmed.
The Afghan government expelled two Iranian diplomats who were engaged in espionage and distributing weapons to individuals in Afghanistan following the death of Maj. Gen. Qasem Soleimani, then-commander of the Quds Force, in a US drone strike in Baghdad in January, a senior Afghan official told Iran International TV on March 21.
The "diplomats" were members of the Quds Force, said the source on the condition of anonymity.
The Afghan Foreign Ministry neither confirmed nor denied the report.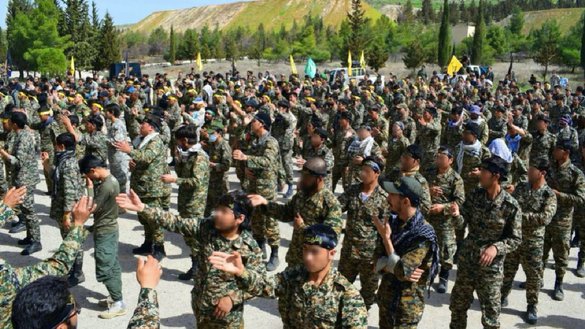 "Certain steps might have been taken or not taken by both sides, but Iran is our neighbour, and we are trying to resolve our issues," said Mansoor Khaliqyar, a deputy ministry spokesman.
Despite the appearance of normal relations between the two countries, Iran is looking for opportunities to avenge Soleimani's death, said Sayed Naqibullah Hashemi, a political analyst and former member of the Kabul provincial council.
"After Soleimani was killed, Iran was looking for retaliation, and there's no doubt that these two diplomats or members of the Revolutionary Guard were busy spying [for Iran] and arming people [in Afghanistan] to inflict damage on the United States," he added.
"Given Iran's interference in Afghan matters, besides these two members of the Revolutionary Guard, there might be many others disguised as diplomats who are engaged in destructive activities, which is a serious concern for Afghans," said Hashemi.
National security threat
Sediq Patman, a political affairs analyst in Kabul, accused Tehran of interfering in Afghanistan's internal matters.
"Iran has been one of the players engaged in the 40 years of war in Afghanistan," said Patman.
"We have plenty of evidence and documents that show that Iran supports and arms individuals and groups inside Afghanistan, and Iranian military officials disguised as diplomats are involved in espionage and non-political activities in Afghanistan," he said.
"Iran works with individuals and groups inside Afghanistan who operate for the interests of Iran and against the national interests of Afghanistan," he added.
"Most of those who've come to Afghanistan as diplomats are members of the IRGC," said Muhammad Jan Rasool Yar, a former deputy governor of Helmand and a military affairs analyst.
Tehran "has supported and armed anti-government groups with advanced [military] equipment for years with the help of these individuals," he said.
"It also recruits Afghans for the Fatemiyoun Division inside Afghanistan and send them to their proxy wars in the region," Rasool Yar said, referring to an Iranian militia group made up of Afghans.
"It is also possible that the two expelled individuals were arming people to roll out a new civil war," said Rasool Yar.
The activities of the Iranian spies represent a huge threat to the national security of Afghanistan, said Baryalai Hellali, a military and political affairs analyst.
"This isn't the first time that members of the Quds Force operated in our country [as purported] diplomats," said Hellali.
"Previously, Esmail Qaani, the deputy of Qasem Soleimani, now his successor, travelled to Bamiyan disguised as the deputy ambassador of Iran," he said, referring to a 2018 trip.
Tehran has been sabotaging democracy, freedom of expression, economic growth and Afghanistan's achievements in human rights, said Imam Muhammad Warimach, director of the Afghanistan Democracy Studies Organisation.
"Iran has been effective before in recruiting people in the name of religion and ethnicity and distributing money to individuals and political circles in Afghanistan," said Warimach.
"It is now leveraging the same experience by sending members of the IRGC posing as diplomats to Afghanistan to add to their influence on Afghanistan," he said.
"With the new state in Afghanistan, there have been considerable growth and achievements in democracy, freedom of expression, the economy and human rights, which is not acceptable for Iran," said Warimach.
"This is the reason that Iran makes every effort to create obstacles to peace... in Afghanistan."
Reaction of the Afghan government
News of the expulsion of the two Iranian "diplomats" comes as Tehran attempts to meddle in Afghanistan's political crisis, caused by a disputed presidential election last year.
Tehran feels "alarmed" by tensions that have emerged from the results of the election, the Iranian Foreign Ministry said in a March 22 statement.
"The Islamic Republic of Iran is closely following Afghanistan's political and security developments and is alarmed due to the unpredictable consequences of the disagreement over the results of its presidential election on internal stability and regional effects," it said.
Tehran in the statement called for a broad-based government in Afghanistan.
The statement drew criticism from the Afghan Foreign Ministry.
"It wasn't anticipated that the Islamic Republic of Iran would take such a superficial position with regards to the matters of Afghanistan," the Afghan ministry tweeted.
"The stance that the Foreign Ministry [of Iran] is taking with regard to the political tensions and election reveals clear interference in internal Afghan matters, which is a matter of concern. We strongly condemn it."
"The Iranian Foreign Ministry has no right to tell us what type of government or political system we can create," said Warimach.