KABUL -- The successor to the late Qasem Soleimani, the commander of the Quds Force of Iran's Islamic Revolutionary Guard Corps (IRGC) who was killed by a US drone strike, is under investigation by the Afghan government for falsely presenting himself as the deputy ambassador of Iran in a 2018 visit to Bamiyan Province.
The Afghan Foreign Ministry Tuesday (January 7) said that it will investigate the travel of Esmail Qaani when he visited a hospital being built in Bamiyan Province with funds from the Iranian regime.
Iranian Supreme Leader Ayatollah Ali Khamenei appointed Qaani to the Quds Force post after the missile attack that killed Soleimani in Baghdad on January 3.
He purportedly oversaw Quds Force operations in Afghanistan and Pakistan when Soleimani was leader of the overall group, according to media reports.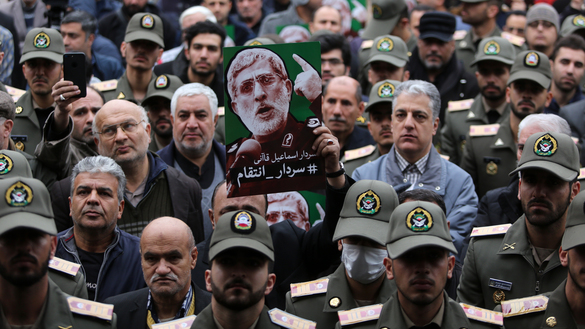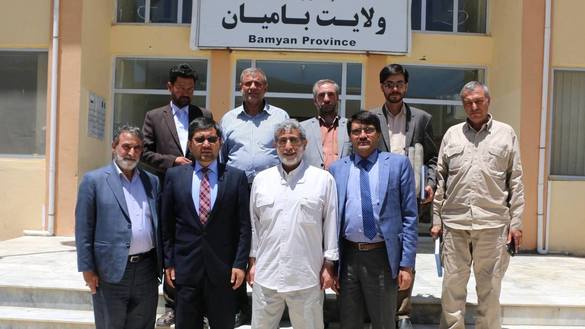 Soleimani was targeted as he had been "actively developing plans to attack American diplomats and service members in Iraq and throughout the region" when he was killed, the US Defence Department said after the strike, adding it took "decisive defensive action to protect US personnel abroad by killing Qasem Soleimani".
'Never a deputy ambassador of Iran'
An Iranian delegation came from Kabul in June 2018 to visit the hospital and that Qaani introduced himself as the deputy ambassador of Iran in Kabul, said Mohammad Tahir Zahir, the governor of Bamiyan Province, January 7.
"Iran is funding a 120-bed hospital in Bamiyan Province, and at the time the delegation visited Bamiyan, the work on the hospital had slowed down," Zahir said. "I had been told by Kabul that an Iranian delegation was coming to observe [the progress of] work on the hospital."
"The Iranian delegation landed at Bamiyan airport in an eight-passenger aircraft, and it directly went to see the hospital under construction," he said. "Among the local government officials in Bamiyan, only the director of public health accompanied them."
"After visiting the hospital for 45 minutes, they came to the governor's office," Zahir continued. "He introduced himself to me saying they were an Iranian delegation coming for a visit and that he was the deputy ambassador of Iran, last name Ismaili. He said they had come to Bamiyan to closely observe the progress of work on the hospital."
"Ismaili and his team met with me for 10 minutes, and he said he was there to reassure me and the people of Bamiyan that they wouldn't leave the hospital work half done and that they would complete it," Zahir said. "He said if any problem arises during construction, they would ask for our help."
"We don't have legal authority to organise foreign relations, and visits of foreign officials are arranged at the capital level," he added.
Qaani's actions during his 2018 visit are under investigation, said acting Foreign Minister Idress Zaman at a news conference Thursday (January 9).
"Esmail Qaani was never a deputy ambassador of Iran in Kabul, and we are investigating this issue to find out when and how this visit took place and for what purpose," Zaman said.
Recruiting for Fatemiyoun Division?
Some analysts consider Qaani the commander of Iran's proxy war in Afghanistan and one of the architects of the Fatemiyoun Division -- a militant group made up of Afghan nationals originally recruited by the IRGC to fight in Syria for President Bashar al-Assad's regime.
His visit to Bamiyan under the guise of the deputy ambassador was a ploy to help Iran achieve its intelligence and political goals in the country, said Akbar Jan Polad, a political affairs analyst in Kabul.
"For anyone who travels to a country with fraudulent documents, it is apparent that they have evil and destructive intentions, and introducing a military commander as a deputy ambassador or a diplomat shows Iran's destructive goals," he said.
"The inauguration of a hospital is something public health officials or legal Iranian diplomats should take care of," Polad added. "It doesn't belong to a military commander who leads the country's proxy war in Afghanistan."
"Qaani was the architect and leader of the Fatemiyoun Division at the time," he said. "His visit to Bamiyan might have been arranged for recruiting Fatemiyoun fighters and building relationships with them."
"Qaani is among those Iranian military commanders who played a role in the collapse of Ghazni and Farah cities," he said, referring to Taliban takeovers of parts of those cities in 2018.
Iranian interference also has driven up the "intensity" of the war, he said.
"Iran has been interfering with the internal matters of Afghanistan for years," Polad said. "Another reason why the Iranian military commander visited
Iran has clandestine political and security interests in Afghanistan, and Qaani "travelled to the country with fraudulent identification in a bid achieve these goals", said Arif Kayani, a political and military affairs analyst in Kabul.
"Qaani is one of the influential figures in proxy and irregular wars, and when he visited Bamiyan, he was the head of Quds Force's Ansar branch who pursued and implemented Iran's goals in Afghanistan," Kayani added.
"Visits of senior military officials take place for the military interests and goals of [their respective] countries, and I believe Qaani hid his identity when he traveled to Bamiyan to achieve their military goals," he said. "Qaani's visit was based on a planned programme, and I think recruiting Fatemiyoun fighters one of his goals."
"Afghanistan's Foreign Ministry, the NDS [National Directorate of Security] and the government must investigate the issue and provide a convincing response to the people," he said.
Against diplomatic norms
The purported attempt by Iran to falsely pass off a military commander as the deputy ambassador is illegal and must be investigated, said Dawood Rawesh, a Kabul University lecturer and political affairs analyst.
"The visit of this prominent combat commander ... disguised as a deputy ambassador has violated international laws, diplomatic traditions and the interests of Afghanistan," he said. "The Iranian embassy in Kabul needs to provide a response to the government and people of Afghanistan regarding this illegal act it carried out."
The Iranian move is just further proof of the regime's goal of exerting its malign influence in Afghanistan, said Muhammad Arif Rahimi, a resident and bookseller in Kabul.
"Iranians always try to exert their influence on Afghanistan and its people under the banner of building hospitals, [establishing] cultural centres and the like," the 38-year-old said.
"They have used our shared culture, language and religion as a means to achieve their evil goals," he said.