At the peak of its powers, the "Islamic State of Iraq and Syria" (ISIS) amassed a fortune from smuggling oil, looting banks and trading in plundered artefacts and irreplaceable national treasures.
During its reign of terror in Iraq and Syria, the group reportedly raised $50 million a month from smuggled oil revenues alone.
ISIS seized $500 million from banks when it overran Mosul, Iraq, while its trade in looted artefacts generated between $150 and $200 million more for its coffers.
Ousted from the areas it once controlled and faced with mass defections, the group is now reeling financially from the loss of its main sources of revenue.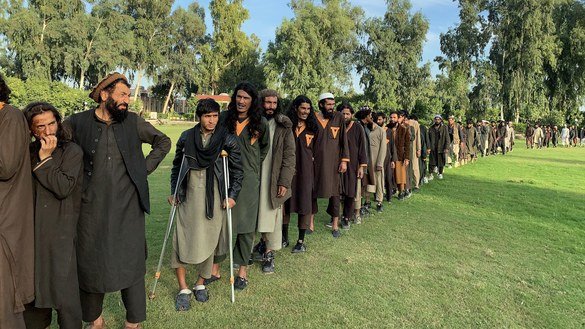 This has forced it to search for alternative sources of funding through more "traditional means", observers say.
Following the death of ISIS leader Abu Bakr al-Baghdadi, US Treasury assistant secretary for terrorist financing Marshall Billingslea said last month the group's financing is likely to shift from a "centralised" system to a more fragmented one.
ISIS elements are increasingly relying on secret networks in locations other than Iraq and Syria, where they face less pressure from heavy surveillance and monitoring, says Iraqi political analyst Iyad al-Anbar.
"Returning to violence, kidnapping, blackmail and forced taxation and donations, which are primitive methods to make money, could be the last resort for the group, which has lost most of its vast resources," he said.
ISIS has been searching for safe havens in areas of Africa or Asia where there are security gaps or ongoing conflicts in order to restart its operations, he said.
In Afghanistan, ISIS found no safe haven. Following years of joint military operations by Afghan security forces and the NATO-led Resolute Support Mission, ISIS admitted to its own defeat in the region in November with nearly 1,500 of its fighters and families surrendering to security forces.
Wherever its fighters congregate, the group will face many obstacles when it comes to its financial affairs, he added, as the global monetary system has stepped up its measures to track all sources of terror funding, including "traditional means", al-Anbar said.
The US Treasury has identified numerous entities and individuals that have been found to support extremist groups and has frozen their assets and blocked their transactions, he said.
This has stymied the flow of money that ISIS receives via financial transfers from a host of activities that could be disguised as charitable work, he added.
Stripping ISIS of its resources
US sanctions have stripped ISIS of its main financiers, says security expert Jalil Khalaf.
US and international efforts to monitor assets and bank transfers have been successful in closing down terrorist funding channels, he said.
Additionally, he said, "Iraqi forces and international coalition aircraft succeeded in destroying many terrorist headquarters in Iraq and Syria during the war that served as cash warehouses and centres for smuggling oil and precious metals".
ISIS's recent small-time revenue generating and fund-raising attempts "indicate that the group is on its deathbed and that its coffers have been emptied", Khalaf noted.
Under the current circumstances, it is "impossible" for ISIS to collect any significant amount of money, he said, as the group is financially exhausted, its media operations are struggling and its fighters are suffering from low morale.
The group is in no position to field combat operations, he said.
ISIS is in an unenviable position as it is now considered to be operationally incapacitated, says sociologist Taleb Mohammed Kareem.
The cash reserves the group had accumulated made it one of the wealthiest extremist groups, he said, "but this wealth quickly dissipated thanks to the extraordinary efforts of Iraq and its international partners".
Collaborative efforts to target those illegally-gained funds are ongoing, he said.
While it is likely that ISIS will continue to seek alternative revenue sources further afield, Kareem added, it will not be able to cover its tracks for long, as international efforts to monitor the group are being improved all the time.