The new leader of the "Islamic State of Iraq and Syria" (ISIS) is an Iraqi Turkmen named Amir Mohammed Abdul Rahman al-Mawli al-Salbi, British newspaper The Guardian reported, citing officials from two unnamed intelligence services.
Al-Salbi is one of ISIS's founding members, the newspaper reported. He has led the group's enslavement of Iraq's Yazidi minority and has overseen the group's operations around the world.
ISIS named Abu Ibrahim al-Hashimi al-Quraishi as its new leader just days after its previous leader, Abu Bakr al-Baghdadi, was killed in a raid by US special forces in October.
Al-Quraishi was a nom de guerre not recognised by other senior leaders or intelligence agencies, The Guardian reported.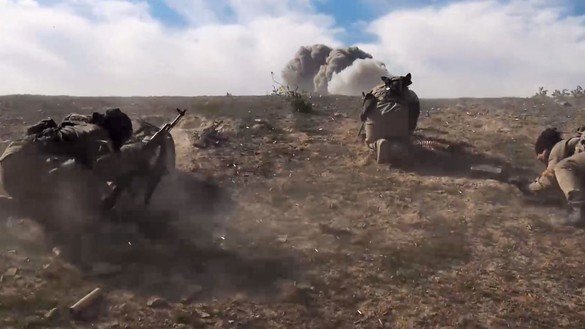 Some analysts have suggested the group was caught off guard by al-Baghdadi's killing and that the true identity of its new leader remained uncertain.
Others speculating about al-Quraishi's true identity put forward the name Amir Muhammad Said Abdal Rahman al-Mawla, aka Hajji Abdallah.
Last August, the US State Department added him to its list of most wanted terrorists, describing him as a "potential successor" to al-Baghdadi and offering a reward of up to $5 million for information leading to his capture.
Who is ISIS's new leader?
Now, three months after al-Baghdadi's death, a clearer picture of ISIS's new leader is emerging.
Al-Salbi was selected within hours of al-Baghdadi's death, The Guardian reported, describing him as "a hardened veteran in the same vein as Baghdadi, unflinching in his loyalty to the extremist group".
He holds a degree in sharia law from the University of Mosul, and rose through the ranks of ISIS in part thanks to his background as an Islamic scholar, the newspaper reported.
The Guardian called him "one of the most influential ideologues among the now depleted ranks of [ISIS]".
The US State Department said he "helped drive and justify the abduction, slaughter and trafficking of the Yazidi religious minority in northwest Iraq and is believed to oversee some of the group's global terrorist operations".
Since al-Baghdadi's death, al-Salbi is believed to have been trying to consolidate ISIS's new leadership, nearly all of whom are drawn from "a new generation who were too young to play roles in [ISIS's] founding battles against US forces from 2004 or in the Iraqi civil war that followed", The Guardian said.
In 2004 al-Salbi was detained by US forces in Camp Bucca prison in southern Iraq where he met al-Baghdadi, according to the report.
He was born in Tal Afar, Iraq, and is believed to have at least one son. He is one of the few non-Arabs among ISIS leadership.
Financial disarray
ISIS has been scrambling to regroup after major territorial losses in Iraq, Syria, Afghanistan and elsewhere.
Ousted from the areas it once controlled and faced with mass defections, the group is now reeling financially from the loss of its main sources of revenue -- smuggling oil, looting banks, and trading in plundered artefacts and irreplaceable national treasures.
Following al-Baghdadi's death, US Treasury Assistant Secretary for Terrorist Financing Marshall Billingslea said the group's financing would likely shift from a "centralised" system to a more fragmented one.
"Returning to violence, kidnapping, blackmail, and forced taxation and donations, which are primitive methods to make money, could be the last resort for the group, which has lost most of its vast resources," said Iraqi political analyst Iyad al-Anbar.
In November, the group's Khorasan branch admitted defeat in Afghanistan, where it had attempted for several years to establish its "caliphate", saying its members had nothing to eat for weeks and no bullets left in their guns.
Media machine breaking down
ISIS's increasingly dwindling resources have also negatively impacted its once-prolific propaganda machine, which al-Salbi has yet to revive.
ISIS media channels on Telegram and other platforms have been noticeably absent of high-quality imagery and videos since last summer.
One reason for ISIS's propaganda breakdown is a hacking operation carried out by the US military dating back at least to 2016, according to declassified national security documents released Tuesday (January 21).
The heavily redacted, previously top secret documents said the US Cyber Command "successfully contested ISIS in the information domain" and limited its online efforts on radicalisation and recruitment "by imposing time and resource costs" on the group.
The assessment pointed to a "significant reduction" in the online campaign waged by ISIS.
Heightened security pressure has deprived the group of most of its media platforms, technology, videographers, sound technicians and propagandists in addition to other personnel, said Kazem al-Miqdadi, who teaches mass communication at al-Farabi University College in Iraq.
Authorities have made a targeted effort to put up barriers thwarting ISIS elements and supporters from propagating the group's ideology and from spreading its messages online and "particularly on social media", he said last August.
"The ISIS media machine is fading away," he said, adding that the group has "lost credibility and no one fears them anymore".