HERAT -- Despite the threat of Tehran's interference, work on a dam in the Bakhshabad area of Farah Province is under way, providing hundreds of jobs for local Afghans.
Bakhshabad Dam, set to be built on Farah Rud River in Bala Buluk District of Farah Province, will produce 27MW of electricity.
Featuring a 80-metre-high wall, the dam will be able to store 1.3 million cubic metres of water and provide sustainable irrigation for 110,000 hectares of farmland.
Two diversion tunnels to enable the construction of the dam are being built, say local authorities.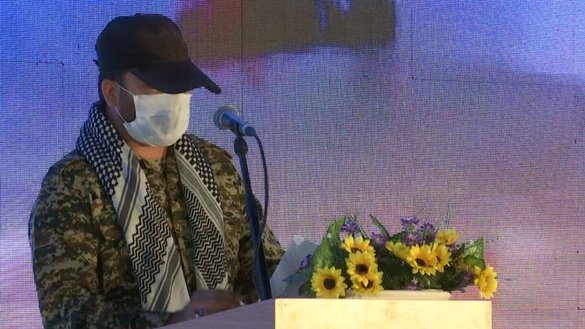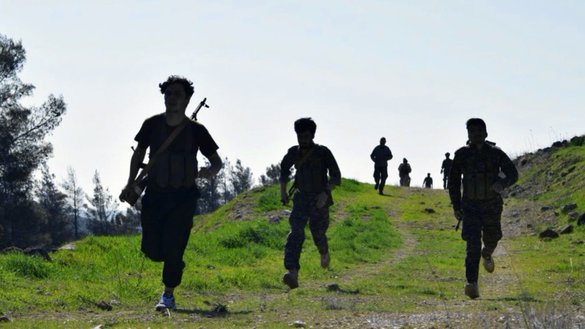 Hundreds of labourers are working around the clock to complete these tunnels, said Abdul Zahir Karimi, head of the Farah Rud River region.
"Based on the contracts, construction of the two diversion tunnels has to be completed in seven months," Karimi said on October 6. "One of the tunnels is 600 metres long, and the other is 500 metres, and a budget of $12 million [922.8 million AFN] has been allocated to their construction."
"Construction of the Bakhshabad tunnels began in July 2020 and will be completed by March 2021," he added. "After the Bakhshabad tunnels are constructed, work on the dam's wall will begin."
"Iran's interference has increased as it tries to disrupt the construction of Bakhshabad Dam," said Abdul Sattar Hussaini, a member of the Wolesi Jirga representing Farah Province.
The Iranian regime and the Fatemiyoun Division pose a huge threat to the dam, he said.
The Fatemiyoun Division is a militia made up of Afghans funded, trained and equipped by Iran's Islamic Revolutionary Guard Corps (IRGC) and has an estimated strength of between 12,000 and 14,000 fighters.
"Iran doesn't want to see the bitter experience of the Salma Dam construction repeat," Hussaini said. "The government of Iran hoped that the Salma Dam in Herat couldn't be built, but its interference was contained. It now makes every effort to prevent the construction of Bakhshabad Dam."
"The Fatemiyoun Division has received training from Iran, and it threatens all the dams in western and southern regions of the country," he said.
"Kamal Khan Dam in Nimroz Province, Kajaki Dam in Helmand Province, Pashdan and Salma dams in Herat Province, and Bakhshabad Dam in Farah Province are all under the Iranian government's threat."
"When Bakhshabad Dam is built in Farah Province, Iran won't get free water, and one eastern zone of the country [Iran] will turn into a desert. Therefore, Iran interferes to disrupt the construction of this dam, which is an obvious right of the Afghan people," said Dadullah Qani, chairman of the Farah Provincial Council.
"The building of Bakhshabad Dam is one of the big hopes of the residents of Farah, and they have been waiting for years for the dam to be built," he added.
"As the level of underground water has decreased in Farah Province, the building of Bakhshabad Dam has become essential."
Local support
There is no obstacle to the construction of Bakhshabad Dam, and no one is able to disrupt its work, said Farah Governor Taj Muhammad Jahid.
"Local residents and elders support the construction of Bakhshabad Dam and are busy securing [the dam] alongside the security forces. No country or group will be given permission to come closer to the Bakhshabad construction site. In addition to locals, public uprising groups are active in the area, and a strong security belt has been created."
The government is committed to the residents of Farah Province, and it will build the dam at any cost to bring light to the houses of Farah residents and sufficient and sustainable water for their agricultural lands, he said.
Construction work on Bakhshabad Dam delights residents as it will change lives, particularly those of farmers and ranchers, said Muhammad Barakzai, a resident of Farah city.
"Bakhshabad Dam will contribute to the lighting and prosperity of Farah Province," he added. "Construction of a hydro-electricity dam is a sign of development, and every Afghan hopes that his [or her] country is developed and rehabilitated.
"We're hopeful that construction of Bakhshabad Dam is completed soon."
"The people of Farah have always wanted Bakhshabad Dam to be built," he added. "We appreciate that the government has paid attention to our demand. We ask the government to prevent the neighbouring countries from blocking the implementation of this project."
"When work on Bakhshabad Dam finishes, lands that were left idle for lack of water will be cultivated, and we'll gain access to 24-hour electricity," said Habibullah Sediqi, a resident of Farah Province.
"Farah Province has abundant agricultural lands, and when there is water, thousands of people will find jobs."
"We support the development programmes of the Islamic Republic of Afghanistan as infrastructure projects strengthen the economy," he said.
"We stand with the security forces and support them in providing security to Bakhshabad Dam," he added.