KABUL -- The days of Iran siphoning off free water from Afghanistan are numbered, according to President Ashraf Ghani.
Excess water will no longer freely flow to the neighbouring country once the facility is up and running, vowed Ghani, who visited Nimroz Province on July 26 to check on the progress of construction of Kamal Khan Dam on the Helmand River.
Iran captures thousands of cubic metres of water daily in excess of the 1973 Helmand River Treaty, which covers water use.
Afghan officials have repeatedly accused Tehran of supporting the Taliban to prevent the construction of dams in the western region of the country and to ensure the continuation of water flows into Iran.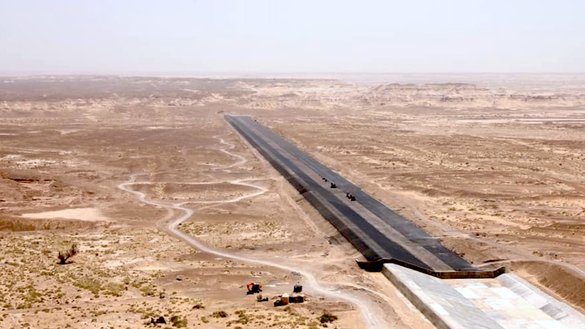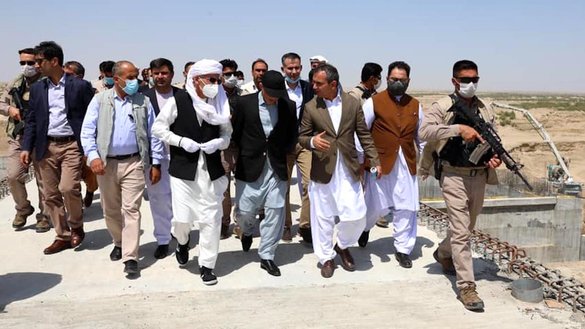 "Our running water is our pride, and in a few years, Afghans will re-own billions of cubic meters of water that we had lost ownership of," Ghani told hundreds of listeners in Zaranj, the provincial capital.
The construction budget of Kamal Khan Dam is $78 million (5.9 billion AFN), funded through the government's development budget.
With the capacity of irrigating 80,000 hectares of land and generating 9MW of electricity, the dam's inauguration is scheduled four months from now.
In addition, the dam will curb the risks of flooding in Nimroz, Ghani said.
'Water belongs to Afghans'
Work on the dam is continuing even as Iranian officials make contradictory claims over water rights.
Iran needs more water from Afghanistan for environmental purposes, said Abbas Araghchi, the Iranian deputy foreign minister for political affairs, in an interview with TOLOnews on July 19.
"There is a water right for Iran, and there is a water right for Afghanistan, and then there is a water right for nature," he said. "Nature's share must be also given. If we want to avoid the consequences of environmental erosion, we must give nature its share."
"There are Hamoun lakes that are partly located in Afghanistan and partly in Iran. These lakes must be filled to play their role in the environment of the region," Araghchi added. "If these lakes are left dry, they will have environmental consequences for both countries."
If Afghanistan blocks water to the Hamoun lakes by building dams, it will have negative consequences for itself as well, he claimed.
However, the Iranian official's comments contradict the 1973 Helmand River Treaty.
Iran has "no claim to the water of the Helmand River in excess of the amounts specified in this Treaty, even if additional amounts of water may be available in the Helmand Lower Delta and may be put to a beneficial use," stipulates the treaty.
The Iranian regime has always used threatening language about water issues with Afghanistan, which shows clear interference in Afghan affairs, said Ghulam Faruq Rasib, a civil society activist in Herat city.
Iranian officials' open talk of taking more water than the treaty permits clearly demonstrates their hostility toward dams and water management in Afghanistan, he added.
"The Iranian consulate in Herat has blocked a public road for years, while its government shows no flexibility but very shamelessly asks for more water from the Helmand River," he said, referring to road construction that has stalled because the consulate refuses to move its front wall.
"The running water belongs to Afghans, and Iran must pay for getting more water than allowed by its water rights."
Boosting the economy
Meanwhile, for residents of Nimroz Province, the inauguration of Kamal Khan Dam will signal the realisation of a 54-year dream. Construction on the facility, which started in 1966 and halted because of conflict, resumed in 2011.
Kamal Khan Dam will be very positive for the economy of Afghanistan, especially for Nimroz Province, said Jan Mohammad Alokozai, a resident of Zaranj.
"Kamal Khan Dam will create many jobs. It is also useful in producing electricity and will meet some of the demand in Nimroz Province," he added. "Agriculture productivity will ncrease from the water from Kamal Khan dam."
"Once Kamal Khan Dam is inaugurated, thousands of hectares of open land will be cultivated, providing work for thousands of farmers," said Javed Bahrami, another resident of Zaranj. "When there is water, Nimroz will be a producer of wheat and other farm products, transforming human lives.
Those sentiments were shared by Nematullah Sediqi, member of the Nimroz Provincial Council.
"The inauguration of Kamal Khan Dam will be a great day for the people of Nimroz, and a day of happiness for farmers," he said.