NIMROZ -- With this week's inauguration of the long-awaited Kamal Khan Dam project, Afghanistan declared the end of the free flow of water to neighbouring countries.
"We will no longer give free water to anyone," President Ashraf Ghani said on Wednesday (March 24) at the inauguration ceremony in Chahar Burjak district, Nimroz province.
"If you ask for water, you must give oil. If you are asking for water, you should give something in return," he said addressing Iran, whose border is downstream from the Helmand River.
The Helmand River Water Treaty between Afghanistan and Iran "is a perfect treaty", he said. "However, there have been shortcomings in its implementation. Now…the key to Helmand water is in the hands of Afghans […]."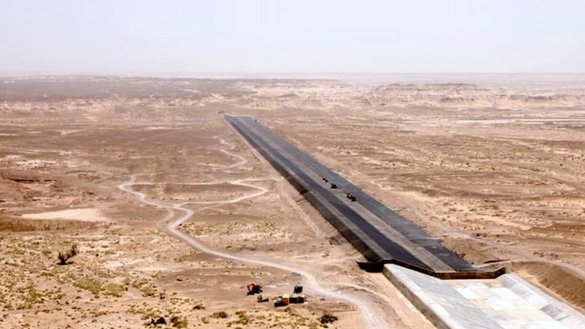 If Iran wants more water than what has been stipulated in the 1973 treaty, it should negotiate with Afghanistan, Ghani added.
Work on Kamal Khan Dam started in 1971, but the project repeatedly suffered interruptions from wars and Iran's interference.
Tehran continued to interfere in the hydroelectric project as recently as March 1, when Iranian border forces attacked Afghans working on the Kamal Khan Dam canal, using light and heavy weapons.
Iran has also armed and instructed the Taliban to disrupt work on multiple other Afghan infrastructure projects, including Pashdan Dam in Herat province.
Built on the Helmand River near the Iranian border with a budget of about $111 million (8.6 billion AFN), Kamal Khan Dam is considered to be the most important infrastructure in Afghanistan.
The 9-megawatt dam has a reservoir capacity of 52 million cubic metres and will help irrigate 180,000 hectares of agricultural land.
At the inauguration ceremony, Ghani highlighted the dam's role in developing the agriculture sector in Nimroz, saying he expects many Afghan refugees to return home from Iran as a result.
"We will proudly sell agricultural produce from Nimroz to Iran," he added.
'A historic achievement'
Afghans across the country celebrated the inauguration of Kamal Khan Dam.
Nimroz residents in particular are hopeful that the dam will help irrigate their farmland, which has remained idle for lack of water.
"The dam will not only benefit our economy; it will also generate electricity and play a vital role in agricultural growth," said Nimroz resident Jan Mohammad Bawar.
Production of wheat is expected to increase, he said, as well as that of other agricultural products given that Nimroz boasts vast, fertile and flat farmlands.
"Kamal Khan Dam will transform the lives of all Nimroz residents," said Mohammad Ishaq Shahbaz, another local resident.
Nimroz will once again become the most fertile land not only in Afghanistan but across the region, he said, adding, "Nimroz province will return to its green civilisation."
"The government is spending a significant amount of the budget to fight terrorism, but nonetheless, it cares about infrastructure projects and people's livelihoods," Shahbaz said. "Kamal Khan Dam is a historic achievement for the people and government of Afghanistan."
For the past several years, Nimroz farmers have suffered from drought and lack of irrigation water, said Abdul Ghani Rukhshani, a farmer in Nimroz.
"Because of the water shortage, we could not cultivate our land," Rukhshani said. "But that will now change."
Efforts to build other dams
Construction work on at least 11 dams is under way in a number of provinces, according to Afghanistan's National Water Affairs Regulation Authority (NWARA).
The dams currently under construction include Kajaki, Shah-wa-Arows, Pashdan, Shorabak, Bakhshabad, Machalgho, Dahna Dara, Second Khanabad, Toory, Paltoni and Shafloq, NWARA director general Khan Mohammad Takal said at the Kamal Khan Dam inauguration ceremony.
"Construction work on the Shorabak, Shah-wa-Arows and Pashdan dams are expected to be completed soon," he said.
These 11 dams will irrigate more than 550,000 hectares of land and produce 200 megawatts, he said.
Next year, the NWARA is planning to start surveying for and designing 44 hydro-electric dams in 27 provinces, he added.
"With the construction of these dams, Afghanistan will be able to manage its own water resources and might not need to import electricity from neighbouring countries," Takal said.
"Water is our honour," he said. "It is the duty of all Afghans to take good care of their water resources and utilise it in the best interests of their country."
Compared to other countries in the region, Afghanistan has made good progress in building dams, and it has the potential to build hundreds of small and large dams, which is the key to a strong economy, said Habibullah Ludin, a dam construction specialist in Herat city.
"Afghanistan's dams will not only have the capacity to produce thousands of megawatts; they will also irrigate thousands of hectares of agricultural land, transforming the country into a major exporter of agricultural products," Ludin said.
Afghans vow to protect Kamal Khan Dam
Residents of Nimroz province promise to stand alongside the Afghan National Defence and Security forces to protect Kamal Khan Dam and other national infrastructure projects.
Local youth fought against terrorists and made sacrifices to complete the construction of Kamal Khan Dam, said Baz Mohammad Naser, chairman of the Nimroz provincial council. "They did not allow anyone to disrupt the construction work on this national project."
Nimroz men and women, young and old, are ready to ensure and maintain the security of Kamal Khan Dam, he said.
The dam belongs to every Afghan citizen, and anyone who wants to damage it will have to face 30 million Afghans, Naser said.
The proof, he added, is that the Taliban and Iran have been trying to prevent the construction of the dam for years, but they failed.
The Ministry of Interior Affairs issued a statement on March 24, saying that the Taliban attacked Kamal Khan Dam 35 times over the past two years, during which 39 members of the security forces were killed or injured.
The Taliban took 29 members of the security forces hostage in the past two years in battles over the dam, the ministry said.
Militants launched about 120 mortars and fired some 16 heavy weapons with no impact on the dam, according to the ministry. Security forces defused 98 land mines that the Taliban planted to destroy Kamal Khan Dam.
With orders from Iran, the Taliban made every effort to stop construction work on the dam, but they were unsuccessful, said Hizbullah Sarwari, a religious scholar in Zaranj, Nimroz province.
"Religious scholars are standing alongside security forces and will not allow the enemies to destroy Afghanistan's infrastructure," Sarwari said.