KABUL -- Tehran has been forcing Iranian drug addicts across the border into Nimroz Province, Afghanistan, for the past couple of years and is refusing to allow them to return home, local officials say.
"A number of the drug addicts that the police have collected and transferred to treatment centres are Iranian citizens," said Lt. Ehsanullah Hotak, head of the Nimroz Police Counter Narcotics Department.
More than 100 Iranian addicts have been reported to the Counter Narcotics Department, he said. They were expelled by Iranian security forces alongside Afghan citizens and are now living in Zaranj, the provincial capital.
"The Iranian government did not allow these addicts to enter Iran even after they were treated," Hotak said.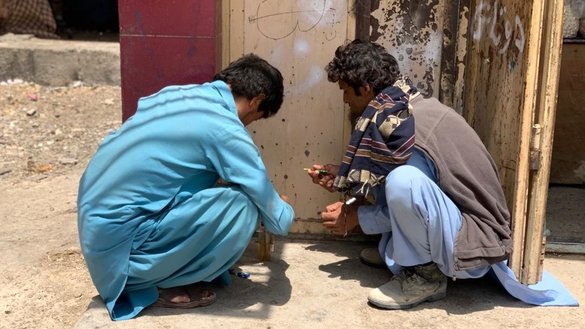 "The Iranian addicts in Nimroz are homeless, living in dire conditions."
The presence of Iranian drug addicts in Nimroz Province has become a social issue, said Nematullah Sediqi, a member of the Nimroz Provincial Council.
These drug addicts are unable to return home, he said.
"The Iranian government deliberately expels its drug addicts together with Afghan migrants," he said. "These drug addicts stay in Zaranj city, causing serious social problems."
Tehran cannot handle the high number of drug addicts in Iran; therefore, it sends them to Afghanistan, Sediqi said.
If the expulsion of Iranian drug addicts to Nimroz Province continues, it will become very dangerous and make life very difficult for residents of Zaranj city, he said.
Abandoned by Iran
Iranian addicts living in Zaranj confirmed shared bitter stories of violent treatment by the Iranian military.
"The police expelled me to Afghanistan because I am an addict," said Muhsen Qiasi, a native of Kermanshah, Iran, now living on the streets of Zaranj.
"I pleaded to them that I am Iranian, but they did not listen to me."
"I am Iranian; I have identification. My entire family is in Kermanshah. I have no one in Afghanistan, and I'm living a tough life," he said.
Qiasi said he has been "living in despair" on the streets of Zaranj among several other Iranian drug addicts expelled to Afghanistan for the past six years.
"I was taking drugs one day in Karaj [the capital of Alborz Province in Iran] when the police came and arrested me," said Mohammad Mohammadi, another Iranian drug addict living in Zaranj.
"They kept me in a camp for eight nights and then transferred me to a camp in Zahedan," he said. "I often told them in Zahedan that I am Iranian, but they did not listen and expelled me to Afghanistan."
"We neither have nor know anyone in Nimroz; we are just wandering around day and night," he said. "I work a little during the day, but it is not even enough to buy drugs. We live an uncertain life, just wandering around."
"We don't know why the Iranian government is expelling drug addicts, but we are Iranian citizens," Mohammadi said. "It should not have abandoned us like this and left us to our fate."
Using addiction as an excuse, the police in Iran deport drug addicts by force and deception, said Abdul Malik, a native of Zahedan city.
"We were smoking drugs when police came and arrested and expelled us to Afghanistan," he said. "We told them that we are Iranians and that we had to inform our families, but no one heeded our pleas."
"We do not know anyone in Nimroz, and there is no work here either," he said. "We suffer from hunger."
Treatment challenges
The Iranian drug addicts have been treated several times, but they often relapse because they do not have anywhere to go, say local authorities in Nimroz.
Authorities collect dozens of drug addicts from the streets every month and take them to hospitals for treatment, said Nasir Ahmad Haibat, acting director of the Nimroz Public Health Directorate.
"Iranian nationals are included among the addicts that we treat in hospitals and drug treatment centres," he said.
"We transfer Afghan addicts to their families in various provinces after treatment, but Iranian addicts are left on the streets," Haibat said. "As a result, they relapse."
"We have no option but to collect these Iranian addicts and treat them again," he said. "These addicts have posed serious challenges to the government, displacing Afghan addicts in the treatment process."
By deporting sick drug addicts to Afghanistan, the Iranian regime is disrespecting their human dignity and violating the rights of its citizens, said Hamid Azimi, a civil society activist in Zaranj city.
"Even though the Afghan government does not have any responsibility toward Iranian addicts, it treats them and hands them over to the Iranian government healthy, but Iran does not take them back," he said.
"The Iranian government must respect the human rights of its citizens and allow these sick people to reunite with their families," said Azimi.
If the Iranian government does not even have mercy for its own citizens -- separating them forever from their families -- then it will never have mercy on Afghan refugees living in Iran, and in fact, it has always violated their human rights, he said.