HERAT -- The Iranian regime is forcibly separating Afghan children from their families, rounding them up and then deporting them -- alone -- to Afghanistan.
According to Afghan officials in Herat, Iranian authorities arrest any Afghan, including women and children, who are not carrying official identification, and immediately deport them without contacting their relatives.
Each day, about 10 deported children whom Iranian forces separated from their families enter Herat through the Islam Qala border crossing, said Ahmad Jawid Nadem, director of the Herat Province Department of Refugees and Repatriations.
Over the past year, the Iranian government has deported more than 2,500 Afghan refugee children in the absence of their guardians to Afghanistan through the border crossing, he added.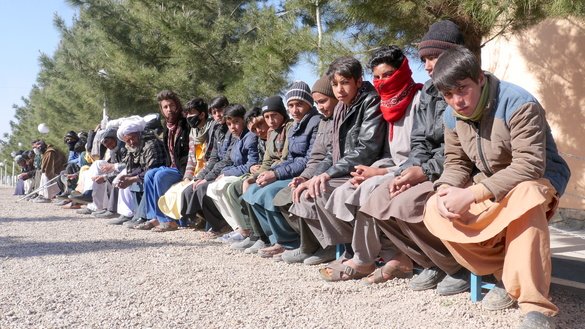 "As most of these children don't have families in Afghanistan, they have faced serious problems," he said. "The Afghan government keeps dozens of these children at shelters until their relatives are identified."
"Children who are deported by the Iranian military suffer from psychological trauma," he added. "There are counsellors present at the Islam Qala border crossing to help these children. The Department of Refugees and Repatriations transfers the deported children from Islam Qala to Herat city and gives them food and clothes."
The children expelled from Iran are between 10 and 17 years old, said Nadem.
The Iranian government's arrest and deportation of Afghan children are inhumane and irreligious acts, said Abdul Qader Kamel, a political analyst in Herat city.
These violent acts by the Iranian forces breaches the ethics of neighbourliness, international humanitarian laws and accepted human-rights conventions, he added.
Oppression and violence
One night, the Iranian police locked up Gul Ahmad, 14, alone in a small vacant bathhouse without giving him food.
Ahmad said he had stepped out of his home in Mashhad to buy some bread when the police grabbed and deported him without informing his family.
"It was 8pm when the police arrested me and put me in the vacant bathhouse," said Ahmad.
"The next morning, the police took a number of other children and me to a place where they round up refugees... after a few days, the Iranian security forces took us to the Safid Sang camp, where we stayed for two nights, and then they took us to the Islam Qala border crossing and deported us," he said.
"We were very scared as the police were beating up all the Afghans at the camp," added Ahmad. "They had no mercy for children, the elderly or women and beat them up with sticks and cables."
Muhammad, 15, was arrested by Iranian police in Zahedan and deported to Afghanistan, also without the knowledge of his family.
"One day I came across a police patrol, and when I tried to escape, they fired at me," said Muhammad. "There were a few of us with some injured, and the police arrested us."
Police kept all the children in a disorderly, filthy place, and they did not give them water or food, he added.
"The Iranian police took 45,000 tomans [820 AFN or $11] from each of us, and then they sent us to Sarbaan camp in Zahedan city, where they again forced us to give them money," he said.
"The Iranian security forces were beating up the refugees and striking them with sticks and gun butts both at the camps and en route," added Muhammad.
"When we arrived at the Afghan border, we didn't have anything [any money] left with us as the Iranian police stripped us of everything," he said. "After we entered Afghanistan, the [Afghan] government gave us food and money and then sent us to a camp where it provided us food and clothes."
Inhumane acts
Authorities in Herat Province condemned the Iranian military's act of separating children from their families without notifying their relatives and called it a breach of humanitarian principles.
"Iran's deportation of Afghan children and adolescents without informing their families violates international conventions and mutual agreements between Afghanistan and Iran," said Jilani Farhad, a spokesman for the Herat governor.
The Afghan government expects the Iranian government to abide by mutual agreements between the two countries and to refrain from deporting women and children with no guardians, he said.
"The children whom Iran deports to Afghanistan face serious challenges because they are not familiar with the environment and have no family here," added Farhad.
"In addition to the children themselves facing many problems, the government agencies supporting children have a multitude of challenges as they can't find the families of these children and adolescents," he said.
"We have shared this issue with relevant agencies in Kabul, and we are hopeful that it is addressed through diplomatic channels and that the government of Iran is alerted to respect its mutual agreements with the Afghan government," said Farhad.