KABUL -- Afghan refugees residing in Iran whom Iranian forces recently arrested and forcibly deported to Afghanistan detailed to Salaam Times harrowing tales of how they suffered harsh conditions and mistreatment tantamount to torture.
Zahra, 35, who gave only her first name, said she and her four children were deported from Iran on December 15. They are now living at the United Nations (UN) refugee camp in Herat city.
For the two years prior to her deportation, Zahra said, she and her children lived in Karaj city near Tehran, where she cleaned houses for a living.
The Iranian police who arrested her "dragged us violently from home" and transported the family to the border, she said, accusing them of extorting money from her at several points along the way.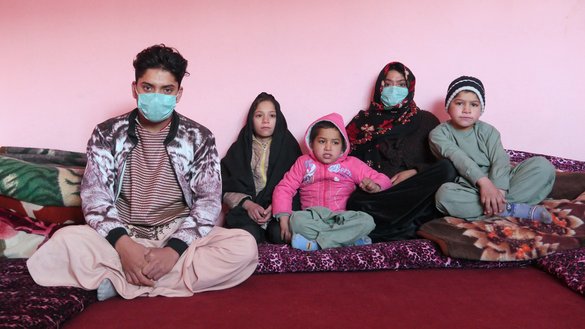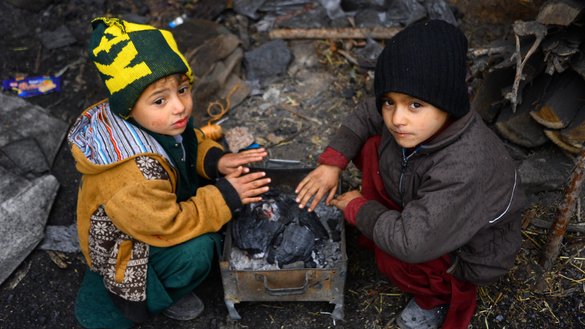 "The Iranian police took 100,000 tomans [1 million IRR, about $43 on the black market] from everyone -- young and old -- every time they saw us, and thus we were stripped of all our money," Zahra said.
"The refugees who were in the vehicle with us collected some money for me, and I gave that to the police to allow me to cross the border into Afghanistan."
The deportees endured freezing weather along the journey as well as at the refugee camp, she said, adding that the Iranian forces did not supply anyone with food or water.
"My children had a high fever for two nights along the way, and I gave them the medicine I had," Zahra said, noting that in addition to not having sustenance, they did not have warm clothing or blankets to help them withstand the cold.
"It was very cold on the way," said Zahra's nine-year-old daughter Seena, noting that most of the long journey was on foot.
"They allowed us in the vehicle just for a few minutes and then told us to go on foot," Seena said.
'We begged them'
Allah Gul, 63, a resident of Parwan Province, said he had been in Iran legally, but the Iranian police still arrested him and deported him on December 15.
"When the police arrested me, I told them that I had a passport and a visa, but they told me that they did not care about the passport, and I had to return to my country," he said. "The police mistreated me and beat me up."
"The police took off our clothes at the camp, and we had to stay in the cold weather for one night," he said.
"The weather was very cold, and it was snowing. We begged them ... to give us our clothes, but they ignored our requests."
Ghazni Province resident Abdul Basir, who asked that his last name be withheld, told Salaam Times that Iranian police arrested him and beat him up, along with his friends, deporting them to Afghanistan on December 15.
"We were eight people, and they put us all in a small room," said Basir, who is now in the Herat city camp. "The police turned on the air conditioner in the room while it was snowing, and it got very cold."
"We all became sick as we did not have any blanket or food during the cold night," he said.
Iranian police sometimes beat up the men or insulted them in front of the women and children, he said, noting that they "harassed Afghan women and children as well".
"They put women and children in one room with men, disrespecting their human dignity," he said. "They are neither humans nor Muslims."
Women, children deported
The flow of Afghan deportees to Iran has surged recently, according to the Herat Department of Refugees and Repatriations.
Each day, dozens of women and children without guardians are among those deported from Iran, entering Afghanistan via the Islam Qala crossing, said Ahmad Jawid Nadem, director of the Herat Department of Refugees and Repatriations.
When they arrive, workers from the UN High Commissioner for Refugees and the Herat Department of Refugees and Repatriations take them to the camp, he said.
"On a daily basis, 1,200 to 4,000 Afghan refugees, including women and children, enter Herat Province through Islam Qala," he said.
During the Hijri solar year of 1399, more than 313,000 Afghan refugees have re-entered the country through Islam Qala, Nadem said.
"Among the deportees, nearly 100,000 were forcibly deported by the Iranian government, including hundreds of children, women and old people," he said.
Thirteen-year-old Farid Ahmad said Iranian police arrested him when he went to buy bread and deported him to Afghanistan without informing his family.
"My family lives in Yazd city [in Iran]," he said, from the camp in Herat city. "I went to buy bread at a bakery in the morning when police ... arrested me."
"I asked them to let my family know, but they did not listen and took me to the camp," the teenager said. "My family has no idea where I am."
"My father and mother will be very concerned, and I am not sure how much they have cried," he said. "I travelled for 10 days until I reached Afghanistan. I do not know anyone here, and I am not sure what to do."