HERAT -- The Iranian regime has accelerated the deportation of Afghan refugees from Iran despite warnings of an impending humanitarian catastrophe in Afghanistan.
The Iranian regime each day deports 4,000 to 5,000 Afghan refugees, sending 1,700–2,000 via the Islam Qala entry point in Herat and another 2,000–2,500 via Nimroz province.
Of the almost 500,000 Afghan refugees who have returned to their country from Iran since the fall of the previous government in August, almost 400,000 of them have been forcibly deported, according to the International Organisation for Migration (IOM).
Abdullah Haidari, 29, a resident of Sar-e-Pul province, told Salaam Times that he was forcibly deported by the Iranian forces alongside his wife and two children.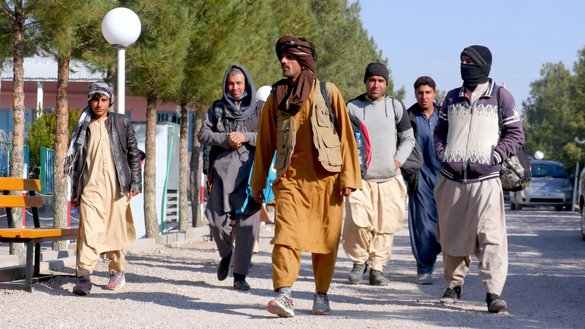 Iranian authorities scaled the walls of Haidari's house in the outskirts of Tehran to deport him and his family, he said Thursday (December 16) at a United Nations (UN) refugee camp in Herat.
Haidari had travelled to Iran eight months ago to work as a construction worker.
The Iranian military forced him and his family to leave all their household possessions behind and did not even allow them to gather their winter clothing, he said.
"Iranian forces were harassing Afghans ... and they were taking our money," he added.
"I am very worried about life in Afghanistan," Haidari said. "There is no work. I don't know what to do."
"Afghanistan is no longer the same place, and there is no work," he added. "I am very anxious about finding work and am afraid of losing my two children because of unemployment and poverty."
Some desperate Afghan families in the past four months have sold off their daughters to pay off debt.
Fears of hunger, unemployment
Those deported from Iran now face unemployment and hunger in Afghanistan.
Fazel Ahmad, 45, a resident of Pur Chaman district, Farah province, said on December 16 that he and eight members of his family have no food to eat.
Ahmad said he borrowed 10,000 AFN ($97) from relatives to travel to and work in Iran but that the Iranian military caught and deported him.
"I wanted to go to Iran to work and earn a living for my wife and children," he said from the UN refugee camp in Herat. "But Iranian soldiers took all my money and deported me to Afghanistan with empty pockets."
"There is no work in Afghanistan, and there is no one to help us," he added. "We have no cooking oil, flour, or rice at home ... I have no money to buy food for my family."
"I return home [each day] empty handed," he said, adding that he does not know how to face his hungry children.
Instead of sheltering desperate Afghans in these difficult times, the Iranian government takes their money and deports them to Afghanistan, said Mohammad Tahir, a resident of Jawzjan and another refugee at the camp.
"It's a Muslim country, but Iran does not extend a helping hand to us while non-Muslim countries are helping us," he added.
Iranian authorities not only deport Afghan refugees but torture them too, Tahir said.
"Unemployment and poverty forced me to go to Iran 20 days ago. But halfway through, Iranian soldiers caught me and deported me to Afghanistan," he said.
"There is no work in Afghanistan, and the government does not offer any assistance," he said.
"I have no hope of living once I return to my province, and I don't know what will happen to me and to my family."
Torture, mistreatment continue
To make matters worse, recently deported Afghan refugees from Iran have painful stories of mistreatment by Iranian authorities.
Jalaluddin, a resident of Badakhshan, said on December 16 at the UN refugee camp in Herat that Iranian soldiers mistreated him and other Afghan refugees.
"The behaviour of the Iranian soldiers puts humanity under question," he said. "No human being would exercise the level of violence against another human that Iranian soldiers do against Afghans."
"We were 35 people, dumped in one small cold room with nothing on the floor," Jalaluddin said. "I was not sure if we would survive the night."
"They did not give us anything to eat, and no one could sleep through the night because of the cold weather," he said.
The treatment of Afghan refugees by the Iranian military is inhumane -- besides beatings and torture, they take all their money too, said Ghulam Rasool, a resident of Shindand district, Herat, who is a recent deportee from Iran.
"Iranian soldiers would pour cold water on us in the cold weather at night," he added.
"Iranian soldiers would regularly whip and kick us," he said.
Rasool said that he would rather starve to death in Afghanistan than go to Iran and face the suffering inflicted by Iranian authorities.