HERAT -- The number of factories and jobs in Herat city is growing at a rapid pace as the prospect of lasting peace in the country spurs investments in the region's production facilities.
The COVID-19 coronavirus outbreak in Herat has slowed down the pace of this growth in the past few weeks, and will likely extend for some time, but in general the economic outlook for the region is strong, say observers.
Twenty-five factories started operations in Herat Industrial City during solar year 1398 (2018-2019), according to the Herat Chamber of Industries and Mines.
These enterprises produce items such as food, medicine, medical supplies and carpets.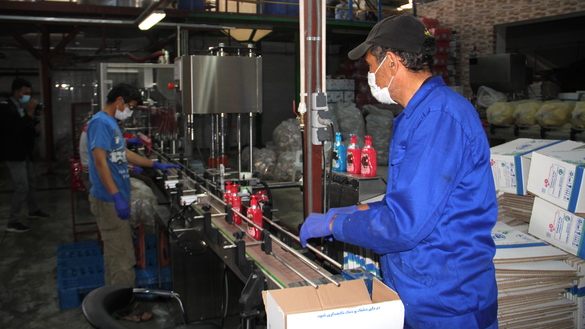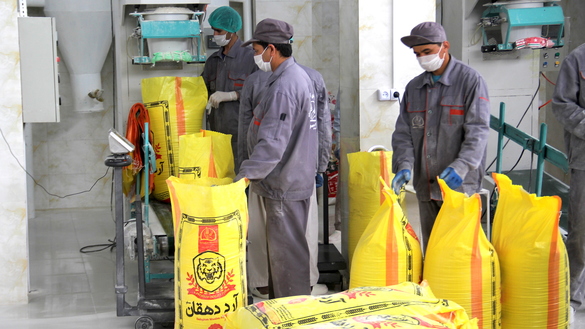 About 20 additional factories are scheduled to open as soon as they are connected to electricity, said Hamidullah Khadem, director of the chamber.
"We're opening them to reduce imports from neighbouring countries, especially from Iran, and to create an opportunity for Afghan exports to increase," he said.
The increase in the number of factories in Herat has lowered imports as well as dependence on foreign goods, he added.
"There has been about $50 million (3.8 billion AFN) invested in 25 new factories in Herat in the past year," Khadem said. "About 20 more with a total investment of $35 million (2.6 billion AFN) are expected to open in the near future."
The 25 newly opened facilities at the industrial city will create 6,000 direct jobs and more than 10,000 indirect long-term positions, he said.
"Non-alcoholic beverages, dried fruit, dishes, yarn and medical supplies are among the products that we export," said Khadem. "Products worth $20 million (1.5 billion AFN) were exported from Herat Industrial City in 2019."
"There are 330 factories at the park," he added. "They have directly employed more than 25,000 workers -- with more than 25% of them women -- and provided indirect jobs for tens of thousands more."
Outside investors interested
Many Afghans remain optimistic that a lasting peace in the country is possible even as continual attacks by the Taliban have raised doubts among Afghans about how serious the militants are about peace.
The group has killed scores of security personnel since a pact with the United States was signed on February 29.
The prospects of an end to the 40-year-old war in Afghanistan have encouraged investors to expand their businesses, said Younus Qazizada, director of the Herat Chamber of Commerce and Industries.
"Large and valuable production facilities have opened in Herat Province in the past year, and this process continues," he added. "Many businesspeople are looking at purchasing land and building production factories at the industrial city."
At the same time, the peace prospects are attracting interest in Herat Province from investors outside the country, said Muhammad Ibrahim Sadaat, who heads a food production company located at Herat Industrial City.
"At this time, as we hear the news of peace, a number of investors are trying to expand their businesses," he said. "I even have friends outside Afghanistan who are interested in investing in Herat and serving their country in a peaceful environment."
"We're keenly waiting for the intra-Afghan talks between the government and the Taliban to bear fruit," he said. "We want to prove that Afghans, like [citizens of] many other countries, are capable of rebuilding their ruined country after war."
"We hope for peace so that we can work in a peaceful and secure environment in the future and see our investments flourish," added Sadaat. "When there's no peace and the war continues, we can't achieve anything and risk losing everything."
In the meantime, his company is ramping up production and will look to add more workers, he said.
A lasting peace is key to continuing the growth of factories in Herat, said Abdul Hakim Dostizada, director of a soap factory in the park.
"Investment is linked with security," he said. "We've seen a surge in interest in building production facilities at Herat Industrial City since talks about peace began."
"We call on the government and the Taliban to immediately start peace talks so that we can expand our activities and start working in a more peaceful environment," he added.
Government support
The government is committed to supporting domestic manufacturing and is trying to provide a better environment for the private sector to grow, say local authorities in Herat.
The government is focusing on private sector manufacturing, and without its support, that sector could not register the current level of growth, said Jilani Farhad, a spokesman for the Herat governor.
Afghanistan is responding to product dumping by neighbouring countries, and it will not permit such interference to weaken domestic production, he added.
"In recent years, the private sector has been growing with the government's support," Farhad said. "Most of the essential products needed domestically are produced at Herat Industrial City, which is considerably reducing imports from neighbouring countries."
"Most of the demands of the government and security agencies are being met domestically," he added. "It is one of the policies of the Afghan government to promote domestic production, and it has made efforts to place higher tariffs on goods from neighbouring countries."
The growth of private sector manufacturing in Afghanistan is encouraging for all Afghans, said Mohammad Yaqub Mashouf, an economist in Herat Province.
"Private sector growth and the increase of domestic manufacturing need the government's full-fledged support, and the situation at Herat Industrial City shows that the government has supported the sector," he said.
"The destructive policies of neighbouring countries toward Afghan manufacturing are still a matter of grave concern," added Mashouf. "These countries want to weaken Afghanistan's domestic production, take control of the market and sell their products at much higher prices."