HERAT -- Three newly established factories launched operations in Herat Industrial City on June 8.
The private sector invested more than $5 million (445.7 million AFN) in the factories, which produce detergent, oxygen, nitrogen and cotton.
The establishment of these factories is vital amid the economic crisis and growing unemployment in Afghanistan, said Hamidullah Khadem, chairman of the Herat Chamber of Industries and Mines.
"More than 150 skilled and unskilled workers have been employed by the factories. This means that we have prevented 150 young Afghans from migrating to neighbouring countries," he said.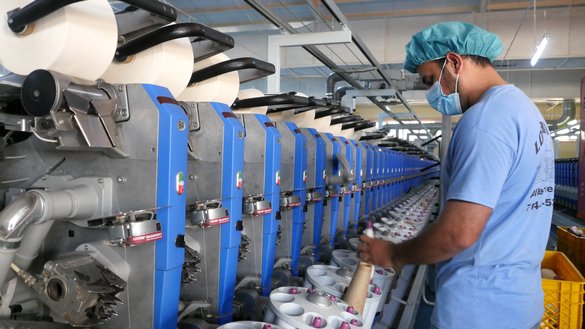 "Investors are more interested in opening factories in Herat, with as many as 20 additional ones expected to start operations in Herat Industrial City in the near future," Khadem said.
A new industrial park is also set to open in a month in Herat, he added. More than 100 factories are expected to launch as part of the first phase of the project to produce and process agricultural products.
In addition to reducing unemployment, the output of these newly established factories eliminates the need to import the analogous Iranian products, Khadem said.
Nasir Ayoubi, the executive director of the oxygen and nitrogen factory in Herat Industrial City, said his factory's production has met the needs of the western region, and can also meet the demands of the southern region.
The factory, with a daily production capacity of 40,000 litres combined of oxygen and nitrogen, is one of the largest producers of the two elements in Afghanistan, he said.
"Moving forward, we do not need to import oxygen and nitrogen. Our production exceeds the demand in the western region," he said.
"With the coronavirus pandemic spreading rapidly across Afghanistan, Iran and other neighbouring countries, we have banned the export of oxygen and hence demand is now higher than ever."
"From now on, however, there is no need for Iranian products in our country," he added.
The factory has recruited 45 staff members in the first phase and has plans to double the number of recruits in the next, he said.
There are 200 factories operating in Herat Industrial City. They are involved in about 75 Afghan economic sectors, including the production of nonalcoholic beverages and of dairy and other foods.
As many as 200 more factories have been forced to cease operations in the Industrial City in recent years because of Iran's dumping policy and ongoing economic insecurity in Afghanistan.
Imports from Iran weaken Afghan industries
Imports of Iranian products had significantly increased prior to the opening of the new factories, say factory owners in Herat.
Mohammad Amin Jami, executive director of a pharmaceutical and medical equipment factory in Herat, said the imports of similar products from Iran are still affecting its day-to-day operations.
"Iranian products that are smuggled or processed through customs are very low quality and therefore cheap. We cannot compete with these products, which cost less in Herat markets," he said.
Iran's goal in exporting products to Herat is to quash and disrupt Afghan competitors, he added.
"Our products are of the highest quality and meet world standards for exporting to other countries. However, nobody supports domestic products," Jami said.
These factors have caused this year's sale of domestic products to decline by 40% compared to last year, according to Jami.
Jawed Mehraban, a marketing officer at a food factory in Herat, said the import of low-quality food items from Iran has damaged his company's revenue.
"We produce different kinds of cakes and cookies, but similar low-quality Iranian products make their way to the local market at a lower price. Even expired Iranian food is somehow smuggled to Herat," he added.
"Iran's hostile policies have spoiled Afghanistan's domestic industries for many years. Iranian-backed networks and groups continue to smuggle low-quality products into Afghanistan," he added.
Iran's ultimate goal is to cripple Afghan industries and dominate regional markets, he said.
New job opportunities
Recently hired workers in the newly established factories in Herat say they are very happy that they have found work after enduring months of unemployment and hardship.
One of them is Sayed Ahmad Mohammadi, who found a job in the oxygen and nitrogen factory.
The sole breadwinner of his six-member family, Mohammadi said he is very happy that he can make a living and pay for his household expenses.
He said he had intended to go to Iran, but now that he has a job, he no longer needs to and is very pleased that he is serving his country.
"I am very happy that I am no longer jobless. Many young people like me have been employed here and can earn a good income to survive and go about our lives," Mohammadi added.
Mohammad Hassan Muradi, a worker at the detergent factory with a six-member family of his own, also said his monthly income is sufficient to make ends meet.
"I urge other investors to establish more factories in Afghanistan so that more employment opportunities are created and can stop Afghan youth from migrating to neighbouring countries," he said.
"I was unemployed for several months and faced economic challenges. Over the past months, unemployment and food prices have increased, and I have had to borrow money from relatives to feed my children. Now that I have a job, I will pay my debt," he added.
Muradi said he once again feels hopeful about his future since finding work.
Muhibullah Haidari, a former soldier, found a job at the newly established cotton processing plant after a period of unemployment.
"I lived in absolute uncertainty after I became jobless. I have been suffering from mental issues, but I am very happy that I am now working and do not depend on others," he said.
"If more factories are established in the country, our young people would no longer need to risk their lives by travelling to neighbouring countries through illegal routes. Lack of employment has forced most young people to migrate," he added.
Young Afghans' only hope for job opportunities is the private sector's investments, he said.