TASHKENT -- Afghanistan will remain a top priority for Uzbekistan's foreign policy in 2019, officials and analysts say.
Uzbek President Shavkat Mirziyoyev, in his December 28 address to parliament, in which he laid out the country's priorities, listed the major infrastructure projects that Uzbekistan is working on in Afghanistan and emphasised his desire to help end the Afghan war.
Afghanistan holds a key place in ensuring the security and lasting development in Central Asia, Mirziyoyev said, adding that the only way to stabilise Afghanistan is to revive its economy.
"Mirziyoyev devoted almost 90% of the foreign policy portion of his speech to Afghanistan," Tashkent-based political scientist Valerii Khan told Caravanserai.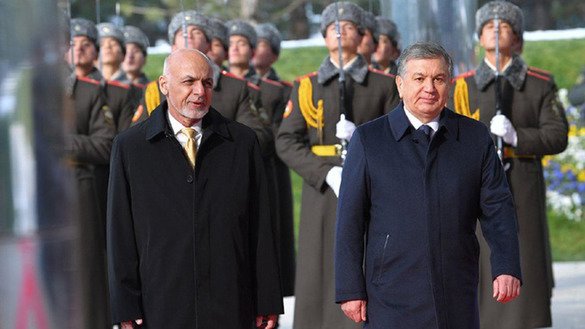 "That testifies to the importance Uzbekistan is placing on relations with its southern neighbour," he said. "It's significant that the president brought up the railway through Kabul. This is a bold project that could radically alter the region's entire logistics market."
The railway cited by Khan is one that Uzbekistan envisions building from Mazar-e-Sharif all the way to Peshawar, Pakistan.
Uzbekistan previously demonstrated its desire to help establish peace in Afghanistan when Tashkent last March hosted an international peace conference aimed at reaching a consensus on resolving the conflict in Afghanistan.
Representatives of more than 20 countries and organisations, including Afghan President Ashraf Ghani, attended the two-day peace conference.
Joint railway projects
Ghani and Mirziyoyev in December 2017 signed an agreement in Tashkent for Uzbekistan to build a railway between Mazar-e-Sharif and Herat. Presently, the only railway in Afghanistan, which Uzbekistan built, extends from Hairatan to Mazar-e-Sharif.
The planned railway is expected to extend the existing Uzbek-built line. The countries are still looking for donors, but Uzbekistan is willing to contribute $500 million (37.6 billion AFN) of its own money.
During Mirziyoyev's official visit to the United States last May 15–17, US President Donald Trump offered him political and advisory assistance in carrying out the railway construction project.
Mirziyoyev "raised the issue of receiving funding from international financial organisations -- ones where the United States plays the decisive role -- for constructing the railway in Afghanistan", according to Gazeta.uz.
The Mazar-e-Sharif–Kabul–Peshawar line
Despite the difficulties in paying for the railway to Herat, Uzbekistan already has begun to explore an even more ambitious project: the railway from Mazar-e-Sharif to Peshawar, Pakistan.
On December 3-4, the railway CEOs of Uzbekistan, Kazakhstan, Afghanistan and Pakistan met in Tashkent to discuss the project.
Uzbekistan Railways called the project "without exaggeration, historic".
After the meeting, all sides signed an agreement to establish a joint working group and a financial consortium to complete the project.
The planned railway will extend 573km, cutting through the Hindu Kush mountain range with seven tunnels, according to discussions during the meeting. The longest tunnel is expected to stretch 30km.
The estimated cost of the project was not disclosed.
"The new electrified Mazar-e-Sharif–Peshawar railway will expand trade and increase imports and exports between Europe, Central Asia, Pakistan, India and beyond with Southeast Asia," said Umidulla Ibragimov, director of the Tashkent-based think-tank Research Informatisation Centre, in a presentation to participants on the project's potential.
Uzbek Foreign Minister Abdulaziz Kamilov pledged his support for the Mazar-e-Sharif–Peshawar railway project during his own meeting with Ghani, which occurred November 28 at the Geneva Conference on Afghanistan.
The railway can become a part of the Eurasian vision of interconnectedness, which the European Union supports, Kamilov said.
CASA-1000 project, humanitarian aid
Kamilov additionally mentioned the Central Asia South Asia Electricity Transmission and Trade Project (CASA-1000).
This project, expected to end in 2020, involves construction of a power line to transmit surplus electricity from Kyrgyzstan and Tajikistan to Afghanistan and Pakistan.
Uzbekistan supports the project and intends to make its own power line, which is under construction, from Surkhon, Uzbekistan, to Pul-i-Khumri, Afghanistan.
"The [Surkhon–Pul-i-Khumri] power line will make it possible to increase delivery of electricity from Uzbekistan to Afghanistan by 70%, reaching up to 6 billion kWh per year," Kamilov said in Geneva. "The power line will connect Kabul to the unified Central Asian power grid."
Kamilov also cited humanitarian projects carried out by Uzbekistan to benefit Afghanistan, including an educational centre for Afghan citizens in Termez, Uzbekistan, and the provision of humanitarian aid.
Recent benevolent initiatives included the delivery of 25 Uzbek-made buses to Afghanistan November 19. The Afghan Ministry of Higher Education will use the buses.