TASHKENT -- Afghanistan and Uzbekistan strengthened their ties with a recent decision to open an Afghan consulate and business council in Termez.
The agreement came from a July 8 Kabul meeting between Afghan President Ashraf Ghani and an Uzbek delegation headed by Foreign Minister Abdulaziz Kamilov.
During the discussion, Uzbekistan confirmed its willingness to host an Afghan consulate in Termez, according to the Uzbek Foreign Ministry.
Ghani, in turn, thanked Uzbek government officials for the efforts they have made to enable the peace process in Afghanistan, namely through holding the Tashkent Conference last March.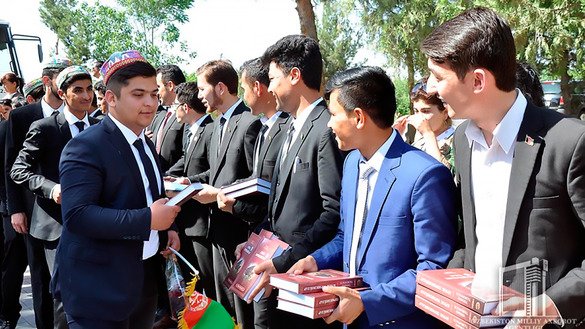 "Termez is critical and will provide the opportunity for fruit and vegetables to be exported from Afghanistan to Kyrgyzstan and Russia, and this city also has cold storage [facilities] to store Afghanistan's produce," Ghani said, as quoted by TOLOnews.
The consulate will enable co-operation, help develop joint projects and attract investment, officials and business leaders say.
Meanwhile, the business council in Termez will help businesses establish connections for the further development of commercial activities in both countries.
Facilitating transportation, education
Situated along Uzbekistan's border with Afghanistan, Termez is a key transit point for goods flowing between the two countries, including humanitarian aid.
For example, on June 5, Uzbekistan sent 3,000 tonnes of wheat across the Hairatan Bridge to help Afghan districts suffering from drought, according to the Uzbekistan National News Agency.
Opening the consulate will help Uzbek entrepreneurs and truck drivers more quickly and easily enter Afghanistan. In January, the countries reached an agreement to reduce transit fees for cargo traveling between Kabul and Tashkent by 50%.
"Previously, we had to go to [Tashkent] to obtain an Afghan visa," Abdujabbor Norboyev, a truck driver from Termez, told Caravanserai via the Telegram messenger app.
"Imagine, Afghanistan is 500 metres away from us, right across the Amu Darya River," he said. "But I have to go a thousand kilometres to Tashkent and back to enter Afghanistan. If a consulate is in operation, more drivers will go to Mazar-e-Sharif and more people will find jobs."
The consulate will also work with Afghan undergraduates coming to study at the educational centre dedicated to teaching Afghan citizens in Termez that opened earlier this year.
A new group of 35 students arrived in Uzbekistan on May 4, bringing the number of enrolled Afghans to 96. Workers are building a dorm with 300 beds, according to the Uzbekistan National News Agency.
Students receive university-level training in 17 fields and vocational training in 16 others, including studies in Uzbek, English, physics and chemistry.
Expanding joint investment, trade relations
Uzbekistan is prepared to continue investing in Afghan infrastructure, including the cement industry, Uzbek Foreign Trade Minister Jamshid Khodjaev said at the July 8 meeting.
"Efforts are ongoing to create opportunities in Termez for public and private investment and also to address the issue of providing visas to Afghans," he said, according to TOLOnews.
"Three thousand hectares of land has been put aside as a free trade zone close to Afghanistan's border, and a commitment has been made to build a railway line between Mazar-e-Sharif and Herat, which will cost about $500 million [35.8 billion AFN]," he said.
Meanwhile, the first round of a dialogue between Afghan and Uzbek entrepreneurs took place in Termez June 20 with the participation of government agencies.
Business leaders participated in a co-operation exchange, an exhibition of Uzbek products and trips to the Termez Cargo logistics centre and the port on the Amu Darya River.
"Uzbek goods need a loyal market," Farkhod Muzaffarov, an entrepreneur from Uzbekistan, told Caravanserai.
"Our products have a hard time breaking through in the markets of developed countries, in which all the niches have been taken," he said. "In the northern provinces of Afghanistan, we can create serious competition for Chinese and Indian goods because it is simpler and cheaper for us to deliver them by land."
EU to play key role
Ambassador Eduards Stiprais, head of the European Union (EU) delegation to Uzbekistan, also attended the meeting.
He spoke about the uniqueness of the event and expressed the EU's readiness to help boost trade between Uzbekistan and Afghanistan, according to Uzbekistan's Ministry of Foreign Trade.
The EU is prepared to implement the "Development of Afghan Trade" project with the active participation of Uzbekistan, he said.