TASHKENT -- Preliminary work has started on a railway from Uzbekistan to Pakistan that could allow Tashkent to bypass Russian transport routes as Moscow continues to face Western sanctions over its invasion of Ukraine.
Workers from Uzbekistan, Pakistan and Afghanistan on July 18 in Afghanistan started to determine the route for the Trans-Afghan Railway, Uzbek news agency Dunyo reported, citing Mohammad Sadiq, Pakistan's special envoy to Afghanistan.
Authorities in Tashkent in February 2021 signed off on a road map for construction of the railway, which would run between Mazar-e-Sharif and Kabul, Afghanistan, and Peshawar, Pakistan.
An Uzbek-built railway already runs from Termez, Uzbekistan, to Mazar-e-Sharif.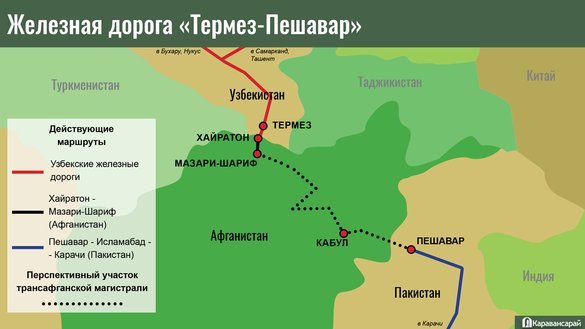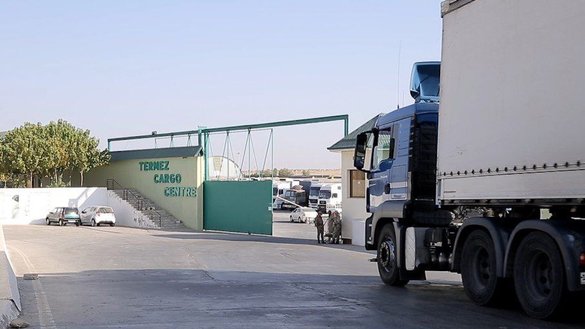 In Peshawar, after completion of the railway, workers would offload goods and then transport them to the Pakistani seaports of Karachi, Gwadar and Qasim.
Construction of the railway -- first proposed in 2018 by Uzbekistan -- is expected to take five years at an estimated cost of $4.8 billion, The Diplomat reported July 26.
Once completed, the nearly 600km-long railway will bring Uzbekistan and other Central Asian countries closer to the Indian Ocean and reduce the time required to deliver goods from Uzbekistan to Pakistani seaports from 30-35 days to 10-15 days, according to the plan.
Transportation costs are also expected to fall by 30-35%, Gazeta.uz reported in February 2021. In its few first years, the Trans-Afghan corridor could transport up to 10 million tonnes of cargo per year, it added.
Reducing reliance on Russia
Uzbekistan depends on Eurasian transport infrastructure going north through Kazakhstan, Kyrgyzstan, Russia and Belarus to move about 80% of its foreign trade, Uzbek President Shavkat Mirziyoyev told parliament in January 2020, according to the Tashkent Times.
Three of the eight main transport corridors that connect Uzbekistan to international markets pass through Russia.
But now, following Russia's invasion of Ukraine in February, those routes have been hindered by Western sanctions.
During a visit to Islamabad in March, Mirziyoyev noted the special importance of this project.
"The railway [the Termez–Mazar-e-Sharif–Kabul–Peshawar route] is our shared future," he said. "When the construction of this route is complete, we will create the shortest, cheapest and most secure corridor connecting Pakistan to Central Asia."
"This railway will completely change the look of our regions," Mirziyoyev said, according to Podrobno.uz.
Strengthening independence
Tashkent has been maintaining a delicate balancing act over its economic ties with Russia since the start of the war in February, but the threat of secondary sanctions still looms.
Now, more than ever, Uzbekistan needs to look for new transport routes, said Farkhod Mirzabayev, a political scientist from Tashkent.
The geopolitical situation in the region and in the world makes the planned Trans-Afghan Railway essential, he said.
"Despite all the existing difficulties and obstacles, Uzbekistan should co-operate with Afghanistan and Pakistan to implement this project," he said.
"We should not worry about the opinions and arguments of sceptical experts and politicians, because this railway will strengthen our independence."
Challenges remain, say some observers.
Nations need a variety of transport routes to ensure stable socio-economic development, according to Ravshan Nazarov, an Uzbek historian.
Uzbekistan presently uses only the old and proven northern corridors through Kazakhstan and Russia, he said.
Routes to the south through Afghanistan, to the east through Kyrgyzstan and China, and to the west through the Caspian Sea and the Caucasus are still in the works, though.
Of those alternatives, "to date, the most realistic route is the eastern one -- through Kyrgyzstan and China," Nazarov said, adding that instability in Afghanistan remains a challenge for the southern route.
Maxim Matnazarov of Tashkent, a historian and veteran of the Soviet-Afghan war, agreed.
Afghanistan's instability "complicates the issue of attracting international financial institutions and leading world powers" to the railway project, he said.
Afghanistan's terrain is also mountainous, so crossing it will require many bridges, tunnels and other bypass roads, raising construction costs, he added.
Regional links and options
Still, the project has the support of regional leaders.
Kazakhstan is ready to help build the Trans-Afghan Railway, Kazakh President Kassym-Jomart Tokayev said during a meeting of Central Asian heads of state July 21.
"We can ensure an uninterrupted supply of materials for building the railway and can provide rolling stock," he said in Cholpon-Ata, Kyrgyzstan, according to Kapital.kz.
Meanwhile, Pakistan and Uzbekistan already are connected by a road that runs through Afghanistan. In June, Uzbek truck drivers used it for the first time to deliver cargo to Pakistan, according to the Uzbek Transport Ministry.
The 2,760km-long journey to Karachi took one week. The trucks delivered frozen meat.
Meanwhile, Georgian Prime Minister Irakli Garibashvili during a visit to Uzbekistan on July 19 suggested the possibility of exporting Uzbek products to Europe through Georgia's Black Sea ports of Poti and Batumi, according to Mirziyoyev's press office.
Although the Russian naval blockade of Ukraine's Black Sea ports makes those ports impossible to use at present, geopolitical realities also dictate transit through Georgia, said Mirzabayev, the political scientist from Tashkent.
"Uzbekistan is trying to put greater emphasis on existing alternative routes, including the route through the South Caucasus -- the Baku–Tbilisi–Kars railway," noted Akram Umarov, an independent Uzbek analyst of Afghanistan.
"This route enables access to Europe both by land and by sea," he said.