HERAT -- More and more Afghans are speaking out against the Taliban's continuing campaign of destruction against Afghan development projects and public infrastructure, which undermines the country's economic potential and well-being of its citizens.
The militants have destroyed more than 110 public projects in 14 provinces of Afghanistan over the past six months, Tariq Arian, a spokesman for the Interior Ministry, said in an interview on May 14.
Infrastructure and public properties that the Taliban has attacked include 41 schools, six hospitals and health centres, 40 bridges, 15 electricity pylons, five telecom towers and two mosques, he said.
One of the Taliban's recent attacks saw the destruction of a public bridge on the Herat-Ghor highway in the Kamanj area in Ghor Province, said Arian, adding it was among 25 bridges in Ghazni Province, six in Baghlan Province, six in Zabul Province and one in Ghor Province that have been destroyed in that period.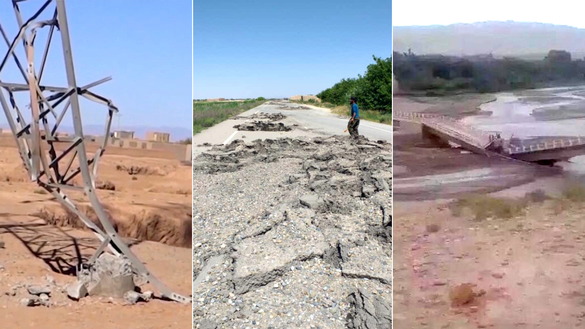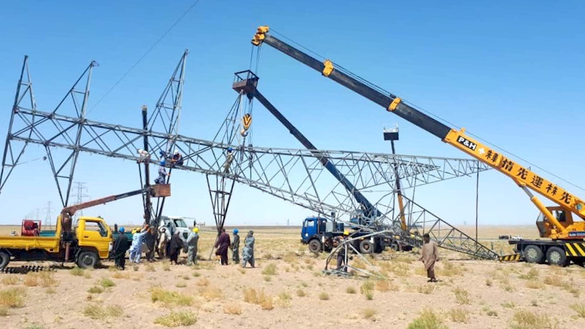 "Over the past six months, the Taliban has attacked two schools in Takhar Province, one in Qadis District of Ghor Province, one in Chamkani District of Paktia Province and five in Andar, Waez and Jaghatu districts and the provincial capital of Ghazni," Arian added.
"The Taliban blew up three pylons for imported electricity in District 17 of Kabul city and one pylon in Mir Bacha Kot District [in Kabul Province]," he said.
"The Taliban also destroyed three pylons for electricity imported from Tajikistan in Baghlan-e Markazi District, two pylons for electricity coming from Uzbekistan in the Dand-e-Shahabuddin and Khwaja Alwan neighbourhoods of Pul-i-Khumri, Baghlan Province," he added.
The Taliban launched 45 attacks on security checkpoints in Mes Aynak, Logar Province, 14 on oil wells of Sar-e-Pul Province and one on the Machalgho dam [and power plant] in Paktia Province, said Arian.
Enmity with development and growth
The Taliban has always been the enemy of Afghanistan's prosperity and development," said Anjila Omer, a resident of Herat city.
"The Taliban sets fire to schools to ensure that the new generation who can build the country don't have the opportunity to grow, it blows up bridges and roads so that the country can't achieve any prosperity and development, and it destroys hospitals to stop healthcare services," she said.
By destroying electricity pylons, it shows that it favours darkness and wants no light to shine in Afghanistan, she added.
"Attacking public installations and killing innocent civilians are not justifiable acts and can't be forgiven," said Mir Ahmad Atayee, a resident of Herat city. "The Taliban's claim that these attacks are for rescuing Afghanistan is just a lie, and the Afghan people will never forgive it."
Such infrastructure projects are not military targets, and the Taliban's attacks on infrastructures are crimes that represents the group's brutality, said Atayee.
"The infrastructure doesn't belong to the government; it belongs to the people, and no one has the right to destroy them," said Sayed Muhammad Sherzadi, director of the Herat Department of Hajj and Religious Affairs.
"Destroying public sites and everything that belongs to Muslims is a forbidden and wrong act according to Islam," he added. "Setting fire to schools and destroying bridges, roads, electricity pylons and other infrastructures are illegitimate acts."
"The Taliban justifies its destructive and brutal activities with Islam, but these [evil] acts of the Taliban don't have any association with Islam," said Sherzadi. "These claims of the Taliban are no longer acceptable to the public because it can differentiate between right and wrong."
"The Taliban tricks residents of areas under its control by misinterpreting Islam to justify its destructive activities," he added. "The Taliban knows nothing about Islam. It misuses Islam to achieve its evil goals."
Attacking infrastructure and public property is a terrorist activity that deserves harsh punishment, said Maulawi Muhammad Ahmadi, a religious scholar in Firoz Koh, Ghor Province.
"According to Islam, everyone is responsible for protecting public properties and infrastructure projects," he said. "The Taliban should not resort to destroying public sites as this is an illegitimate act."
"The Taliban should be held accountable for its destruction of schools, bridges and roads," added Ahmadi. "This act can't be justified in Islam, but if it links its acts to Islam, it shows its lack of Islamic knowledge."
Negative impact on Afghans' lives
The destruction of public properties and economic infrastructures has had a negative impact on the economic, political and social aspects of Afghans' lives, said Abdul Qader Kamel, a political observer in Herat city.
"Running production activities depends on infrastructure," he said. "When the country's infrastructure is destroyed, millions of workers lose their jobs and domestic production as well as markets become weaker."
"Currently, 4 million children of school age have been deprived of going to school because of [widespread] unrest in the country," added Kamel. "When children don't get an education [and they grow up], the Taliban and other terrorist groups recruit from among them."
The Taliban has stalled development and rebuilding in Afghanistan, said Sayed Ashraf Sadaat, a civil society activist in Herat city.
"The Taliban has prevented most of the opportunities that could have otherwise boosted development in villages and remote areas," added Sadaat.
"The Taliban's attacks on infrastructures have forced Afghanistan to go backward, leaving negative impacts on all aspects of Afghans' lives," Sadaat said.