HERAT -- Units of the Local Army, which is comprised of residents from Herat, Ghor and Badghis provinces, are succeeding in curbing Taliban activity and improving security, government and military officials say.
Keeping areas secure after they have been cleared of Taliban militants by the Afghan National Army (ANA) is one of the main goals of the Local Army, which differs from the ANA in that the troops are permanently stationed in their areas and do not move from one province to another.
The Ministry of Defence, with support from the NATO-led Resolute Support Mission, trained the troops of the Local Army in Herat and Kabul. The units were deployed over a year ago.
"We have formed six companies of the Local Army -- three of which are in Herat province -- to ensure security and gain community support," Gen. Nurullah Qaderi, commander of the 207th Zafar Corps of the ANA, told Salaam Times.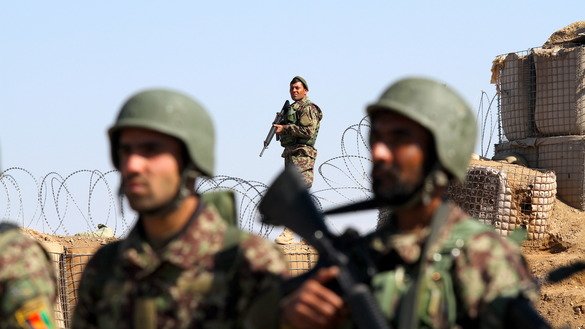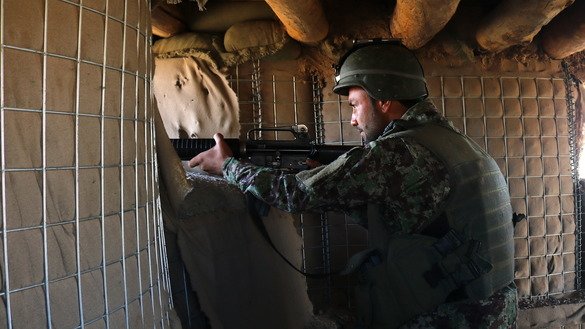 Ghor has one company and Badghis has two.
"The Ministry of Defence and the Resolute Support Mission formed the Local Army at an appropriate time, which has proven useful," added Qaderi.
The six companies consist of 121 soldiers each, he said, adding that "our recruitment drive is ongoing".
The Local Army is well trained and capable of dealing with any security issue it may face, said Brig. Muhammad Nabi Ghubar, director of training of the 207th Zafar Corps.
"These soldiers have seen training, and they will bravely defend their land and people," he told Salaam Times. "They have learned how to operate different types of weapons, and they're able to use these weapons against their enemies.
"The local soldiers are familiar with the area, and they are able to destroy the enemies who [blow up] our schools and mosques," Ghubar said.
Peace in the region is the end result of that training, said Khudadad Behzad, commander of a Local Army squad in Guzara District of Herat Province.
"I have learned how to fight the enemy and neutralise its plots," he told Salaam Times, adding that he has experienced military training on par with that of ANA soldiers.
"We have been trained in using small and heavy arms," he said. "We received one month of training in Kabul and two months in Herat."
Standing against the Taliban
The Taliban's violent campaigns in the villages and cities spurred residents to join the Local Army, say some of its members.
"Our goal is to bring security and peace to our people," Behzad said. "We have great relations with civilians because we represent them. The secret of our success is that the public supports us."
"What made us different from the ANA is that we are from the area and that we can easily differentiate our friends from our enemies. We know the area, and we can travel anywhere [in the area]," he said.
"I joined the Local Army to serve my people and defend my country," Hamidullah, a soldier in a Badghis Province Local Army company who withheld his last name, told Salaam Times.
"The Taliban, who continue to destroy our schools and clinics, must know that we can no longer allow them to commit these [cruel] acts," Abdul Qader, another soldier in Badghis Province, told Salaam Times. "We stand against these ignorant and sworn enemies until we can fully annihilate them."
Having local residents -- especially youth -- involved in the forces is making a difference in regional security, said Abdul Aziz Baik, chairman of the Badghis provincial council.
The local troops have "a good knowledge of their areas", he told Salaam Times. "They have a very effective role in ensuring security, and we welcome the formation of these forces."
"On the one hand, this creates jobs for hundreds of our youths, and on the other hand, these youth are able to ensure security for their people and the area," he said.
Local involvement in security also helps lift the community, said Faiz Muhammad Mirzazada, deputy governor of Badghis.
"The reason behind forming the Local Army is to make sure that civilians feel as though they are part of the government and that they're helping with ensuring security," he told Salaam Times.
"The role of these forces is very important," Mirzazada said. "These forces are useful for bringing security, engaging the public in government affairs and elevating the morale of the security forces."
Improved security
Security in Guzara District has markedly improved with the deployment of the Local Army, said Shair Aqa Sarwari, governor of that district in Herat Province.
"The Local Army has been able to establish great co-operation with the community in terms of ensuring security," he told Salaam Times. "An effective co-operation has been formed between the Local Army and the population in Guzara District. The presence of the Local Army has helped improve security [in the district]."
Muhammad Ali Popal, 35, a resident of Guzara District in Herat, agrees.
"When there weren't any local troops [in Guzara District], we were experiencing terror and residents were worried," he said.
"But now that the Local Army has come [to our area], incidents of stealing and insecurity have stopped. Security is now much better, and we are proud of our soldiers."