NANGARHAR -- Hundreds of religious scholars and tribal elders at two separate gatherings in Nangarhar and Herat provinces called for an immediate cease-fire on August 8 between the Taliban and the Afghan government.
In a rally in Jalalabad, Nangarhar Province, about 150 religious scholars and local residents came together and called for peace with one voice.
"We're fed up with war," said Mawlawi Habibullah Jalalabadi, a participant of the gathering. "This violence is intolerable. We want peace and cannot accept any further killing of Afghans."
"Islam is the religion of peace, and nobody should be killed in the name of religion," Jalalabadi added. "We cannot tolerate this [violence] in the name of religion [Islam]. Both the Taliban and the government must make peace. We have been created to live, not to be killed."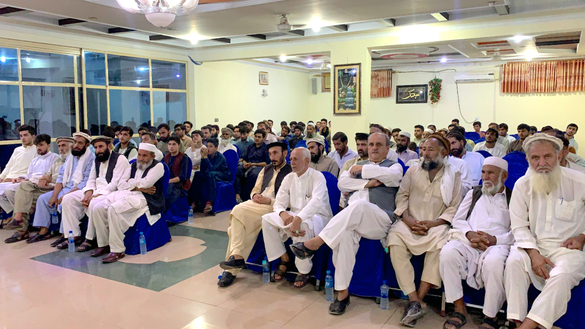 Naim Wolar, a speaker at the gathering and chief of the Hesarak District Development Assembly, spoke of his optimism for the peace talks being held by the United States and the Taliban.
"We're hopeful about the ongoing peace talks led by the American envoy Zalmay Khalilzad," he said, referring to the US special representative for Afghanistan Reconciliation.
"We expect that the peace negotiations will progress well and end in a permanent peace -- not a peace that lasts for a month or a few days."
"We're asking the Taliban for a peace that can guarantee safety," said Akhtar Muhammad, a tribal elder from Haska Mina District who now lives in Jalalabad. "We want the kind of security that can allow residents of the hills and mountains to live in safety. I have been away from my village for the past three years and rent a house here."
"I own 20 jeribs [5 hectares] of farmland in my village and a big house, but my life has been affected by the war," he said. "If peace comes, I will be able to go home."
"If a cease-fire takes place, it would be a great achievement, and we will live in security," he added. "We have the right to live."
Peace and safety
Meanwhile, in Herat, more than 50 religious scholars gathered at the Herat Department of Hajj and Religious Affairs in Herat city and also called for an immediate cease-fire and an end to the war.
They said the war in Afghanistan was illegitimate and called on the Taliban to refrain from killing more Muslims.
"I call on parties to the conflict to agree on a cease-fire and make peace so that our fellow countrymen can live in peace and safety," said Aminullah Islamyar, an ulema in Herat city. "Islam is a religion of peace, and God wants peace."
Peace is the only option so that everyone can succeed and achieve his [or her] hopes, he said.
Peace has been proven to be a factor behind security and brotherhood since the beginning of Islam, and it has always brought tranquillity to countries, he added.
"As an ulema, I ask the Taliban to agree to a cease-fire," Islamyar said.
"The religion of Islam strongly opposes war and bloodshed, and everyone who claims to be a Muslim should stop war and comply with the orders of the religion and God," said Maulawi Abdul Rahman, another religious scholar in Herat city.
"All the religious scholars at today's meetings agreed that permanent peace and a cease-fire should be declared in the country to stop further bloodshed," said Maulawi Mujiburrahman Osmani, also an ulema in Herat city.
"The religion of Islam has ordered Muslims to live in peace and never engage in war and feuds," he added. "Parties to the conflict must prioritise peace, obey the orders of God and no longer use weapons against each other."
[Omar from Herat contributed to this report.]