HERAT -- More than 1,000 residents of Nimroz province and some 300 of Herat province showed their support for the Afghan government and security forces in two separate gatherings in the cities of Herat and Zaranj on Monday (February 1).
Residents also condemned Iranian and Russian interference in their country's peace talks with the Taliban and called for preserving the achievements of Afghan women over the past two decades.
"Our security forces are some of the most powerful in the region and make sacrifices every day to defeat terrorists. If it weren't for them, terrorists would recapture Afghanistan and threaten the security of the entire world," Herat resident Nasim Mohammadi said.
"We support and defend our democratic system, which has been established with many sacrifices and efforts and will not allow any group or country to topple our government," he said.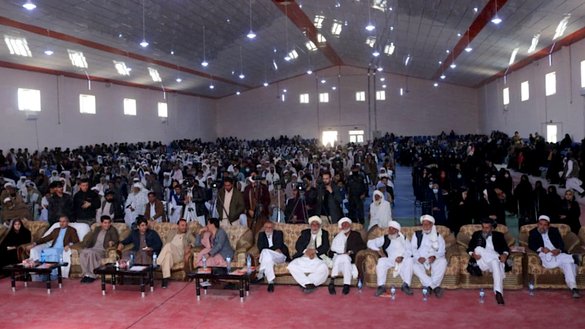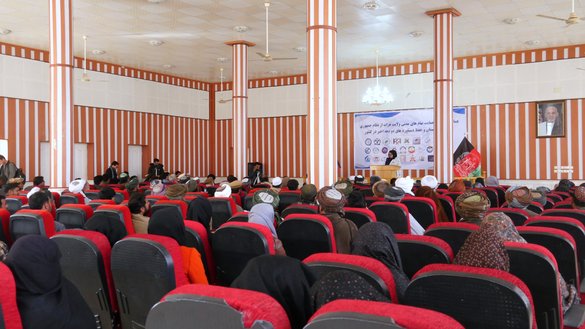 "All Afghans stand with their security forces."
Afghans will not allow "sworn enemies" to take the achievements of the past two decades away from them, said Abdul Basir Naikandish, a resident of Zaranj, Nimroz Province.
"Afghanistan's republic was established with the efforts of thousands of soldiers and civilians, and we will never allow neighbouring countries and terrorists to destroy its strong pillars," he said.
"Twenty years of war and bloodshed is enough. No matter what, people want peace and calm," said Zaranj local Sharafuddin Sharaf.
Taliban not committed to peace
Those assembling in Herat and Nimroz agreed that the Taliban were not committed to peace in Afghanistan and that the insurgents aim solely to advance the goals of governments that support them, notably those of Iran and Russia.
They denounced the Taliban's visits to Moscow and Tehran, saying that the militants show hostility towards Afghans by cozying up to Russia and Iran.
Against the hopes of Afghans, the Taliban have recently travelled to Tehran and Moscow to obtain instructions for next steps that serve only the interests of Tehran and Moscow, Herat city resident Omaid Naab said.
"By inviting the Taliban, neighbouring countries [want to] project power. This proves that they are not willing to ensure [the establishment of] peace in Afghanistan," Herat civil society activist Arash Basharyar said.
On the contrary, countries like Russia and Iran interfere in the peace process in order to ensure that Afghanistan will reach no peace with the Taliban, he said. "And the Taliban have to follow [those countries'] orders since they need their support."
The Taliban claim they want to make peace, Basharyar said. "The question is, with whom do they want to make peace, Afghans or neighbouring countries?"
Preserving achievements
Other demands made during the gatherings focused on preserving the achievements of the past two decades, especially those of Afghan women.
"We do not want to return to the past, and our achievements over the years should be taken into consideration in the peace talks," said Abida Nafe, a Herat city resident.
No one has the right to compromise the achievements of Afghan women and girls for their political goals, she said, noting that women have come far, thanks to major efforts and sacrifices that must not go to waste.
"We have seen this movie already," she said, referring to the Taliban's past record of abuses and oppression when they held power in 1996-2001. "We do not trust the Taliban as they are not honest in their commitments. The Taliban are thinking about the return of [an] emirate ['caliphate']. If they take power, they will restrict women and shut down girls' schools."
"We, the people of Herat, support our security forces and the republic with all our force," Nafe said.
The achievements and opportunities gained by Afghans in the past 20 years are non-negotiable and the Taliban should know that they cannot play with the future of Afghans anymore, said Saleha Muhammadi, a women's rights activist in Herat.
The Taliban do not value these achievements, especially those of women. They still have a close-minded, inhumane mentality, she added.
"We have no expectations of them, but [we] call on the Afghan government and the international community to defend the rights and achievements of women in the peace negotiations," she said.
"Women in Afghanistan want to move forward and make progress," Mohammadi stressed.
"If the Taliban become part of a future government, they cannot stop women's activities, work and education. The burden falls on the Taliban to change their backward mentality, and they should know that the new generation of Afghans will resist them."
Afghan women possess the necessary tools to defend their rights against anyone, said Zaranj resident Amina Ghafori.
"Afghan women have been educated in the last 20 years and are literate now," she said.
This new generation "is not like the generation of 20 years ago that would bow to every Taliban demand. The Taliban can never stop our progress", she said.