KABUL -- Through targeted killings, the Taliban seek to create social chaos, gain leverage at the negotiating table, weaken the media and silence the voice of critics, Afghan authorities and analysts say.
Unable to take control of some provinces, the Taliban turned to magnetic bombs and targeted killings, forming a cell, "Obaida caravan", in Logar Province, Minister of Interior Affairs Masood Andarabi told Meshrano Jirga on December 29.
After their arrest, he said, cell members confessed they had been assigned to target journalists, civil society activists and other influential figures.
About 3,600 individuals have been arrested on terrorism charges over the course of a year, 270 of whom were involved in targeted killings, National Directorate of Security Director Ahmad Zia Saraj told the Meshrano Jirga the same day.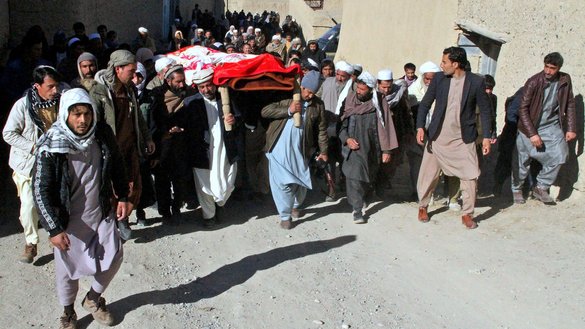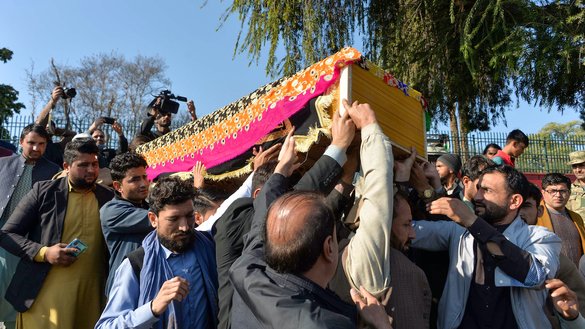 "The Taliban perpetrated most of the murders," said Ministry of Interior Affairs spokesman Tariq Arian. "We have gathered confessions and pieces of evidence, and we have shared some of these confessions and documents with the media."
Three individuals have been arrested in connection with charges of murdering election monitor Mohammad Yousuf Rasheed, director of the Free and Fair Election Forum of Afghanistan.
"They have confessed to assassinating Yousuf Rasheed," Arian said.
"These three individuals are members of the Muslimyar group of the Taliban that has more than 50 members and operates in Baraki Barak District of Logar Province," he said. "In addition to targeted killings, they are involved in planting mines and making improvised explosive devices (IEDs)."
"The Taliban do not have the ability to directly engage in fighting with the security forces," he said. "Therefore, they have lately started to target our innocent civilians like journalists, civil society activists and impartial individuals."
They do this "so that they can create fear in the public", Arian said.
Silencing the voice of the people
"Journalists have been targeted," said Sediqullah Tawhidi, who heads NAI, a non-governmental organisation that supports free media in Afghanistan. He pointed to a series of killings that have taken place over the past two months.
"No armed anti-government group has officially taken the responsibility for these murders, and the Taliban also have denied their involvement," he said. "But the modus operandi of these attacks shows that the Taliban are behind them, and the government knows the motive for the Taliban's targeted killings."
The men arrested in connection with charges of killing Aliyas Dayee, a Radio Free Afghanistan reporter in Lashkargah, and Rahmatullah Nekzad, an Al-Jazeera and Reuters reporter in Ghazni, both confessed to having links with the Taliban.
"The Taliban perpetrate targeted killings to create a climate of fear before they come, as they want to ensure that reporters are not able to criticise the Taliban and its leadership for their past atrocities," Tawhidi said.
The Taliban list of crimes includes murdering civilians, meting out punishments via kangaroo courts, conducting illegal executions and destroying public property, he said.
"As journalists and civil society activists do not have any security coverage, they can be easily targeted with a magnetic bomb or by an individual, with very little expense," Tawhidi said. "The chaos and fear force the media to censor their content, which indirectly grants control of media to the terrorist groups."
'Trying to create a climate of fear'
First Vice President Amrullah Saleh accused the Taliban of being behind "each and every assassination" in a January 10 social media post, accusing the group of trying to "weaken or silence" civil society.
The Taliban sees public opinion as its biggest challenge, said Fahim Chakari, a political analyst in Kabul.
"They think the Afghan government, despite its challenges, has the public and its views on its side, and civilians prefer the government to the Taliban," he said. "Therefore, they target reporters, civil society activists, political analysts and human rights activists."
"The Taliban believe they can increase pressure on the government by perpetrating targeted killings that can change public views in their interest and give them leverage in peace talks," Chakari said.
"They try to create a climate of fear for Afghans so that civilians begin co-operating with the Taliban or stop supporting the government."
"The Taliban want to kill society's viewpoints by these assassinations," said Kabul University lecturer Khalilurahman Sarwari. "This group does not agree with any democratic process."
"They are against free speech, citizens' rights, and civil society and human rights activists, and they want to remove this portion of democracy from society before joining the political system," he said.
Attempt to pressure the government
"I make two inferences from the targeted killings," Fahim Fitrat, an Afghan journalist in Kabul, told Salaam Times.
"The first is that the Taliban have changed their combat strategy and have resorted to assassinations so they can put more pressure on the government and receive leverage at the negotiating table during the intra-Afghan peace talks," he said.
"The second is that they can affect public morale by these targeted killings."
"By killing journalists, civil society activists and the like, they can hurt all of society, and this causes civilians to develop hatred for the government and to stop co-operating with it," he said.
The Taliban have resorted to targeted killings after their defeat on the battlefield, said Asef Ahmadzoy, a civil society activist in Kabul.
"A while back, this group launched attacks on Kandahar and Helmand with all their strength, but they were defeated," he said. "Now they try to confuse people's minds" and "create fear".
They aim to "incite the public against the Islamic Republic of Afghanistan", he said.
"Another goal the Taliban achieve by killing journalists and civil society and human rights activists is to silence them, so that the public cannot raise its voice against the Taliban and their crimes out of fear," Ahmadzoy said.