KABUL -- A bomb in Kabul on Sunday (January 10) killed an Afghan journalist-turned spokesman for the country's public protection force and two of his colleagues.
The latest bout of violence against activists came just one day after officials announced the arrest of three suspects connected with last month's murder of an election activist.
Zia Wadan, who worked for several media outlets before becoming an election activist, was the latest victim of a series of targeted killings in Afghanistan, particularly in its capital.
Wadan and his colleagues were killed in morning rush-hour traffic in an eastern part of the capital, Interior Affairs Ministry spokesman Tariq Arian told reporters.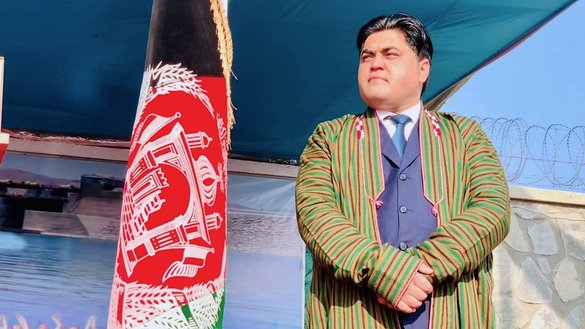 "A vehicle carrying Zia Wadan was targeted with an IED [improvised explosive device] ... as a result, Wadan and two of his colleagues were killed," Arian said, adding that another person was wounded in the attack.
No one has claimed responsibility yet, but President Ashraf Ghani blamed the Taliban.
"The spike in violence by the Taliban is against [the] spirit of commitment for peace and indicates the group still pursue their hawkish attitude to take innocent lives and damage public facilities," the presidential palace said on Twitter, quoting Ghani.
Wadan was the spokesperson for the National Public Protection Force, a security service under the Interior Affairs Ministry that deploys guards to international organisations across Afghanistan.
Targeted killings surge
Violence has surged across the country in recent months, and a new trend of targeted killings has sowed fear, especially in Kabul.
High-profile figures including journalists, politicians and rights activists have increasingly been targeted despite peace talks between the government and Taliban.
Since November, five journalists, deputy governor of Kabul and a prominent election activist have been among those murdered in targeted killings.
Last week, the US military blamed the Taliban for these largely unclaimed targeted killings, the first time Washington has directly accused the insurgent group of the murders.
"The Taliban's campaign of unclaimed attacks and targeted killings of government officials, civil society leaders and journalists must... cease for peace to succeed," Col. Sonny Leggett, spokesman for US forces in Afghanistan, stated in a tweet.
Afghan officials blame the Taliban for the killings, but the hardline group has denied the charges, while the "Islamic State of Iraq and Syria" (ISIS) says its members were responsible for a number of the assassinations.
"The Taliban aim to divide the people and trigger criticism and frustration against the government's security institutions with these assassinations," said Javid Faisal, an adviser to the Afghan National Security Council.
"But the killings are uniting people," he told AFP.
The Taliban continue carrying out acts of violence even as the Taliban and Afghan government negotiators are engaged in the second round of peace talks in Doha, Qatar.
Three arrests made
Afghan forces have arrested three people in connection with charges of killing election activist Mohammad Yousuf Rasheed last month, Kabul police spokesman Ferdows Faramarz told reporters Saturday (January 9).
He did not specify when the arrests occurred.
On December 23, gunmen ambushed Rasheed, who led an independent election monitoring organisation, in a southern suburb of the capital as he drove to work.
He and his driver died of their injuries at a city hospital.
Rasheed directed the Free and Fair Election Forum of Afghanistan, which, according to its website, has worked since 2004 to promote democracy, good governance and human resource management in the country.
On his Facebook page, Vice-President Amrullah Saleh wrote the assassins belonged to a "small cell of Taliban" operating in Logar Province.
"I hope they are executed after the completion of due process," he said.