KABUL -- Two women doctors who worked at an Afghan prison with hundreds of Taliban inmates were among five people killed Tuesday (December 22) when a "magnetic bomb" attached to a car detonated, police said.
The incident occurred in a southern district of Kabul as the doctors travelled to the Pul-e-Charkhi prison where they worked, Kabul police spokesman Ferdows Faramarz said.
Two other prison employees in the car and a pedestrian were killed too when an explosive device attached to the car detonated, while a third woman doctor was wounded, Afghanistan's prison authority said.
Hundreds of Taliban fighters and other criminals are incarcerated at Pul-e-Charkhi on the eastern outskirts of Kabul.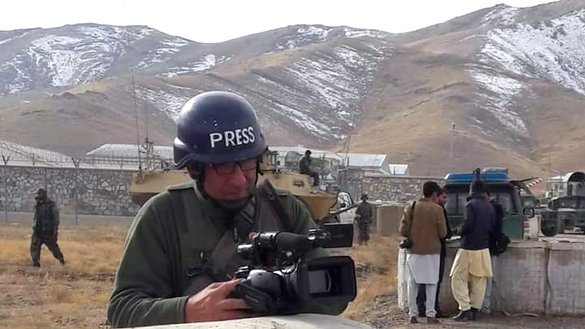 The city has suffered a wave of deadly violence in recent months, even as the Taliban and the government have been engaging in peace talks.
Targeted killings of prominent figures, including journalists, politicians and rights activists have become more common recently in Kabul and other provinces.
The "Islamic State of Iraq and Syria" (ISIS) has claimed responsibility for some of the recent terrorist acts in Kabul, which have killed dozens.
Officials reacted angrily to the latest slaughter of civilians in Afghanistan.
"The terrorist groups including the Taliban who have faced defeat on the battlefields are targeting civilians in the cities, highways and public facilities," President Ashraf Ghani said in a statement. "This is a sign of their desperation and defeat."
Ross Wilson, the top US envoy in Kabul, also condemned the killings."It is shocking to learn of the deaths of Office of Prison Authority doctors, who work tirelessly each day to save vulnerable lives, especially during a pandemic when frontline medical personnel are desperately needed," he said on Twitter.
Wave of violence
The December 22 attack came just two days after a car bomb targeting lawmaker Khan Mohammad Wardak killed 10 people and wounded more than 50 in Kabul. Wardak was wounded.
Days earlier, Kabul Province Deputy Governor Mahbobullah Mohebi was killed in a similar attack, along with his secretary, who was travelling with him. Two bodyguards were wounded.
On Monday (December 21), an Afghan journalist was shot dead by gunmen in Ghazni in what appeared to be yet another targeted killing.
Rahmatullah Nekzad had contributed to the Associated Press news agency since 2007 and had previously worked with Al-Jazeera broadcast network.
No group has claimed Nekzad's murder so far, and the Taliban have denied responsibility.
Nekzad was the seventh media worker to be killed so far this year in Afghanistan, said the Afghan Journalists Safety Committee.
On December 10, news anchor and activist Malalai Maiwand was fatally shot in Jalalabad, the second Afghan journalist to be murdered in less than a month.
Azadi Radio reporter Aliyas Dayee was killed November 12 in a car bombing in Lashkargah, Helmand Province. Dayee had been threatened by the Taliban, according to Human Rights Watch.
Yama Siawash, a former television presenter in Kabul, was killed in a similar car bombing near his home earlier in November.
No group so far has claimed those murders.
Deadly Taliban assaults
Security forces beat back a Taliban assault in Faryab Province, Afghan officials said December 21.
The insurgents detonated a car bomb that severely damaged a bazaar and caused several casualties in Dawlatabad District, according to provincial Governor Naqibullah Faiq.
Officials in Kunduz Province reported sporadic clashes after two separate checkpoints came under Taliban attack, with authorities providing differing figures on casualties.
In Ghazni Province, 15 children were killed and many more wounded when a motorbike laden with explosives blew up near a religious gathering on December 18, officials said, blaming the Taliban.
The Taliban denied involvement.