KABUL -- A car bomb targeting an Afghan lawmaker killed nine people and wounded 20 in Kabul on Sunday (December 20), the latest attack to rock Afghanistan despite the Taliban and government engaging in peace talks.
The bombing targeted parliamentarian Khan Mohammad Wardak, who was injured, officials said.
"Nine people were killed and 20 others were wounded by the car bomb," Interior Affairs Minister Masood Andarabi told reporters, adding that all the casualties were civilians.
Women and children were among those wounded by the "terrorist attack", said the ministry in a separate statement.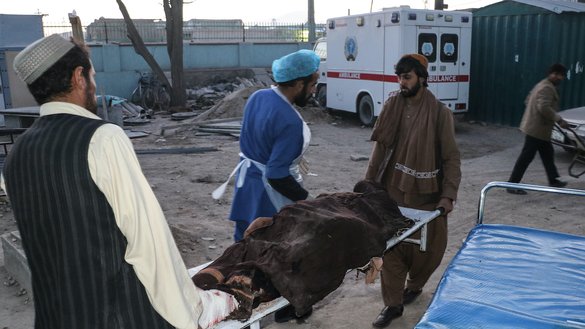 The car bomb detonated in western Kabul, often a target of the "Islamic State of Iraq and Syria" (ISIS), said a security source.
Western Kabul has a high concentration of predominantly Shia Hazaras, a frequent target of ISIS.
"It was a powerful explosion that has caused a lot of damage to houses in the vicinity," the source said.
Television footage showed at least two cars on fire, with plumes of thick black smoke billowing into the sky.
The explosion occurred when Wardak was travelling in his convoy, and five of his bodyguards were among the wounded, said a Wardak aide.
President Ashraf Ghani condemned the bombing, blaming "the enemies of Afghanistan".
"Terrorist attacks on civilian targets and facilities will endanger the opportunity for peace," he said.
No group has so far claimed responsibility, and the Taliban denied involvement.
String of attacks
Later on December 20, a roadside bomb in western Kabul killed one civilian, police said, adding that authorities dismantled two other bombs in the area.
Kabul has seen a spate of targeted assassinations of prominent figures in recent months, including top officials, journalists, clerics, politicians and rights activists.
Last week Kabul Province Deputy Governor Mahbobullah Mohebi was killed when a bomb attached to his vehicle detonated while he was on his way to work. His secretary, who was travelling with him, was killed too, and two bodyguards were wounded.
On December 10, female news anchor and activist Malalai Maiwand was fatally shot in Jalalabad, the second Afghan journalist to be murdered in less than a month.
Azadi Radio reporter Aliyas Dayee was killed November 12 in a car bombing in Lashkargah, Helmand Province. Dayee had previously been threatened by the Taliban, said Human Rights Watch.
Yama Siawash, a former television presenter in Kabul, was killed in a similar car bombing near his home earlier in November.
No group so far has claimed those murders.
Attacks against civilians
Ghani chose Vice President Amrullah Saleh, a strong opponent of the Taliban, in October to lead a task force to curb the violence in Kabul.
Saleh's programme was popular with residents of the capital, which prompted the Taliban to launch new attacks in an attempt to discredit him, said Sayed Naser Musawi, an independent Kabul-based political analyst.
The December 20 car bomb comes just two days after 15 children were killed and many more wounded when a motorbike laden with explosives blew up near a religious gathering in a remote part of Ghazni Province, officials said, blaming the Taliban.
The Taliban denied involvement.
Despite ongoing peace talks between the Afghan government and the Taliban, violence has surged across several provinces this year.
Attacks by the Taliban have killed almost 500 civilians and wounded more than 1,000 others over just the past three months, the Interior Affairs Ministry said Saturday (December 19).
US Special Representative for Afghanistan Reconciliation Zalmay Khalilzad condemned the "high level of violence" in a series of tweets after the Ghazni blast.
"We condemn all those who authorise and carry out such attacks across Afghanistan, creating terror and bloodshed," he said.
"We call for all sides to reduce violence and move quickly to a ceasefire."