KABUL -- Representatives of the Afghanistan Independent Human Rights Commission (AIHRC), religious scholars and other officials have strongly condemned a recent terrorist attack on Kawsar-e-Danish education centre in Kabul, calling it a crime against humanity and against all Islamic norms.
The attack Saturday (October 24) was claimed by the "Islamic State of Iraq and Syria" (ISIS).
A majority of the victims were between the ages of 18-20 years, according to the Ministry of Interior Affairs.
"A suicide bomber wanted to enter into the Kawsar-e-Danish education centre, but before getting inside the centre, he detonated [his explosives] after he was identified by the institute's guards," said ministry spokesperson Tariq Arian.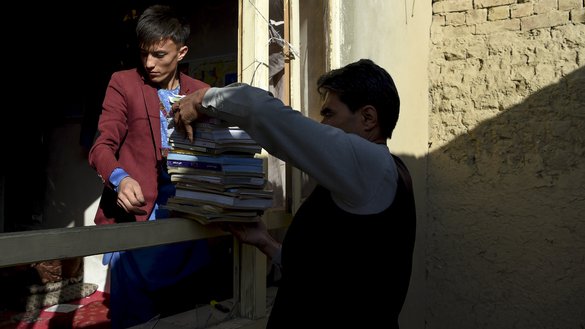 "As a result, 24 of our compatriots, mostly young students, were martyred, and more than 57 of them were injured," he said.
Witness Ali Reza said he was standing about 100 metres from the centre when a "big blast" knocked him down.
"Dust and smoke were all around me," he told AFP. "All those killed and wounded were students who wanted to enter the centre."
Kawsar-e-Danish education centre is in the Dasht-e-Barchi neighbourhood, home to a predominately Shia Hazara community, in Kabul.
The community has been the target of a number of attacks in recent years.
A bombing at the Imam Zaman mosque in October 2017 killed 56 worshippers; an attack on the Mawoud education centre in August 2018 killed at least 48 Afghans, mostly students; and twin bombings at a wrestling club in September 2018 killed at least 26 people and wounded 91, including journalists and first responders who arrived after the first explosion.
In May, three gunmen stormed the Dasht-e-Barchi hospital maternity ward, "systematically" killing 16 mothers -- many of whom were in labour or had just given birth.
A brutal war crime
The AIHRC denounced the continued slaughter of innocent civilians.
"The attack on Kawsar-e-Danish education centre is a war crime, a gross violation of international humanitarian laws, and we strongly condemn it," said Zabihullah Farhang, AIHRC spokesperson.
There have been more than 2,957 civilian casualties in the first six months of 2020, including 1,213 civilians killed and 1,744 injured, he said. Of the total civilian casualties, 630 are children.
"We call on the international community, the United Nations [UN] and Islamic countries to pressure the parties involved in the conflict to agree to a ceasefire so that youth, children and other civilians are no longer killed," Farhang said.
"The barbaric attack on [Kawsar-e-Danish] educational centre in western part of Kabul is a clear example of crime against humanity and is against all international norms," Second Vice President Sarwar Danish tweeted in English on October 24.
"The Secretary-General [of the UN] recalls that deliberate attacks against civilians are serious violations of international humanitarian law and may amount to war crimes. Those who carry out such crimes must be held accountable," the UN Assistance Mission in Afghanistan said in a statement.
Abdullah Abdullah, chairman of the country's High Council for National Reconciliation, condemned the "inhumane attack by coward terrorists".
"This attack is against all Islamic and human values and norms," he said in a statement. "By attacking innocent children and students, coward terrorists showed that they are not committed to any rules and principles."
"Killing innocent people is a great and unforgivable sin according to Islam," said Qurban Ali Mohammadi, a religious scholar in Kabul.
"God has said whoever kills an innocent human being without any reason is like killing all of humanity. The killer remains in hell forever," he said.
Mohammadi called the massacre of tudents "un-Islamic and inhumane".
"The perpetrators ... are the enemies of Afghans and Muslims who do not want the children of Afghans to gain knowledge and save their country from ignorance and darkness," he said.
End the war, make peace
Families of the victims called for peace and an immediate end to the war.
"My son was 19 and a student at the Kawsar education centre," said Allahdad, whose son Mohammad Mehdi was killed.
"By getting education and knowledge, he wanted to serve his country and people, but the enemies of Afghanistan murdered him and other teens."
"We do not want the war and killing of Afghans to continue anymore," he said. "We call on the parties involved in the conflict to end the war and make peace as soon as possible."