KABUL -- Dozens of Afghans, many believed to be students, were killed when a suicide blast ripped through a school in a Shia area of Kabul Wednesday (August 15), officials said.
Around a dozen ambulances rushed to the Mawoud education centre in the western part of the city, where students and relatives described pulling bloodied victims from the rubble of a classroom that had been crowded with teenagers preparing to go to university.
"At around 4 pm this afternoon, a suicide attacker who had strapped explosives to his body detonated himself inside the Mawoud education centre," police spokesman Hashmat Stanikzai said.
"In the explosion 37 people were killed, more than 40 injured," he said, adding that the "absolute majority" of them had been students.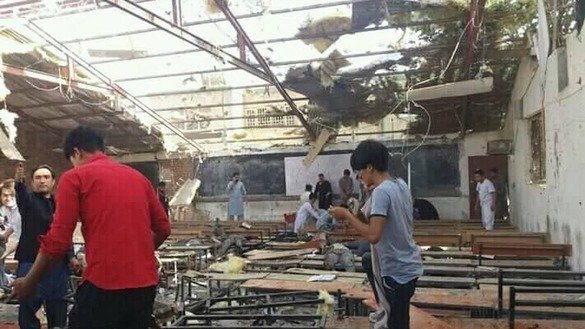 He warned the toll could rise. Other officials have put it at as high as 48 people killed, with scores more injured.
It was not clear how many students were at the centre at the time.
One witness, a student named Ali Ahmad, said as many as 100 students might have been inside when the bomber struck, but officials have not yet confirmed the figure.
Nobody immediately claimed responsibility for the bombing, which President Ashraf Ghani swiftly confirmed in a statement.
Taliban spokesperson Zabiullah Mujahid denied his group's involvement on Twitter.
Civilian casualties on the rise
Militant attacks and suicide bombs were the leading causes of civilian deaths in the first half of 2018, a recent United Nations report showed.
The "Islamic State of Iraq and Syria" (ISIS) has carried out multiple attacks in Jalalabad and in the capital in recent months, targeting everything from government ministries to a midwife training centre.
The group has increasingly targeted the Shia minority in gruesome sectarian attacks at the sect's mosques and gatherings.
Earlier this month, ISIS claimed responsibility for twin blasts at a mosque in Gardez that killed at least 35 Afghans.