KABUL -- Afghanistan's Hazaras vow to return to class even as the death toll continues to rise from last week's suicide bomb attack on an education centre in Kabul.
The UN announced Monday (October 3) that 46 girls and women were among the 53 killed in last week's suicide bombing.
Over 80 individuals were also reported wounded.
A suicide bomber on Friday (September 30) blew himself up next to women at a gender-segregated study hall in Kabul's Dasht-e-Barchi neighbourhood, home to the historically oppressed Shia Hazara community.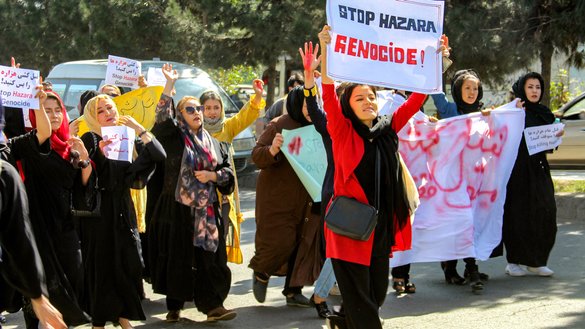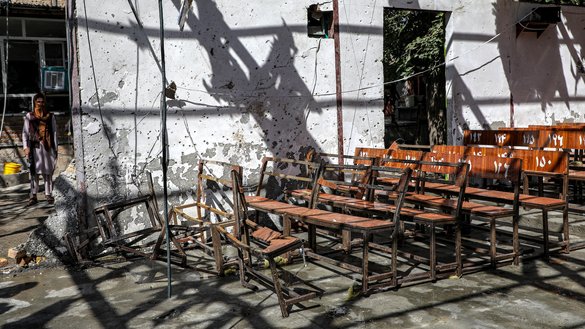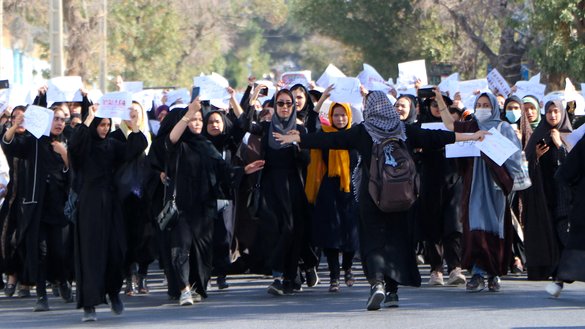 The bomber detonated as hundreds of students were sitting a practice test ahead of an entrance exam for university admissions.
No group has so far claimed responsibility, but the "Islamic State of Iraq and Syria" (ISIS) has carried out several deadly attacks in the area targeting girls, schools and mosques.
In April, a series of bombings hit two education centres in Dasht-e-Barchi, killing at least six people and wounding 24. No group claimed responsibility.
In May last year, at least 85 people -- mainly female students -- were killed and about 300 were wounded when three bombs exploded near their school in Dasht-e-Barchi.
Again, no group claimed responsibility, but in October 2020 ISIS claimed a suicide attack on an educational centre in the same area that killed 24 and injured more than 50.
'I want to study'
Survivors of the bombing described scenes of horror after what should have been a typical exam -- bodies strewn everywhere, a ceiling caved in by blast waves, classmates dragging each other to safety.
Nonetheless, faced with a death toll of mostly women, students of the Hazara community were unbowed by the obstacles to education in Afghanistan -- pledging they will return to class.
"Education is our weapon, and they want to take this weapon away from us," said 19-year-old Wajiha, a day after escaping the assault.
"I want to study," she told AFP. "It's my dream, and I will always fight for it."
Hundreds of students were settling down for a test at the Kaaj Higher Educational Centre when the assault began.
"We were sitting in the classroom and had just started our exam when suddenly there was the sound of gunfire," said Wajiha, after revisiting the scene of the devastated schoolroom.
The attacker -- a tall man dressed in military fatigues and holding a gun -- fired continuously, she said, forcing the girls to hide under the benches.
"After the gunfire, there was an explosion and the whole ceiling of the classroom fell, then there was complete silence," Wajiha said, her voice choking with emotion.
Wajiha said she lost two of her friends and a teacher.
In the frantic aftermath, she saw her friends and male students scrabbling to escape.
"I saw boys climbing the compound wall and pulling girls along. I saw one boy who was himself injured but he kept pulling girls out," Wajiha said.
"I don't know how I escaped from the classroom. I don't know how I jumped across the wall."
'No one can stop us'
Arsalan, 18, who was writing his test in the courtyard of the centre, said he saw bodies of women strewn on the floor of the hall.
"It was horrific. There was chaos everywhere," said Arsalan, who credits his survival on his decision to sit outside the classroom.
"I pulled two girls out but I was unable to continue."
Those behind the attack aim to stop Hazaras from progressing, he said.
"They want to eliminate us completely. Why are they not attacking any other community?" he asked.
Arezo Jaghori, 16, a resident of Dasht-e-Barchi, said nothing will stop them from seeking an education.
"We will never stop studying, no matter what happens," she said.
"We feel sad for those who lost their lives on this path, but we are proud of ourselves," she said. "No one can stop us."
Widespread condemnation
Friday's attack triggered sporadic woman-led protests in Kabul and some other cities.
In Dasht-e-Barchi neighbourhood about 50 women chanted, "Stop Hazara genocide; it's not a crime to be a Shia", as they marched past a hospital where several victims of the attack were being treated.
Protesters carried banners that read: "Stop killing Hazaras".
On Sunday, more than 100 women -- mostly Hazara -- marched in Herat against the attack.
"Education is our right; genocide is a crime," the protesters chanted as they made their way from Herat University to the office of the provincial governor.
The protesters were stopped from reaching the office by security forces, who also ordered journalists not to report on the rally.
"We had no weapons but were only chanting slogans as we marched," protester Wahida Saghri told AFP.
Another group of woman students prevented from protesting in the street staged a separate rally on the campus of the university, footage obtained by AFP shows.