KABUL -- International condemnation followed a series of bomb blasts that hit two education centres in a Shia Hazara neighbourhood of Kabul Tuesday (April 19).
At least six people were killed and 24 wounded on Tuesday (April 19), police and hospital staff said.
Several bodies were strewn outside the gate of the Kabul school, alongside patches of blood, burnt books and school bags, according to images posted on social media.
"We were leaving school and had just stepped out from the rear gate when the explosion occurred," Ali Jan, a student who was wounded in the first blast, told AFP at a hospital.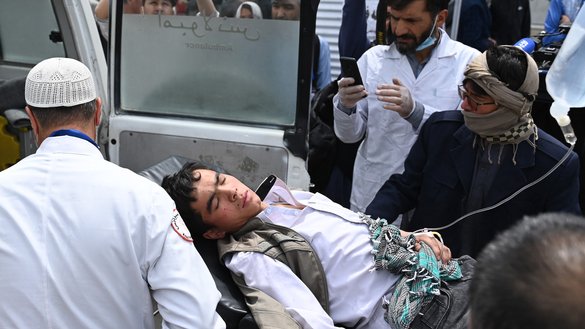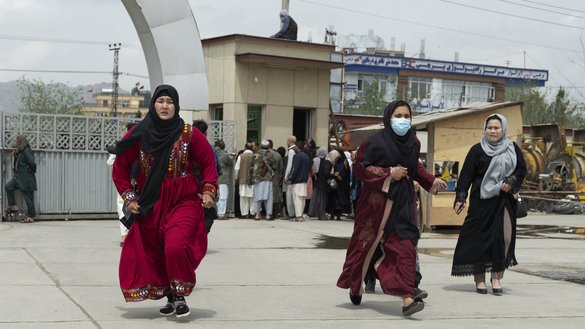 The second explosion took place as rescuers arrived to ferry victims from the first explosion to hospitals.
"When I heard of the blast, I called one of my friends who studies at that school," said wounded shopkeeper Murtaza.
"His phone was switched off. Then I went to the site... and that's when I was hit in the second blast."
Eyewitnesses said the first explosion happened near Mumtaz Tuition Centre and was followed by two back-to-back explosions close to Abdul Rahim Shahid High School.
Kabul police spokesman Khalid Zadran told AFP that Tuesday's blasts at the Abdul Rahim Shahid school were caused by improvised explosive devices and killed at least six people.
Two hospitals confirmed they were treating a total of 24 survivors wounded in the blasts, including children.
A grenade was also thrown at a nearby English language centre in the same area, wounding one person, Zadran later said.
Local authorities cordoned off the area and were seen beating back relatives of victims who had gathered, an AFP correspondent reported. Journalists were also prevented from accessing the hospital premises.
Women cried out as they scanned through pictures of victims posted on nearby walls by medics.
No group has so far claimed responsibility, but the attacks are similar to previous strikes claimed by the local Khorasan branch of the "Islamic State of Iraq and Syria" (ISIS-K).
Condemnation
The UN Secretary General Antonio Guterres in a tweet condemned the deadly attacks, saying "attacks against civilians and civilian infrastructure, including schools, are strictly prohibited under international humanitarian law".
The European Union's special envoy to Afghanistan, Tomas Niklasson, said those behind the "heinous" attacks must be held accountable, while United Nations Secretary-General António Guterres warned that attacks on civilians are "strictly prohibited under international humanitarian law."
The US Department of State in a statement expressed "outrage" over the "heinous attacks".
"I deplore the horrific attacks on Mumtaz Education Center and the Abdul Rahim Shahid school in Kabul," Ian McCary, the chief of mission for the now-closed US embassy in Kabul, who is operating out of Doha, Qatar, tweeted Tuesday.
"We offer deepest condolences to the victims & families of the deceased. All Afghans should be able to pursue their studies safely and without fear."
Former president Hamid Karzai also condemned the blasts, calling them a crime against humanity, an act by the enemies of peace in Afghanistan and clear enmity against education in the country.
Abdullah Abdullah, former head of the High Council for National Reconciliation in a Facebook post called the bombings "brutal killings by the enemies of peace and development in Afghanistan".
Attacks on Shia
The number of bombings in Afghanistan has significantly declined since the fall of the government in August, but ISIS-K has claimed several attacks since then.
The Dasht-e-Barchi neighbourhood of western Kabul is mainly home to the Hazara community and has been previously targeted by ISIS and other terrorist groups.
The Hazara community, which makes up 10–20% of the country's 38 million people, has long been the target of mass-casualty attacks.
ISIS-K has claimed some of the deadliest terrorist acts in Afghanistan in recent years and has has stepped up operations since August.
In early November, ISIS-K raided Kabul's National Military Hospital, killing at least 19 people and injuring more than 50 others.
At least two people were killed and five wounded in the bombing of a minibus in Dasht-e-Barchi on November 17.
On November 13, another bomb exploded on a busy street in Kabul's fifth police district, wounding two individuals.
A week earlier a journalist was killed and at least four other people injured when a bomb destroyed another minibus, also in Dasht-e-Barchi.
ISIS-K claimed responsibility for that explosion -- boasting it had killed or injured "20 Shia apostates" in the incident -- but no group claimed responsibility for the November 13 and November 17 terrorist acts.
The group has also claimed several attacks in the city of Jalalabad, the capital of Nangarhar province and a hotbed of ISIS-K activity.
On October 8, an ISIS-K suicide bomber targeted a mosque in Kunduz, killing about 100 Shia Muslims and injuring scores of others, according to locals.
The group said the suicide bomber "was from the Uighurs" and that the attack was in response to China's "anti-Muslim policies [in Xinjiang]".
About a week later, multiple explosions tore through the Shia Fatemiyyeh mosque in Kandahar city, killing at least 33 people and injuring 74 others.
ISIS-K also claimed responsibility for two deadly suicide bombings at Kabul airport on August 26.
The explosions killed more than 100 Afghan civilians and 13 US service members, who were protecting and processing paperwork for a large number of Afghans waiting for evacuation.
Last May 8, at least 85 people -- mainly female students -- were killed and about 300 were wounded when three bombs exploded near their school in Dasht-e-Barchi.
No group has admitted responsibility for the school massacre, but ISIS claimed responsibility for a blast inside a mosque in Shakardara district of Kabul province during congregation prayers on May 14.
In October 2020 ISIS claimed the suicide bombing of another educational centre in Dasht-e-Barchi that killed 24, including students.
In May 2020, the group was blamed for a bloody attack on a maternity ward of a hospital in the neighbourhood that killed 25 people, including new mothers, newborns and nurses.