WASHINGTON -- Extremist groups are regaining ground in Afghanistan following the departure of US troops and the collapse of the previous government in August, a top US military commander warned last week.
The departure of US military and intelligence assets from Afghanistan has made it "very hard, not impossible" to track movements of al-Qaeda and the "Islamic State of Iraq and Syria"'s Khorasan branch (ISIS-K), Gen. Kenneth "Frank" McKenzie, head of US Central Command, said Thursday (December 9).
"We're probably at about 1 or 2% of the capabilities we once had to look into Afghanistan," he told the Associated Press (AP) in an interview at the Pentagon.
US and NATO troops completed their withdrawal from Afghanistan on August 30, two weeks after the fall of the previous government.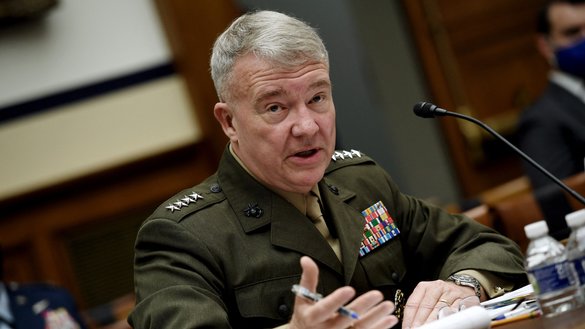 The power vacuum has emboldened militant groups including al-Qaeda and ISIS-K.
McKenzie said al-Qaeda is attempting to rebuild its presence inside Afghanistan, which was the base from which it planned the September 11, 2001, attacks against the United States.
In the years following the 9/11 attacks, US military and intelligence offensives severely reduced al-Qaeda's numbers and its ability to directly threaten US interests, but McKenzie said the group retains "an aspirational desire" to attack the United States.
ISIS-K, meanwhile, has been "reinvigorated" by the release of numerous ISIS fighters from Afghan prisons in mid-August, McKenzie said.
Both ISIS and al-Qaeda are recruiting from inside and outside Afghanistan, he said, adding that some militants are coming into the country through its porous borders but that it is hard for the United States to track numbers.
"So certainly we should expect a resurgent ISIS," McKenzie said. "It would be very surprising if that weren't the case."
He declined to provide an estimate of the number of al-Qaeda operatives inside Afghanistan but said "it's probably slightly increased".
Over the horizon
Despite withdrawing all troops from the ground, the US military retains a number of tools at its disposal -- including air strikes from drones and other aircraft based "over the horizon", or beyond Afghanistan's borders -- to counter the terrorist threat.
No such strikes have been conducted since the United States completed its withdrawal from Afghanistan, McKenzie said.
America's ability to conduct such strikes is based on the availability of intelligence, overhead imagery, and other information and communications, he said, adding, "That architecture is still being developed right now."
The US State Department is also using sanctions to squeeze several ISIS-K leaders in Afghanistan.
The State Department on November 22 designated three ISIS-K leaders as global terrorists in a move to prevent Afghanistan from becoming a platform for international terrorism.
Sanaullah Ghafari, also known as Shahab al-Muhajir, is ISIS-K's overall emir, having been appointed by ISIS to lead the branch in June 2020, the State Department said in a statement.
Ghafari is in charge of approving all ISIS-K operations throughout Afghanistan and arranging funding to conduct operations.
The State Department additionally designated Sultan Aziz Azam, also known as Sultan Aziz, who has held the position of ISIS-K spokesperson since ISIS-K first came to Afghanistan.
It sanctioned Maulawi Rajab, also known as Maulawi Rajab Salahudin, a senior leader of ISIS-K in Kabul province who plans the group's attacks and operations in the capital.
Furthermore, the US Treasury Department is designating Ismatullah Khalozai for providing financial support to ISIS-K.
The sanctions prohibit US persons from engaging in any transactions with those designated and blocks them and their associates from accessing money and assets that come into contact with the US financial system.
"We will continue to use all levers of American power to target terrorists who plot operations to indiscriminately kill civilians around the world, and those who enable, facilitate and finance their acts," the statement said.
ISIS-K violence
ISIS-K claimed responsibility for two deadly suicide bombings at Kabul airport on August 26.
The explosions killed more than 100 Afghan civilians and 13 US service members, who were protecting and processing paperwork for Afghans waiting for evacuation.
Several bombings in Kabul since August have targeted members of the mostly Shia Hazara community, which for years has been the target of ISIS-K.
On October 8, an ISIS-K suicide bomber targeted a mosque in Kunduz, killing about 100 Shia Muslims and injuring scores of others, according to locals.
The group said the suicide bomber "was from the Uighurs" and that the attack was "in response to China's demands and in service of China's anti-Muslim policies [in Xinjiang]".
About a week later, multiple explosions tore through the Shia Fatemiyyeh mosque in Kandahar city, killing at least 33 people and injuring 74 others.
On November 2, ISIS fighters raided the capital's National Military Hospital, killing at least 19 people -- including a high-ranking member of the hardline Haqqani Network -- and injuring more than 50 others.
Afghans are concerned
The continuing deterioration of the country's security is arousing concern from Afghan commentators.
"Given the history of al-Qaeda in Afghanistan, unfortunately, a growing presence of al-Qaeda leaders and its fighters in Afghanistan is very possible today," Wais Naseri, a political analyst from Germany, told Salaam Times.
"If one looks into relationships that members of al-Qaeda have had in Afghanistan in the past, the concerns raised by the international community about the threat posed by terrorist networks and Afghanistan becoming a safe haven for the network are well founded," he said.
"The international community's 20-year presence in Afghanistan limited al-Qaeda's presence and activities in Afghanistan," Afghan journalist Haris Jamalzada told Salaam Times from Turkey. "But today evidence ... indicates that al-Qaeda is seeking to return and strengthen its presence in Afghanistan."
"If the international community does not stop ... expansion of al-Qaeda in Afghanistan, this country could become once again a safe haven for global terrorism."
"Afghanistan has open and almost uncontrollable borders in its western, southern and northern regions," said Fahim Chakari of Kabul, a political analyst. "At the same time, it is facing instability and so many problems at home."
"These developments have encouraged al-Qaeda fighters and ISIS and other terrorist groups who fled Afghanistan in recent years to try to return."
"If these groups return and Afghanistan still faces internal challenges, it is certain that al-Qaeda will reorganise and threaten the world once again from Afghanistan," Chakari said.
[Hamza from Kabul contributed to this report.]