The US State Department on Monday (November 22) designated three leaders of the "Islamic State of Iraq and Syria"'s Khorasan branch (ISIS-K) as global terrorists.
The move is part of an effort to prevent Afghanistan from becoming a platform for international terrorism, said a State Department statement.
Sanaullah Ghafari, also known as Shahab al-Muhajir, is ISIS-K's overall emir, having been appointed by ISIS to lead the branch in June 2020, said the statement.
Ghafari is in charge of approving all ISIS-K operations throughout Afghanistan and arranging funding to conduct operations.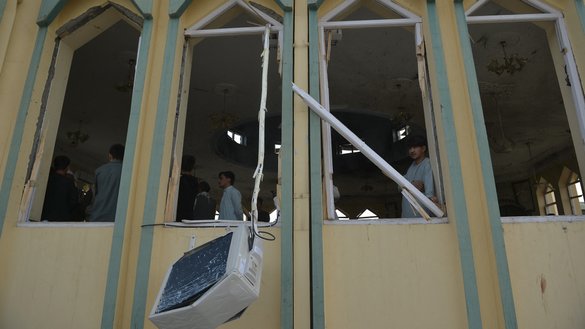 The State Department additionally designated Sultan Aziz Azam, also known as Sultan Aziz, who has held the position of ISIS-K spokesperson since ISIS-K first came to Afghanistan.
It sanctioned Maulawi Rajab, also known as Maulawi Rajab Salahudin, a senior leader of ISIS-K in Kabul Province who plans the group's attacks and operations in the capital.
Furthermore, the US Department of the Treasury is designating Ismatullah Khalozai for providing financial support to ISIS-K.
Khalozai, an international financial facilitator for ISIS-K, has carried out missions for senior ISIS leadership, according to the statement.
He operated a Turkey-based hawala business as well as a United Arab Emirates-based scheme that involved sending luxury items to international destinations for resale, both to finance ISIS-K operations.
Separately, Khalozai has carried out human smuggling operations for ISIS-K, including personally smuggling an ISIS-K courier from Afghanistan to Turkey.
The sanctions prohibit US persons from engaging in any transactions with those designated and blocks them and their associates from accessing money and assets that come into contact with the US financial system.
"We will continue to use all levers of American power to target terrorists who plot operations to indiscriminately kill civilians around the world, and those who enable, facilitate and finance their acts," the statement said.
US officials say ISIS-K now has at least 2,000 "hardcore" fighters, mostly organised in cells across the country, the Voice of America reported.
ISIS-K violence
The latest round of sanctions comes after ISIS-K claimed responsibility for a series of attacks since the fall of the Afghan government on August 15.
Several bombings in Kabul since August have targeted members of the mostly Shia Hazara community, which for years has been the target of ISIS-K.
ISIS fighters raided the capital's National Military Hospital on November 2, killing at least 19 people -- including a high-ranking member of the hardline Haqqani Network -- and injuring more than 50 others.
Earlier on October 8, an ISIS-K suicide bomber targeted a mosque in Kunduz, killing about 100 Shia Muslims and injuring scores of others, according to locals.
The group said the suicide bomber "was from the Uighurs" and that the attack was "in response to China's demands and in service of China's anti-Muslim policies [in Xinjiang]".
About a week later, multiple explosions tore through the Shia Fatemiyyeh mosque in Kandahar city, killing at least 33 people and injuring 74 others.
ISIS-K claimed responsibility for two deadly suicide bombings at Kabul airport on August 26.
The explosions killed more than 100 Afghan civilians and 13 US service members, who were protecting and processing paperwork for Afghans waiting for evacuation.